European patent filings already show us how Modena plans to use hybrid technology for performance instead of economy. Now we know when. Reports indicate a gas/electric Ferrari Hybrid may show itself at this year's LA Auto Show. Let's peek inside.
These six patent filings are variations on a theme, with the constant thread being a gas engine powering the rear wheels separately from an electric motor or motors driving the front wheels. While such an arrangement will necessarily bring with it the added weight of the batteries, it eliminates the transfer case and driveshafts normally used on AWD cars.
Speaking to some guy at Car and Driver named Eddie Alterman, Ferrari CEO Amedeo Felisa said to expect a Ferrari hybrid concept "Not at Frankfurt, but shortly thereafter, probably at an American show." Ferrari isn't just developing a hybrid to recapture the lucrative celebrity market from the Toyota Prius, but to enable it to meet draconian new Corporate Average Fuel Economy standards from the US and Europe. Ferrari's current range understandably sucks at sipping gas, with the new Ferrari California only averaging 15mpg in the EPA cycle.
While the hybrid system should be capable of operating on electricity-only at very low speeds, Ferrari has said it wants the system to be a performance aid before anything else. Potentially allowing customers to select between two and AWD at the flick of a switch, the electric motors powering the front wheels could increase speed and safety in slippery conditions or alleviate part of the douche bags crashing expensive cars pandemic.
G/O Media may get a commission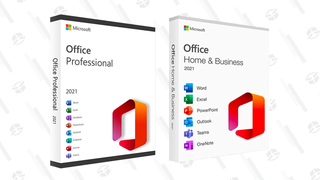 89% off
Microsoft Office Professional 2021 Lifetime License
In addition to eliminating mechanical complication, this arrangement could also do away with frictional losses associated with AWD as the gas engine would never have to power anything but the rear wheels (as it does in all Ferraris now) and presumably recharge the batteries when its power wasn't required for posing.

While the idea of a hybrid Ferrari initially saddens our purist hearts, we're actually pretty happy with how this system appears to be coming together. If it means we can keep our high-strung Italian engines in an age of increasing pressure for high economy, they have to be a good thing. The prospect of adding performance and control through AWD, while retaining the character of RWD is also encouraging. A Ferrari Hybrid? We think we could live with that.