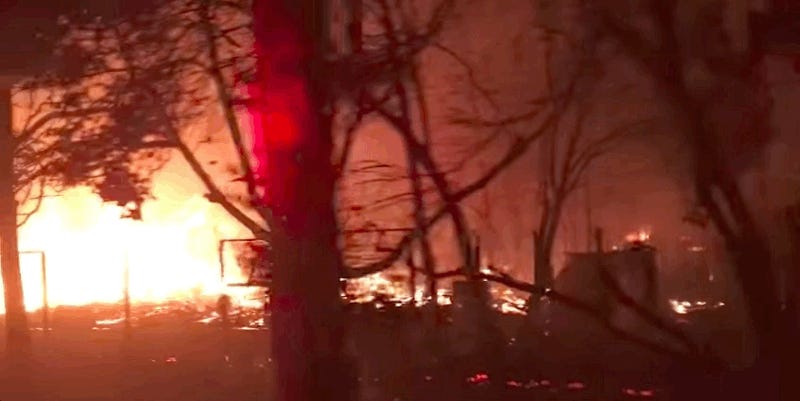 Last week, as wildfires raged in Santa Rosa, California, fire trucks from across the state were called to assist. This video captured by a truck from Berkeley—an hour away from Santa Rosa—is as harrowing as any since the fire began consuming 220,000 acres and claiming at least 40 lives.
The video starts around 5 a.m. Five engines left Berkeley to the scene of the fires, which the firefighters could see from the distance before getting up closer to witness seemingly endless miles of destruction. They eventually reached some unburnt homes, about 30 of them the narrator of the video estimates they were able to save.
The firefighters said that one of the homes that was destroyed in Santa Rosa belonged to a colleague at the Berkeley Fire Department.
From Berkeleyside:
The three firefighters who shot and edited the film published here — acting captain Kyl Fleming, apparatus operator Clifford Broome and firefighter Mike Shuken — happened to be working together at Station 6 that morning, although they usually work at different stations, Shuken told Berkeleyside.

[...]

"We don't typically video our responses, but this was so big and unprecedented that we did this time — of course when we felt it wouldn't slow us or interfere with our operations," said Shuken.
The wildfires have been wreaking havoc and melting aluminum for days now, though officials said Monday that they were making progress, with the two main blazes over half contained. Here's how you can help the victims.