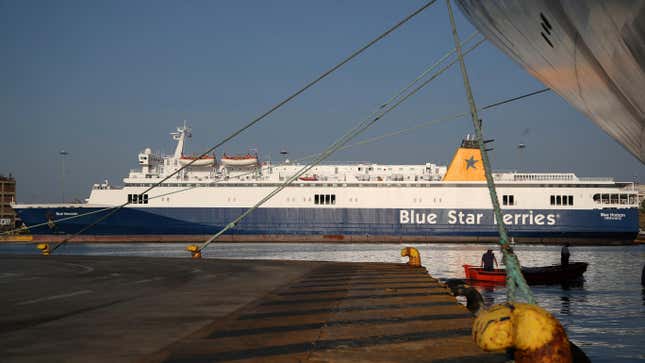 A Greek island ferry captain and three of his crewmates are reportedly facing homicide charges over the death of a passenger who was killed after being pushed by crew members into the sea. According to CBS News, the passenger was apparently trying to force his way onto the departing vessel in the country's port of Piraeus after he arrived late to the dock.
The incident, which was captured on video and shared on social media, shows the passenger running onto the Blue Horizon ferry's loading ramp, which was still down and in place at the time, as the ship cast off its moorings and was leaving. Crew members successfully push him back onto the dock. Then, the tardy passenger tried to push past two crew members on the ramp for a second time. That's when they pushed him off into the water, and the man vanished into the gap between the vessel and the dock. You can see crew members don't really do anything to help him.
The video cuts off, but the outlet reports that the ferry continued sailing toward the island of Crete before being ordered back to Piraeus. The Coast Guard reportedly said the man was recovered unconscious from the harbor waters and was later pronounced dead. An autopsy is now underway to determine the exact cause of death.
CBS News says Attica Group, which owns the Blue Horizon ferry, issued a brief statement saying it was "devasted by the tragic incident," and it would cooperate with the authorities.
In a post on the social media site formerly known as Twitter, Greece's minister of maritime affairs, Miltiadis Varvitsiotis, expressed "shock, horror and sorrow" at the incident.
"The behavior of the four members of the ship's crew, who are detained, is criminally and morally reprehensible. It is a gross insult to all sailors of Greek shipping," he wrote in Greek. "There is no doubt that the offense is murder."
Varvitsiotis also reportedly said that the man who was killed had a ticket and had boarded the ship shortly earlier, but he left for unclear reasons and then tried to reboard. The minister also said he ordered an investigation into how port police responded to the "tragic incident."
In a separate social media post, he wrote, "All the necessary actions are being taken by the Piraeus Port Authority to clarify the case and assign responsibility."