This is the Morning Shift, our one-stop daily roundup of all the auto news that's actually important — all in one place at 9:00 AM. Or, you could spend all day waiting for other sites to parcel it out to you one story at a time. Isn't your time more important?
---
1st Gear: Grab Your Hat, The Ferrari F620 GT Is Coming
We've all just received this "Save the Date" video from the brand all about the prancing stallion. Yes, on February 29th we'll see the unveiling of the most powerful Ferrari... in the world... ever. It's so powerful it'll require their drivers... to wear a Ferrari hat.
---
G/O Media may get a commission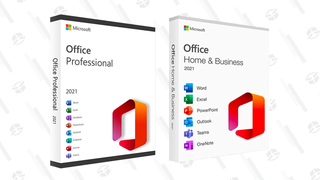 89% off
Microsoft Office Professional 2021 Lifetime License
2nd Gear: Peter Mullin, Super Classic Car Collector, Warns Against Classic Car Market
Bloomberg has an interview this morning with Peter Mullin (think Mullin Museum), the 71 year old classic car collector who just bought the 1936 Bugatti Type 57SC Atlantic in 2010 for $30 million — making it the most expensive car purchased... in the world... ever. What does he think about the classic car market? Basically, don't put your money in it. "Non-car people shouldn't buy thinking this a good place to park their money," he says. "The odds of choosing the wrong thing or a fake are real high. You should buy a car because you love it. If you've bought something good and they didn't make 30,000 of them, it probably will go up in value. But that's not a good enough reason in itself for the purchase." Word.
---
3rd Gear: Lamborghini Says Slowing China Economy May Hurt Supercar Demand
But it's not just the collector classic car market that's hurting. Bloomberg reports that Lamborghini, maker of the $387,000 (it'll cost you a cool million bucks in China once you add in import fees, taxes and a lifetime of bribes to Chinese officials) Aventador LP 700-4, has joined Rolls Royce in forecasting that sales of ultra-luxury cars may slow as signs that China's economy is weakening puts off some buyers. "If you look at the economy right now, there may be some uncertainty to make people wait a little," Christian Mastro, Lamborghini's Asia Pacific general manager, said in a phone interview on Feb. 16. "The number of people able to spend this kind of money is limited, it's not unlimited." Dammit! We thought this gravy train of super cars would continue forever! Well, guess the Chinese will have to stop destroying them.
---
4th Gear: Chrysler Kicks Every Other Car Commercial's Ass In Building Super Bowl Buzz
Chrysler's Super Bowl commercial with Clint Eastwood, titled "It's Halftime in America," received more votes than any other auto ad, but came in second overall in YouTube's Ad Blitz 2012 contest. "'It's Halftime in America' is about a mission, not about a product. It is about the spirit that motivates our embracement of this mission," said Sergio Marchionne, Chrysler chairman and CEO. "The 2-minute video portrayed the essence of Chrysler Group's commitment and how we are working toward the future." No it didn't. I listen to partisan gum-flappers and hack wannabe political writers and they told me it totally portrayed the essence of President Obama's reelection campaign. Oh, it didn't?
---
5th Gear: BMW F20 M135i And xDrive 135i Confirmed By Accessories Catalog BimmerPost / 1Addicts have the scoop today that those rumors about an M135i version that have been circulating for months are true — and the confirmation comes from BMW's newly-launched F20 accessories price list. They have screenshots that mention the 135i, the 135i xDrive, and the M135i.
---
6th Gear: Is The Infiniti Emerg-E Concept Derived From Adrian Newey's Red Bull F1 Tech?
Infiniti is launching their Emerg-E advanced-tech mid-engine sportscar concept at next month's Geneva Motor Show. Watch as Leo Parente and his Drive channel ShakeDown program present his conspiracy theory that Red Bull F1 and Adrian Newey have got to be connected to Emerg-E. They just have to be — because Leo said so! Also, Infiniti's got a four-door GT-R sitting at Roswell. We just know the truth is out there.
---
Reverse:
⏎ Hertz agrees to government oversight of recalled cars. [USA Today]
⏎ Auto bailout back to haunt Romney or help him. [Detroit News]
⏎ Lotus enters ALMS for 2012 with Alex Job Racing [AutoWeek]
⏎ For car buyers, it's harder to end up with a lemon. [Detroit Free Press]
⏎ Mecan (and mewill) make fun of the Porsche Macan. [Automobile]
⏎ GM, Ford, Chrysler and Boeing Unions Score Big Bonuses and Lift Economy. [ABC News]
⏎ Ferrari posts record revenues on U.S., China demand. [Automotive News]
⏎ All-new Range Rover scooped. [Autocar]
⏎ Hyundai Says No, But Kia Could Say Yes. [PickupTrucks.com]
---
Today in Automotive History:
On this day in 1948, the National Association for Stock Car Racing—or NASCAR, as it will come to be widely known—is officially incorporated. NASCAR racing will go on to become one of America's most popular spectator sports, as well as a multi-billion-dollar industry. [History]
Show us your tips!
Got tips for our editors? Want to anonymously dish some dirt on a competitor? Know something about a secret car? Email us at tips@jalopnik.com.
Lost in our new layout?
Click here for the Opposite Lock or Tips forums. Want a more "blog-like" look? Click the button up top next to "Top Stories."
Get more Jalopnik!
Want even more Jalopnik? Want to know which of your friends read us? "Like" us on Facebook and follow us on Twitter.