A team of Russians built this unbelievable, unofficial Juke R. It's gearing up to compete against Ken Block at Gymhkana GRiD this weekend. Here's everything you need to know about the car with a "power output of a Chernobyl reactor explosion."
That's a direct quote from Misha Charoudin of SV Tuning, the shop responsible for the now-infamous unofficial Nissan Juke R.
For those of you not aware, the Juke R was a project funded by Nissan and carried out in England to shoehorn a Nissan GT-R platform into a stock Juke crossover. The project was seriously difficult for the motorsports engineering company responsible, RML, yet it was so fundamentally desirable that Nissan ordered 20 of them to sell at $600,000. Yes, you read that correctly.
G/O Media may get a commission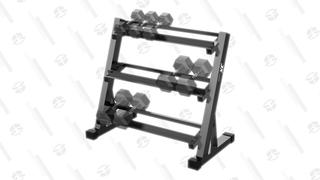 20% Off
JX Fitness Dumbbell Rack
Gains but tidy
Has a three-tier design to help store more weights more conveniently, can safely support up to 1000lbs of weight, which should be enough for most people, has a triangle base for stability, and also features anti-scratch feet which is great if you've built your own studio or workout in your garage.
St. Petersburg's SV Tuning realized there was a market for these cars beyond Nissan's overpriced, underproduced official run. Misha explained to me the impetus for the project. Oh, and he gave me the link to where you can order one here at Juke-R.com.
The idea behind the project is to offer customers a possibility to own a unique vehicle, without paying not-justified amount of money for one of the 20 units offered by Nissan. The customers can submit their own GT-R for a Juke R conversion or order a complete custom vehicle. Both options cost only a fraction of what Nissan is asking.
Could the Russian version really be as capable as the official British/Japanese one? Well, this one has the same GT-R parts as the official Juke R, only it can put out something around 838 horsepower, at least when Autoblog.nl tested it in September.
Of course, merging a Juke with a GT-R wasn't easy for Nissan's official team. What challenges did the Russians face?
The most difficult part of the build? Probably everything related to the geometry. This barn on wheels with aerodynamics of a brick and power output of a Chernobyl reactor explosion has to be as safe as possible in every sense of the word. This means being stable on the straights with speeds reaching 300 km/h and on the race track experiencing lateral G's. Finally, the whole construction must be protective enough against the impacts, even after all the modifications.

Moreover, the cooling design was another issue as the Juke body does not offer enough size to place the cooling components, let alone supply them with enough air.
Safety is a big concern with this car, as it famously crashed into a wall on video. Misha attested that the driver got the pedals mixed up, and that there's a lot to be said for the safety of the car in the crash.
Ironically enough we can confirm it is the safest as it gets as you have seen two months ago. The car launched to a speed of 145 km/h in 4 seconds and might have dropped some by making a turn, still hitting a reinforced concrete wall with 100 km/h while the driver and the passengers did not wear seat belts. Both were able to walk away from the accident.
On top of that, the car was fully repaired in a number of days, speaking to the skills of the crew.
Oh, and it tied a Bugatti Veyron in a drag race back when it only had a mere 700 horsepower.
Somehow, the car is going from racing Veyrons to facing off against Kenny Blockenstein at the grand final of Gymkhana GRiD in Madrid tomorrow. James Gilbert of Monster Energy explained to me how the whole thing came together.
I spotted the car at this year's Rotterdam City Race – as I'd worked on GRiD last year I knew that this machine had to enter and I spoke with Misha.

The AWD class is a tough one for us and having something like the Juke R enter will really mix things up and step away from the obvious Subaru, Mitsubishi cars — GRiD really is about being different.
I asked Misha if he was worried about the competition, but he proved that the car has all the Russian spirit you'd imagine.
What makes us think the car will be competitive against the others? First of all we're fearless Russians. Next, it is a modified Juke R from Russia. Finally, see the video I have put in the appendix. But putting all the dick-measurements aside, we're going there to have fun, make new friends, get experience on personal and technical level and to put up a great show disregarding the results!
I think we can all agree that this car being Russian and unofficial makes it ten times cooler than any other Juke R. Or just about any other car, really. I can't wait to see this thing roast its tires and go up against the best sideways machines the rest of the world can offer.
Photo Credits: SV Tuning