McLaren Special Operations built just 25 MSO HS cars by request when a customer wanted an even more 'roided-out car than the 675LT. It was weirdly secret when it debuted, but thanks to the miracle of YouTube we can all now take an ungodly close look at it.
MSO is the skunkworks that puts out everything from special paint requests that resemble alien spaceship coatings to regular old performance upgrades on cars—for a price. (Don't ask the price.)
As such, most of the new 678 horsepower MSO HS ultra-cars look amazing.

Lovecars got their hands on number 11 of 25 of this hush-hush invitation-only supercar, which features an almost "hyperblurple"-like color-shifting tint in the finish of its carbon fiber body.
G/O Media may get a commission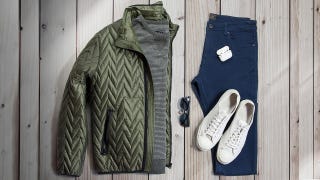 60% off
Jachs NY Fall Sale 60% Off
This may be my favorite just because of the color alone. I've never wanted a specific finish on a car more than I've wanted color-shifting carbon fiber.

This slightly more subtle light-and-dark blue MSO HS spotted in Geneva by NYCarspotter also features copious amounts of tinted carbon fiber. I will never get tired of looking at carbon fiber in the light. I think that's impossible. Oh, and in case you were wondering about the strange, loud McLaren with the big fixed wing, there's a huge "MSO HS" decal on the door sill to clear up any confusion.

Unfortunately, shelling out for a one-of-25 ultra-rare car doesn't make you immune to the woes of traffic, nor does it keep random YouTubers from jogging after your car when you're stuck there. You can't keep a supercar secret forever if you drive it, man.

Here's an MSO HS getting all shined up by Detailing Dynamics. Did you only want metallic orange on certain lines of the car and its wheels as a tasteful highlight, plus orange exhaust tips because why not? MSO will hook you up.
The MSO HS filmed for Miller Motorcars' channel features a similar orange highlight treatment. Both it and less rare (1 of 375!), almost pedestrian in comparison McLaren P1 that it was filmed with are in MSO's own Sterling Grey color.

Here's some more footage of two MSO HSes seen around Central London. The wild, wrecked green car is a "Special Order For Eugeny" and wants everyone to know it's "One Of Twenty-Five" based on the note on its gas cap. Way to blow all the cover off the MSO HS, Eugeny.
Do you have an MSO HS? Do you have access to one? Do you have one nearby, and are you in possession of the keys, and will you not tell if we won't? Contact us. We want to drive it.

A lot.