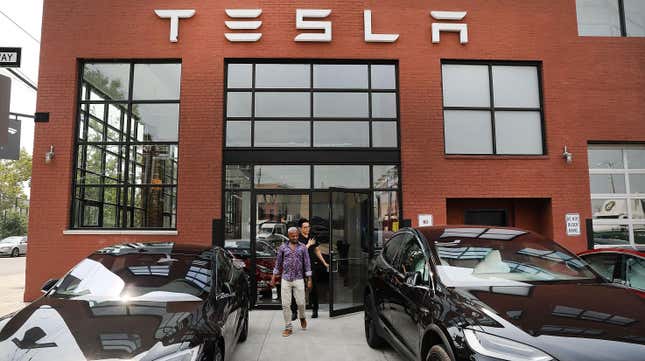 Insurance companies charge more for electric vehicles in general, but some of the biggest names in the biz are totaling barely driven Teslas over massive repair bills with less than 10,000 miles on the clock.
Tesla Model 3 Is Now Cheaper Than the Average New Car
EVs might save you on fuel costs, but they are damn expensive to fix and insure. And the more technologically advanced a vehicle is, the higher the costs on even minor bumps and scrapes. Sensors, cameras and electronics can send even modest repair costs soaring. And Teslas—the best-selling EV manufacturer on U.S. roads—are chock-full of that stuff. A report from Reuters shows Teslas in particular suffer from high repair bills:
Of more than 120 Model Ys that were totaled after collisions, then listed at auction in December and early January, the vast majority had fewer than 10,000 miles on the odometer, according to online data from Copart and IAA, the two largest salvage auction houses in the United States.

The retail prices of those cars ranged from about $60,000 to more than $80,000.

[...]

Of the 15 Model Y Long Range vehicles built in Austin from June through November and sent to auction after being totaled in crashes, all but one had fewer than 10,000 miles on the odometer.

An Austin-built 2022 Model Y Long Range involved in a front collision and listed by IAA in early January had a retail price of $61,388 and estimated repair cost of $50,388. The vehicle's owner was not listed.

A second Austin-built Model Y, involved in a side collision and listed by IAA, had a retail price of $72,667 and estimated repair cost of $43,814.

Teslas and EVs in general are notorious for costing owners 30 percent more in insurance premiums over ICE cars. The car company started its own insurance arm in an attempt to bring down premiums for owners in 2019. In a recent fourth-quarter call with investors, CEO Elon Musk said the company will also be investigating a redesign of certain parts to make repairs cheaper and more affordable.
It can be difficult to find anyone who can repair a Tesla in an affordable manner. Even Tesla itself can't always figure it out. In 2021 a Tesla Model 3 owner was quoted $16,000 for a repair a local shop was able to complete for $700. Owners report waiting weeks for service center appointments and last year GM President Mark Reuss told investors that a few GM dealers have been quietly repairing Teslas for years.