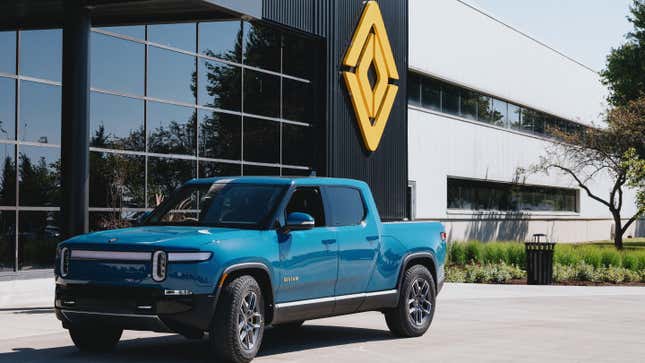 Fisker. Lucid. Rivian. They all have one thing in common: Aside from them all being EV startups, they all had high company valuations before tanking. Now as The Washington Post reports, we may be at a point where it's survival of the fittest EV company, with some underperforming brands disappearing from the EV space altogether.
Like many companies during the pandemic, EV startups had billion-dollar valuations that ballooned even though the companies weren't really doing much of anything. Despite this being its third go around with making cars, Fisker filed an IPO in late 2020. Despite having no product to sell and therefore no revenue coming in, the company was still somehow valued at $8 billion. The following summer Lucid went public with a $91 billion valuation after some begging; Rivian followed a few months after with its IPO and a valuation of $121 billion after initially seeking an $80 valuation. Both Rivian and Lucid had these valuations despite missing their delivery estimates that year.

Worse yet, since those IPOs, the companies values have tanked, and a few are burning through cash faster than they can raise it. It's bad:

On Monday, Lucid reported a more than $779 million loss in the first three months of 2023, compared with the more than $81 million loss it reported the same quarter last year. Its cash reserves dropped to $900 million, compared with the more than $1.7 billion reported at the end of 2022. The company also said that it planned to produce more than 10,000 vehicles - on the lower end of its previous guidance.

A day later, Fisker reported a $120 million loss for the first three months of 2023 and said it burned through $84 million in cash. The company cut this year's production target to between 32,000 and 36,000, down from the 42,400 it previously forecast.

On Tuesday, Rivian reported losses of $1.3 billion for the first three months of this year. It is more liquid than its rivals, ending the quarter with about $11.2 billion in cash and equivalents.
The economy isn't working in the startups favor either. Interest rates have risen, making outside capital hard to come by. Some experts are likening what's happening to the beginning of the auto industry, where numerous players were trimmed down to the few that actually provided on their promises. And despite their struggles, some, like Wedbush analyst Dave Ives, think Rivian and Lucid will emerge successful. Rivian stands out most. Ives says the startup has the best potential to be a "mini Tesla-like ecosystem." Only time will tell.