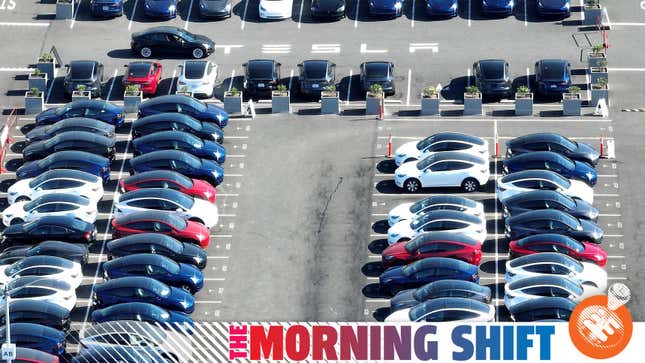 The rapid growth of electric vehicle sales in around the globe may begin to slow down in 2023, EV maker Lucid beat its production targets even though it struggled to deliver cars, and Tesla CEO Elon Musk is doubling down in court over his "funding secured" tweet. All these stories and more in The Morning Shift for Friday, January 13, 2023.

1st Gear: 2023 EV Sales Probably Won't be as Wild as 2022
While electric vehicle adoption around the world is poised to continue this year, it will likely be at a slower rate than 2022 and 2021. Sales jumped from 3.2 million vehicles in 2020 to over 10 million in 2022.
A new report expects that in 2023, 13.6 million plug-in passenger vehicle sales will take place, and about 75 percent of them will be fully electric. From Bloomberg:
China is set to dominate the EV sales charts again, with 8 million passenger EVs sold despite its phase-out of subsidies. The US is poised for a breakout year due to the combination of new EV manufacturing capacity and refreshed federal tax credits. With around 1.6 million plug-in vehicle sales in 2023, the US will still be well behind Europe on adoption, but the gap is starting to narrow. Growth will be modest in Europe as legacy automakers wait for emissions regulations to tighten again in 2025, but Chinese automakers are nipping at their heels and already account for over 10% of the region's EV market.

There are now 27 million electric vehicles on the road globally, and this should cross 40 million by the end of the year. That's still only around 3% of the global vehicle fleet, but it's a huge leap from less than 1% at the end of 2020 and makes EVs one of the fastest-moving parts of the global energy transition.
The report also expects that sales of commercial electric vans and trucks will continue to rise this year, and total sales should hit around 60,000 units globally. That, in itself, is an 80 percent increase from 2022.
Bloomberg says that since 2020, sales of these types of vehicles have jumped fourfold "against the backdrop of a largely stagnant market for commercial vehicles."
2nd Gear: Lucid Wins the Production Battle, Loses the Delivery War
EV maker Lucid just reported that it exceeded its production target for 2022, but it isn't all good news for the automaker. Only about 60 percent of the Air sedans it produced made their way into customers' hands because of logistical issues.
Lucid says it produced 7,180 vehicles at its factory in Casa Grande, Arizona, but it only delivered 4,369 of them to customers. So, while that production number did indeed get past the 2022 target of between 6,000 and 7,000 vehicles, it's a bit of a hollow victory for a couple of reasons. One is the delivery ratio and the other is the fact that it slashed production targets pretty much in half back in February of 2022 because of supply chain and production issues. From The Wall Street Journal:
The gap between Lucid's ability to produce vehicles and get them into the hands of buyers underlines a key challenge in its business, one shared by rivals. EV makers have embraced a direct-sales model pioneered by Tesla Inc., which eschews the franchise-dealership model used by traditional car makers. Instead of buying an available vehicle off a dealer lot, people order an EV, and then the companies build them and deliver them months later.

[...]

Other, larger EV rivals missed internal targets for 2022. Tesla said it fell short of its target for customer deliveries, in part because of Covid-related factory shutdowns in China and a change in how it produces and delivers vehicles to customers. Rivian Automotive Inc. narrowly missed its production target of 25,000, in part because of issues getting parts. The electric pickup and sport-utility vehicle maker said it delivered about 20,000 of the 24,000 vehicles it produced last year.

The struggles of Lucid and other EV upstarts to not only increase production, but get those vehicles to buyers takes on greater urgency this year. Car makers say supply-chain issues that hamstrung vehicle production are easing, but competition from traditional auto makers look set to heat up. The limited number of EV models to date has helped EV makers capture market share from larger car makers, but many of those established car companies are launching competing models of their own in the coming years.
Deliveries as a percentage of total sales fell slightly for the company in the final quarter of 2022. The company reportedly produced 3,493 vehicles in that time, but only delivered a little more than half of them. In November, Lucid said it had 34,000 reservations on its books for its vehicles.
There has been mounting pressure from investors for the automaker to close the gap between production and deliveries. Lucid's CFO said back in November that the gap was because of vehicles being in transit to customers or awaiting pre-delivery inspection.
3rd Gear: Elon's All-in On Fighting Shareholders at Trial
A new report says Elon Musk is set to become the rare CEO to actually fight a securities class action lawsuit at trial. Next week he will be defending his 2018 tweet saying he had "funding secured" to take Tesla private.
The CEO is essentially doubling down after suffering an initial loss in 2022 in San Francisco federal court. It ruled that his tweet was "false" and "reckless." Because of that, the jury in this new trial will need to decide only if Musk's tweet impacted Tesla's share prices, if Musk knew that would happen, and the amount of damages he is responsible for. From Reuters:
"Everything is lined up for a plaintiffs' win here," said Minor Myers, who teaches corporate law at the University of Connecticut. Judge Edward Chen's ruling in May means that shareholders are "starting with runners on base," he said.

An attorney for Musk, as well as Tesla and several directors who are also defendants, declined to comment. They have denied that Musk's statements violated the law. They will argue at trial that the stock price rose because Musk revealed that he was considering at the time that he might take Tesla private. His conversations with Saudi investors led him to believe funding for the deal was secured.

Eduard Korsinsky, an attorney who represents the class of investors who alleged billions of dollars in losses, called the case "exceptionally strong."

The trial is a chance for Musk to take the stand to vindicate himself by convincing a jury that he was truthful when he tweeted on Aug. 7, 2018, "Am considering taking Tesla private at $420. Funding secured." In another tweet the same day, he wrote, "Investor support is confirmed."
Musk testifying under oath is pretty out of the ordinary for this type of trial. Most chief executives avoid the risk of a move like this, but Musk has subjected himself to cross-examination a number of times. That being said, none of them had to do with federal securities law.
The trial, set to begin next week, is expected to last about three weeks. The parties could still settle at any time.
4th Gear: 59 Percent of Lincoln Dealers Are in on EVs
A little over half of Lincoln's U.S. retail network is buying in to Ford's electric vehicle sales plan, according to Automotive News. That means they are opting into the company's certification program that requires dealers to invest up to $900,000 on their charging infrastructure if they want to sell electric Fords and Lincolns in the future. From Automotive News:
The 356 dealers who agreed to meet the program's requirements represent 88 percent of the brand's sales volume, Lincoln said. About 90 percent of the dealers who signed up are located in the nation's top 130 luxury markets. Lincoln has about 600 U.S. dealers in total. "This gives Lincoln a robust network of retailers who have agreed to take the necessary steps to prepare for our brand's transition towards electrification and better serve our future EV clients," a spokeswoman for the brand said in a statement.

The 60 percent opt-in rate is slightly less than the two-thirds of Ford dealers who enrolled in that brand's certification program. All standalone Lincoln dealerships signed up.
Under Lincoln's program, dealers are divided into two separate categories: those inside the top 130 luxury markets and those outside of those markets.
If the dealer is inside the top 130 markets, they may spend about $900,000 to install two DC fast chargers and seven Level 2 chargers. On the other hand, smaller market dealers must spend around $500,000 for one DC charger and four Level 2s. If the dealer makes the required investment, they'll be allowed to sell an unlimited number of EVs.
Lincoln dealers who also have Ford stores must invest in each program to sell both brands' EVs.

The Lincoln program will run from late 2024 until 2026. Another enrollment period will open near the end of 2026 for a program that starts in 2027.
Right now Lincoln doesn't sell any EVs. However, it has promised to launch three globally by 2025, and it will add a fourth in 2026. By 2030, the automaker expects that nearly 90 percent of its sales volume in North America will be electric.
5th Gear: U.S. Airlines Must Spend More on New Pilot Contract
Those poor poor U.S. airlines may see their precious profits come under a bit of pressure this year since they have to shell out more money to keep pilots on their payrolls amid worries about what a potential recession would do to travel demand.
Major airlines like United, American Airlines, Delta and Southwest have quickly added staff after the travel rebound in the U.S. following Covid restrictions being lifted. From Reuters:
Some airlines have had to hand out bumper contracts to pilots, stoking concerns about a rise in costs as they recover from the pandemic when they were saddled with heavy debt loads.

"Margins are set to take a hit in 2023 as airlines ratify new contracts with labor groups," Cowen analyst Helane Becker said last month. "We expect pilot pay, which represents approximately 40% of labor expense, will increase by 20% to 30% under the new agreements."

Last month, Delta offered a 34% pay hike to pilots, which aviators at rival carriers termed as a new "benchmark".

"Delta's recent tentative pilot agreement, assuming it is ratified, could drive incremental unit costs higher by ~2%, and 2%-3% higher for American, Southwest and United," Barclays analyst Brandon Oglenski said on Wednesday.

While costs take center stage, robust travel demand, fueled by a pent up desire to venture out and household savings accumulated during the pandemic, could provide some relief.
American Airlines says it is forecasting a higher fourth profit because of strong demand during the holiday season.
Despite that welcome news for the carrier, shares of American, Delta, United and Southwest all fell between 14 and 30 percent in 2022 because of mass cancellations and economic worries.
Reverse: Fargo, Connecticut
Neutral: Suh Dude?
How you doin', fella? Make sure to do something you enjoy this weekend. Go for a walk, eat a delicious sandwich, watch all the TV you want and see the people you love. If none of those four things sound enticing to you, I'm sure there's something that'll get you going just right.
On The Radio: Rebecca Black - "Friday"