Electric SUV racing as a sport is a hard thing to sell, for obvious reasons. But a new series trying to make the idea cool, Extreme E, has a different approach in terms of appeal—competing in places like the rain forest, and televising races with "Blue Planet meets Dakar"-style documentaries.

Oh, and apparently the series wants to travel everywhere on a big mail ship.
Forget that part for a second, though, because the series' promotional video does a decent job of living up to the hype of its documentary promise:
Extreme E is still just a plan for now, since its first season isn't scheduled until January 2021. But it'll be operated in conjunction with the existing all-electric, more traditional Formula E championship, Formula E CEO Alejandro Agag has said, and the people behind it have some wild ideas for what it'll entail.

Agag first talked about Extreme E publicly last year, but didn't say much other than that it would visit places like the Himalayas and Arctic. Now, after the series' launch event this week, there's a more clear image of where all it will go and what it'll do. The plan, according to series co-founders Agag and Gil de Ferran, is to have 12 cars race in five remote places: the Arctic, the Himalayas, the Sahara desert, the Amazon rain forest and islands on the Indian Ocean.
Extreme E's website points out that the plan is to race in areas that have already been harmed at those locations, like parts of the rain forest hit by deforestation.
G/O Media may get a commission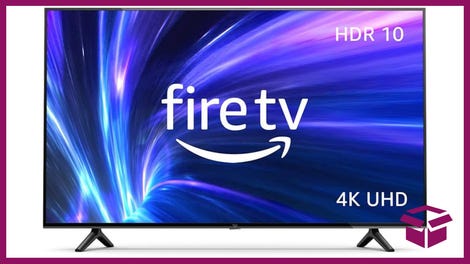 42% Off
Amazon Fire TV 50" 4K Smart TV
Each of the 12 cars will belong to its own team, ideally run by a manufacturer, Agag and de Ferran said, and will race on multiple-mile courses. Here are some details, via the Extreme E website:
Extreme E will use a traditional round-robin format with two groups of six teams – with the top four progressing to the knock-out stage and each driver going head-to-head to earn a place in the final. The off-road stages will be around 6-10km in length with a series of virtual gates to be navigated through by drivers.

The tracks comprise of five to six gates, on a combination of off-road tracks (e.g. Amazon Rainforests Track) and open ground (e.g. Arctic Ice Race).
Organizers from the series told Motorsport.com that Extreme E won't use a rally format, and will instead have the drivers racing side by side. Here's the layout in bracket format:
But the knockout format isn't to entertain live television viewers, because the idea is that there won't be any. CNN reports that Agag wants the series to help highlight environmental challenges by racing cars through them, oddly, and the plan is to do that by showing the races in a documentary-style format.

Motorsport.com reports that Extreme E plans to sell the rights to the series to a digital streaming company, and that de Ferran said the eventual product will be episodes telling "not just the story of a race, but the wider race of awareness and the need to protect these remote and challenging environments."
Here's more, from CNN:

The entire series will be shot as a "docu-sport" by Academy Award winning filmmaker Fisher Stevens who believes it will give the viewer a combination of "Blue Planet meets Dakar."

"We are not going to show these races live, " Agag said. "Everything is filmed in these remote places, edited, there's no advertising of sponsors.

"Everything is virtual, we don't pollute the places we go."
Blue Planet meets the Dakar Rally, honestly, is a great tagline. That must have taken a while to come up with.
Extreme E's home base will apparently be a former Royal Mail ship, the RMS St. Helena, which will sail to each race with the cars, equipment and personnel. Agag told CNN the series will "transform this ship into a symbol of the fight against climate change and pollution," which might be a little much.
From the story:
The 7,000 ton vessel, which is being refurbished to create a new science and research hub, will act as a "floating paddock."

"It's going to be a science and research hub for the climate problems, with pollution in the ocean, plastic, for example," Agag added.
Agag said he likely plans to leave his position as the Formula E CEO in order to focus on this project and its 2021 launch, but didn't say whether the series had even begun to get permission to race in these remote places, or how that would be gone about. Formula E also has several projects and support series that are either unfinished or in their infancy, like the self-driving Roborace series and the Jaguar I-Pace electric championship. It's a lot to juggle.
But 2021 is still two years away, and a lot can be done in two years. Who knows—maybe, by then, we'll all be watching electric SUVs race across the arctic with virtual reality. Or maybe we won't, and we'll just have to settle for Blue Planet without the cars.