Longtime Jalopnik readers may remember Juha Sipilä. He is a former telecom executive, politician, and builder of a badass El Camino that runs on wood gas. Also, as of last night, he is the prime minister-elect of Finland.
Dreams do come true.
Sipilä is the leader of Finland's Centre Party, which cruised to victory in Sunday night's elections like a sweet, sweet wood-burning El Camino barreling down Route 66 spreading democracy and awesomeness in its wake.
I could use this space to talk about how Sipilä seeks to return Finland to economic prosperity after years of being mired in a recession, but that's not really what we all care about. Instead, we care that Sipilä is a car enthusiast who specializes in wood gas conversions.
A few years back, he built a wood gas-powered El Camino called El Kamina — "The Stove" in Finnish — to show how biofuels can be done. The kickass muscle truck can run for up to 125 miles on wood gas power all the way up to a top speed of 87 mph.
G/O Media may get a commission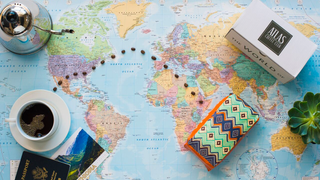 First Bag Free
Atlas Coffee Club - Free Coffee
Explore global coffee
With each bag, Atlas includes details on the coffee's tasting notes and a postcard about the region and its coffee history. And when you subscribe, you have options to tailor frequency, grind size, and roast preference of your beans, so you'll always be brewing the perfect cup.
And now, its builder is the Prime Minister of Finland. That's awesome.
I wonder if he's up for some kind of Chevy burnout contest with Joe Biden?