One is 45 years old, the other 66 million. One is 13' long, the other 42. Both are awesome and both are American. Which one would you buy?
While Wert, Krewson and I were in Detroit to gawk at American cars at the Woodward Dream Cruise, the record was broken in Monterey for the most money ever paid for an American car. Not any old American car, of course. In a sale organized by Mecum Auctions, someone paid $7.25 million for the Shelby Daytona Cobra Coupé—chassis number CSX2601—which carried Bob Bondurant to his 1965 FIA World Manufacturers Championship on July 4, 1965 at Reims, France. No word on whether he was served freedom fries with his victory champagne.
G/O Media may get a commission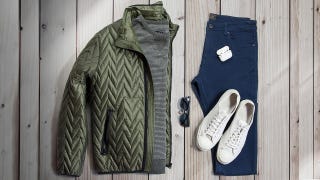 60% off
Jachs NY Fall Sale 60% Off
There is a good chance, dear reader, that the buyer was not you. However, if you happen to have money in that neighborhood to spend and wish to own something just as awesomely American as the Daytona Coupé, book a flight to Las Vegas for October 3. On sale at the Venetian casino will be Samson, the third most complete skeleton of a Tyrannosaurus rex ever found.
Tyrannousaurs lived in North America in the late Cretaceous period, around 68–65 million years ago. Samson was found in 1992 in South Dakota, a major source of dinosaur fossils. Recovered were 170 of his bones, which is more than half of a complete skeleton.
"In the last 110 years, there's been a total of 46 specimens found of Tyrannosaurus rex of which this is the third most complete and has the finest skull," said Tom Lindgren of the auction house Bonhams & Butterfields, as quoted by Wired. Samson is expected to fetch millions of dollars, possibly exceeding the price of Sue—the biggest tyrannosaur ever found—which the Field Museum of Natural History purchased for $8,362,500 in 1997.
You would need a mighty home to give Samson ample breathing room but at least he's already mounted and ready to be displayed, unlike Sue, who came in boxes, IKEA-style. And while it might be nice to have a Daytona in your garage, ready to race, how often would you actually go out and drive it at speed?
Whereas you could set up your dinner table beneath Samson and have massive dinners of red meat in the shadow of a tyrannosaur. You might even try feeding him scraps (if you happen to like hadrosaurburgers, that is).
So what's your call? Daytona, tyrannosaur—or ¾ of a Ferrari 250 GTO?
Photo Credit: Motor Authority, Craig Cutler/Wired, Mecum, Fritz Geller-Grimm/Wikipedia, Phil Fraley Productions, Scorpiocars