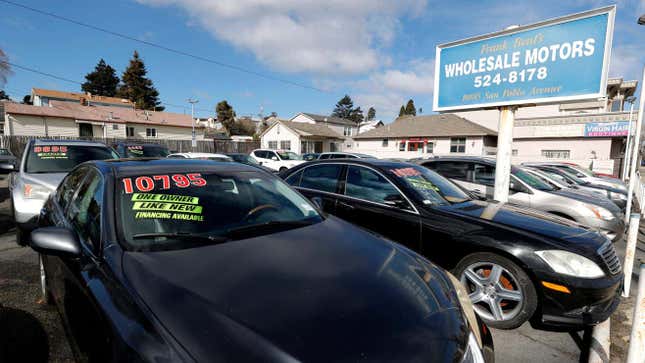 There are some really good signs that the car market is finally shifting back to favor the buyers. Dealers are sitting on a lot of inventory, and deals are especially hot on slow-selling EVs. Unfortunately, interest rates are still high and that can really make a difference as to what is affordable versus what is not.
According to Edmunds.com for the last six months, the average interest rate for a new car loan has been around 7%, whereas used car loans are averaging around 11%. Of course, keep in mind that these are overall averages that are calculated from folks with very low credit scores to very high. If your FICO is well above 700 you should do a bit better, but if you have some credit challenges you could be looking at a seriously high auto loan.
NerdWallet has a chart via Experian that provides a breakdown of average rates per credit profile.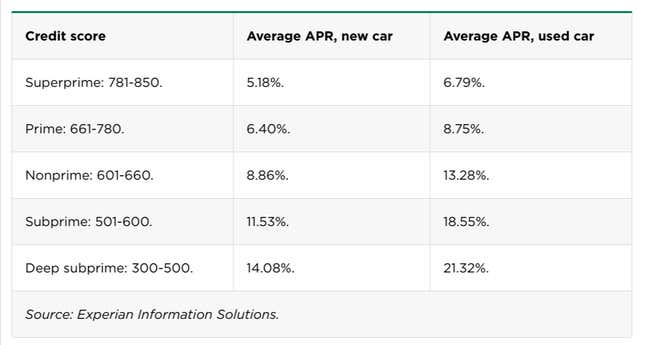 So what does this all mean for folks in the car market? I've said plenty of times before that in order for buyers to prevent "overpaying" for a car, they need to take an honest look at their finances and establish an appropriate budget. How most people do this is to start with a car payment that is comfortable, and work backward to a total price. However, with these increased rates this is often going to mean a cheaper car than many people expect.

For example, in a previous market, someone with a 720 FICO credit could get a manufacturer special of 1.9 APR for 60 months on a brand-new car and was comfortable with a payment of $500 per month. This buyer could score a vehicle with a price of about $28,600. Using the current average rates of about 5.2 percent and the same terms, that $500 per month target means the budget needs to drop down to $25,600. While that $3,000 drop doesn't seem like much it could mean the difference between getting a new car or pivoting to a used one.

For folks shopping for used cars, the situation is even more challenging. Let's say you are a buyer with not-awesome credit and have a FICO of just under 660 and are targeting a payment of $400 per month. In a previous market, you may have qualified for a loan of around 8 percent, which on a 60-month term would have given you a total spending budget of just under $20,000. Finding a decent, pre-owned car for twenty grand isn't easy but certainly doable. Right now that buyer might get a loan of 13 percent which knocks that budget down $17,500. That puts them in an even more difficult market. For folks with less-than-perfect credit not only are the rates so much higher, there is a chance they may not even get approved for a loan.

While some automakers are starting to advertise low-APR specials often the fine print indicates that these rates are only good for shorter term loans at 36 months or less. With another rate increase potentially on the horizon, it's more critical than ever that consumers take a big-picture look at their budget before they visit a dealership. And it's always advisable to shop your loans around between local banks and credit unions in addition to the finance options the dealer can provide.

---
Tom McParland is a contributing writer for Jalopnik and runs AutomatchConsulting.com. He takes the hassle out of buying or leasing a car. Got a car buying question? Send it to Tom@AutomatchConsulting.com