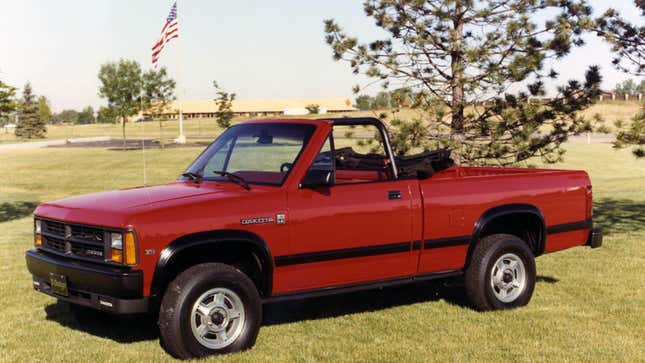 Say what you will about the Dodge Dakota, but the little Ram had range. The Dakota debuted in 1987 as an alternative to full-size pickups from the Big Three, as well as an alternative to compact trucks from both American and Japanese automakers. The Dakota allegedly invented what would become the midsize truck segment, according to Hagerty. But, more importantly, it was also sold as a convertible, which makes it one of the boldest pickup trucks ever.

For three glorious years beginning in 1989, an American automaker sold a production convertible pickup, which is a delightful rarity that most truck fans overlook. During its brief production run, fewer than 4,000 of these wonderful convertibles were made. Sure, the Dakota 'vert was little more than a hasty choptop courtesy of the American Sunroof Company, but we're talking about a two-door convertible truck available with a five-speed manual transmission or an automatic, that also happened to come with either two- or four-wheel drive. And that's just rad.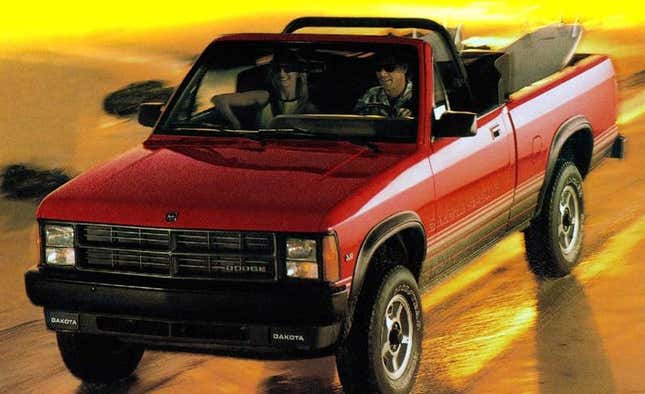 I don't care how much you hate red cloth interiors from the late '80s, or how flimsy its manual soft top roof may have been — anecdotally being the equivalent of a wet napkin — the Dakota Convertible is worth celebrating.

That droptop alone would be reason enough to dig the first-gen Dakota, but Carroll Shelby himself gave the rear-wheel drive truck his blessing, leading to the creation of the Shelby Dakota — a performance truck that predates the famous Ford SVT Lightning and GMC Syclone. That's what I mean when I say the Dakota had range, dammit.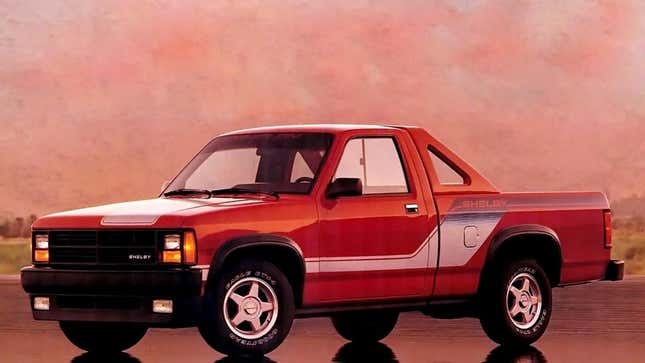 The Shelby Dakota was powered by a 5.2-liter V8 making 175 horsepower and 270 lb-ft of torque, while the Dodge Dakota Convertible came with a much more tame 3.9-liter V6 making 125 hp. That's quite the power loss, but the Dakota Convertible had its roof and B-pillar lopped off, so there were technically some weight savings. The droptop, however, was not about performance as much as fun the sun, and it remains one of the rare production pickups with a manual convertible roof. I'd take that over a power convertible roof any day because it's less prone to failure.

Mostly, the Dakota reminds me that despite trucks being more popular than ever, they've become homogenous vehicles making the same statement: I like mud. Not that there's anything wrong with that. I'll admit I love to get muddy or go off-roading as much as the next truck guy, but the Dakota Convertible is a testament to the versatility trucks enjoyed. Not everything had to be a big, mean lifted off-roader. It's unlikely we'll see another two-door convertible truck again. So, bless you, Dakota 'vert. Thanks for being a blip in pickup truck history.