A pair of animators in Portland made their Italian Greyhound "Bones Mello" famous when they dressed him up as an AT-AT last October. So when we saw the Volkswagen Star Wars barking dog Super Bowl commercial preview last night we assumed the pup dressed up as an AT-AT was him. The animators, however, say it's not. Now we're left to wonder if VW ripped off their idea.
We first told you about Bones Mello back in October before the cute little Greyhound became a viral sensation. Soon after we posted the story there was a How-To on Mashable and articles popping up all over the place.
Last night Volkswagen previewed their Super Bowl ad with this video they adorably called "The Bark Side." It has cute dogs barking the Star Wars "Imperial March" and then a simliar dog (possibly a Whippet) walks in dressed like an AT-AT to steal the scene. But despite our initial belief — it turns out it wasn't Bones Mello.
In fact, according to a post on the Bones Mello Facebook page, the creators had no idea about the VW ad until they saw it themselves.
G/O Media may get a commission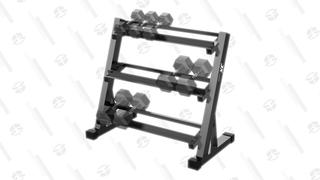 20% Off
JX Fitness Dumbbell Rack
Gains but tidy
Has a three-tier design to help store more weights more conveniently, can safely support up to 1000lbs of weight, which should be enough for most people, has a triangle base for stability, and also features anti-scratch feet which is great if you've built your own studio or workout in your garage.
We reached out to Volkswagen to ask them how, exactly, an identical dog ended up in the commercial.
"There are all hosts of dogs, from every type of dog, and an AT-AT just happens to be an Italian Greyhound. [They're] all basically matched to the storyline," VW spokesperson Corey Proffitt tells Jalopnik.
And what about it looking exactly like Bones? Who came up with the idea?
"Essentially, the idea and the origination came from Lucas Films," says Proffit, who added that Volkswagen worked with Lucas Films on the concept.
If we give Lucas Films — the folks behind Star Wars — the benefit of the doubt that this type of dog makes the most sense for an AT-AT, well maybe they — despite him being an internet sensation — just hadn't heard of Bones?
Oh, wait, no, here's a post about Bones on the official Star Wars blog, run by none other than Lucas Films.
When we asked the creators/owners of Bones Mello for a comment, Joe Mello responded to us by saying "We're trying to deal with the situation. Not ready to make any more public comments at this time."
It's understandable why Mello's creators are trying to be calm about this. Their idea might potentially be used in the Super Bowl — the mother of all advertising spheres — by the world's second largest automaker.
While all sorts of mitigating factors exist — for example, they created a derivative work with the design of the AT-AT, a creation of LucasFilms — the Mellos could potentially be able to claim some level of compensation if it can be proven that the idea was generated by them.
I mean, really, just a glance at the two images side-by-side above and you'd almost thing they could be one and the same.
So, did Volkswagen or Lucas Films rip off the idea from adorable little Bones Mello? We've no idea — but the question is certainly worthy of asking — and hopefully we'll be able to get a better answer before the big game.