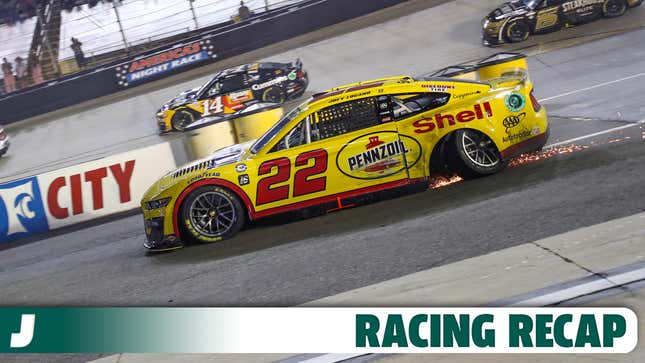 It's Monday, September 18, 2023 and this is Racing Recap, your summary of last weekend's motorsports action. Joey Logano, the defending NASCAR Cup Series Champion, was eliminated from the playoffs after a crash during Saturday night's elimination race at Bristol. Ferrari's Carlos Sainz snapped Max Verstappen and Red Bull's record F1 win streak at the Singapore Grand Prix. Also, Porsche finished 1-2 in IMSA's return to Indianapolis.
Joey Logano Crashes Out At Bristol
After two tumultuous races, Denny Hamlin locked himself into the next round with a win at Bass Pro Shops Night Race. Hamlin looked strong the past two weeks, but misfortune and mistakes kept him out of victory lane. Hamlin will also be joined in the next round by both drivers on his 23XI team, Tyler Reddick and Bubba Wallace.
Surprisingly, Joey Logano won't be moving on. The 2022 NASCAR Cup Series Champion had struggled throughout the race and ended up a lap down. The nail in the coffin for Logano's playoff hopes would come on Lap 262 of 500 when Corey LaJoie spun on the backstretch. Logano drove into the multi-car wreck and hit the inside wall. The Penske Ford's left-real wheel was terminally damaged, and the champion was out.
Race Results
1. Denny Hamlin (Gibbs)
2. Kyle Larson (Hendrick) - +2.437 seconds
3. Christopher Bell (Gibbs) - +5.098 seconds
4. Chris Buescher (RFK) - +9.206 seconds
5. Ty Gibbs (Gibbs) - +9.237 seconds
Ferrari Ends Red Bull's Record F1 Win Streak In Singapore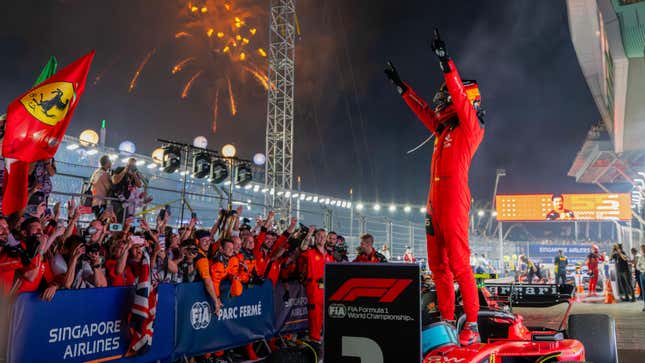 Carlos Sainz and Scuderia Ferrari drove a tactically and strategically great race to win the Singapore Grand Prix, taking advantage of Red Bull's rare dip in performance. Both Red Bull drivers failed to make Q3 in qualifying, with Max Verstappen lining up 11th on the grid. The world champion would be a factor for the win after a failed tire strategy gamble. Verstappen finished fifth, ending his record win streak at ten races.
However, it wouldn't be a cakewalk for Sainz with Red Bull out of the picture. The closing stages of the race had Mercedes charging towards the front on fresh medium tires. The Spaniard used McLaren's Lando Norris as buffer, purposely driving slow enough to keep Norris with DRS range and help the McLaren stay ahead of Mercedes.
Race Results
1. Carlos Sainz (Ferrari)
2. Lando Norris (McLaren) - +0.812 seconds
3. Lewis Hamilton (Mercedes) - +1.269 seconds
4. Charles Leclerc (Ferrari) - +21.177 seconds
5. Max Verstappen (Red Bull) - +21.441 seconds
Porsche Penske Motorsport came out victorious in the IMSA Battle on the Bricks. In IMSA's return to the Indianapolis Motor Speedway after a nine-year absence, Nick Tandy and Mathieu Jaminet won the two-hour, 40-minute sprint race in the No. 6 Porsche. The team's other car crosses the line second. The Porsches were strong all weekend and locked out the front row in qualifying. Next year, the Battle on the Bricks will be extended to a six-hour race and join the Michelin Endurance Cup alongside IMSA's other endurance classics.
Race Results
1. No. 6 Penske Porsche 963
2. No. 7 Penske Porsche 963 - +17.421 seconds
3.  No. 25 Team RLL BMW M Hybrid V8 - +32.964 seconds
4.  No. 31 Whelen Cadillac V-Series.R - +48.431 seconds
5.  No. 10 WTR Acura ARX-06 - +1:00.008