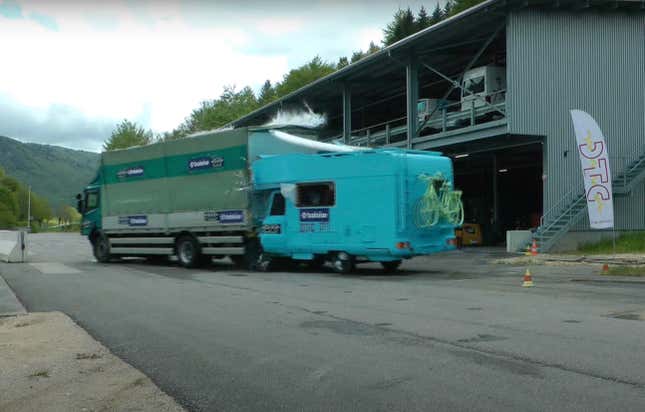 Listen, nobody wants to get into a car crash — except those freek-a-leeks from the 1996 David Cronenberg film, Crash — but if you do happen to smash into another vehicle, there are certainly good and bad vehicles to be in when it happens.
VW's ID Buzz Gets A Third Row For The U.S. And A Little Closer To Our VW Bus Dreams
For example, any car with an Insurance Institute for Highway Safety (IIHS) Top Safety Pick award will probably be a best-case scenario. A little European motorhome, conversely, will likely be a bad time, at least according to this crash test footage.
Even within that RV, there is a whole continuum of good and bad places to sit. The front seat? Probably a good bet. The bunk bed above the cab? Not great, but it could be worse. The seat at the folding breakfast table, though? Ozzy Man Reviews would doubtless label that "Destination Fucked," which you'll see pretty clearly in the crash footage.
In this footage from the Swiss company Dynamic Test Center, we see said Euro mini-RV smash into the back of a big, water-filled Iveco truck at just 60 kph (37 mph), and I have to tell you, the inside of that RV is just jumpsuit-clad dummies flying all over the place along with pots and pans and trim pieces and god knows what else.
Aside from the size difference from most U.S. RVs, it's hard to say how much better a big Fleetwood Bounder, for example, would fare in a similar collision, but I wouldn't get my hopes up.