How twee is too twee? Today's Nice Price or Crack Pipe Geo tries to toughen up the little convertible's rep with a wild wing and some sassy stripes.Will that, and its price, be enough to make it the GEO-target of a new owner?
By a narrow 48%/52% margin, yesterday's 1986 VW T3 Syncro went down in a Crack Pipe loss. I can only imagine that is going to just fuel the fire towards impending hostilities between Canada and the U.S.. Of course, the only thing to do in dark times such as these is to think about buying a cheeky little convertible.
They don't get much cheekier than this 1993 Geo Metro what with its custom paint, trunk-mounted spoiler, and factory styling that implies something clowns might drive while enjoying a fun-in-the-sun vacation.
You should thank General Motors for their model naming acumen. The Geo Metro was known in some markets as the Suzuki Cultus. That is a truly awful name. If you have a Cultus you'd be constantly faced with people asking you whether that's a super-sizer of Koolaid in the cup holder. Not only that but you'd suffer the trepidation of going out to the garage lest you find Tom Cruise there waxing the car. Creepy!
G/O Media may get a commission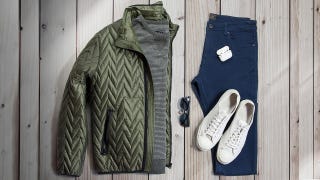 60% off
Jachs NY Fall Sale 60% Off
Tom can find another ride because this isn't a Cultus but a Metro, and of course that name suggests this is a good car for the city. It is charm bracelet tiny, which means it can be parked just about anywhere, and its 1-litre, 55-horse 3-cylinder should get amazing mileage, which comes in handy in cities that have long since banished gas stations to the suburbs.
On the downside, it is a convertible, which means breaking into it doesn't even require a brick as a good set of freakishly long fingernails (which crackheads invariably have) will do the trick. Also, with its top down and that push bar-like spoiler on the back, it could be easily mistaken as a shopping trolly and appropriated by a homeless person.
If, for you, the good outweighs the bad, then you'll want to take into consideration this Geo's four-grand in paint, as well as its two grand worth of wheels and tires, lowered suspension, and smoked lights at both ends. Those elements are all part of what's described as a partial restoration, although it's hard to see what else is left to be done on so tiny a car.
It's also a head scratcher to consider why it's up for sale with a 'nearly complete restoration.' Why not finish it? Why start something if you're not going to finish it? Was Tom Cruise involved?
Whatever the reason, this nearly completed Metro is up for grabs at $4,000. For that you get a car that will stand out, no matter where you live, and one that will likely only go up in value the next time the oil companies decide to wring another buck a gallon out of us. What's your take on this Geo's 'restoration' and its four-grand price tag? Do those conspire to make a deal? Or, is this a Metro you could miss?
You decide!
Portland OR Craigslist, or go here if the ad disappears.
H/T to Flying Fish for the hookup!
Help me out with NPOCP. Click here to send a me a fixed-price tip, and remember to include your Kinja handle.