Lamborghini has been building the same car for the past four decades. You can read a road test of the Countach and one of the Aventador, and you'll hear the same things: big, loud, fast, brash.
This is a problem for people who write about cars, but it's good brain food. The question of eternal recurrence was a one Friedrich Nietzsche's great talking points. What if everything that happens has already happened before. And what if everything that has happened will happen again? It's both a liberating and horrifying idea.
While we were discussing a different car company that's been building the same car for decades now, ASA NISI MASA found another Nietzsche connection.
BMW M's president is named "Friedrich Nitschke?" That's priceless. In B4 not the same name, but it's close enough for me.

Let me rewrite 3rd gear:

BMW M GmbH president Friedrich Nietzsche revealed some new details about the company's future product lineup earlier this week to with Car & Driver. Nietzsche declined to confirm a production version of the M135i concept, saying "there are no facts, only interpretations," but that the car would be powered by the N55 engine.

Nietzsche explained the input of BMW's customer base in determining option packages for the new M135i. "Brave, unconcerned, mocking, violent – thus wisdom wants us: she is a woman, and loves only a warrior," he explained, commenting that the model will be offered with an optional all-wheel drive system. A few drinks later, he then said the company is considering an M Performance 7-series with a tri-turbo 3.0-liter six-cylinder diesel engine that develops 375 bhp and 546 lb-ft of torque. The added power, he claimed, would be necessary to express the desires of the BMW driver above those of, say, a Mercedes-Benz or Audi driver. "That every will must consider every other will its equal," he went on, "would be a principle hostile to life, an agent of the dissolution and destruction of man, an attempt to assassinate the future of man, a sign of weariness, a secret path to nothingness - thus, the expression of the M driver's will must be given a greater chance through greater horsepower."

Nietzschealso said the M550d could be offered in the United States, despite research showing there isn't enough demand. He chastised claims that Americans lacked an appetite for diesel wagons, leaping upon a table and shouting "everyone wants the same, everyone is the same: whoever feels different goes willingly into the madhouse." Last but certainly not least, Nietzsche said some at the company want to build a mid-engine superman - but no green light yet.
G/O Media may get a commission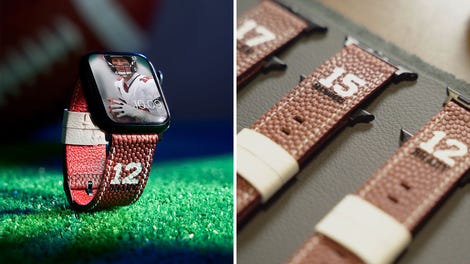 Official NFL PRODUCTS
Official NFL Apple Watch Bands
Photo Credit: Otis Blank