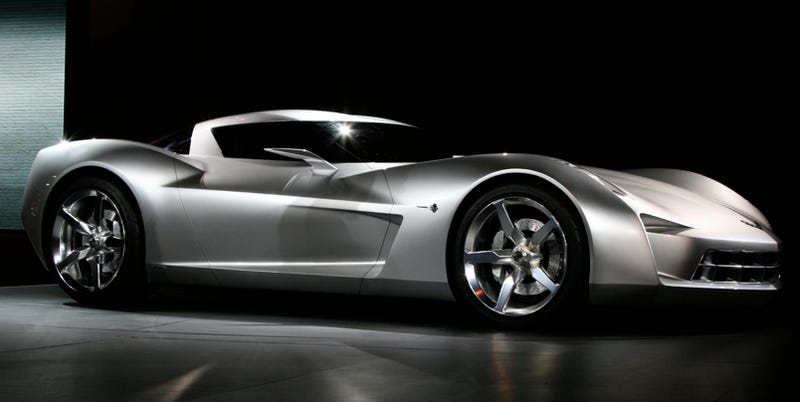 You saw it here first. Now the Corvette Stingray Concept's finally official, uncovered as Sideswipe here in Chicago ahead of a starring role in Transformers: Revenge Of The Fallen. Gallery below. UPDATE: Video here!

It just seemed weird, considering GM's level of involvement in Transformers, for them not to have a Corvette in the movie. Now, here it is. It's not the next Corvette, but it is what we wish the next Corvette would look like — it's the Stingray Corvette Concept, and it'll play the character of Sideswipe. Frankly, it was gorgeous when we first saw it at GM's design center and it's even more gorgeous now.
We'll have more on the rest of the Autobots revealed here in Chicago shortly, but we kinda figured you'd want to see this silver gleaming slab of beautiful first.
By the way, I just touched it. Now I want one.
UPDATE: Shots of the other 'bots on parade here in Chicago below.


UPDATE: Names of all the Autobots that are Chevy vehicles now official:
SIDESWIPE – a stylized Corvette vision concept vehicle
SKIDS and MUDFLAP – twin AUTOBOTS® based on Chevy's Beat (a concept that will go into production as the Chevy Spark in 2011) and Trax concepts
JOLT – an AUTOBOT-based on Chevy's upcoming Volt extended-range electric vehicle
BUMBLEBEE™, the heroic AUTOBOT based on Chevrolet's Camaro concept from the first "Transformers" movie, returns with a high-performance attitude. Joining the vehicles on stage will be BUMBLEBEE in his AUTOBOT form, standing almost 17 feet (5.2 meters) tall and 13 feet (4 meters) wide.
PRESS RELEASE:
AUTOBOTS® WITH BOW TIES: CHEVROLET-BASED CHARACTERS STARRING IN 'TRANSFORMERS: REVENGE OF THE FALLEN' AT THE CHICAGO AUTO SHOW

Giant movie robot also on display with vehicles used in the upcoming blockbuster summer film

CHICAGO – Visitors to the Chevrolet display at this year's Chicago Auto Show (Friday through Feb. 22) will be treated to an out-of-this-world vehicle display – the automotive stars from the upcoming DreamWorks Pictures and Paramount Pictures release, "Transformers: Revenge of the Fallen."

Five Chevrolet-based characters – including four all-new characters – are featured in the new film set to open in the United States on June 26. All of them are at the Chevrolet display. The four new movie characters include:

SIDESWIPE – a stylized Corvette vision concept vehicle
SKIDS and MUDFLAP – twin AUTOBOTS® based on Chevy's Beat (a concept that will go into production as the Chevy Spark in 2011) and Trax concepts
JOLT – an AUTOBOT-based on Chevy's upcoming Volt extended-range electric vehicle
BUMBLEBEE™, the heroic AUTOBOT based on Chevrolet's Camaro concept from the first "Transformers" movie, returns with a high-performance attitude. Joining the vehicles on stage will be BUMBLEBEE in his AUTOBOT form, standing almost 17 feet (5.2 meters) tall and 13 feet (4 meters) wide.

"Chevrolet is thrilled to again be part of one of the most anticipated movies in years," said Ed Peper, GM North America vice president, Chevrolet. "'Transformers' gives us a great opportunity to connect with young people on their terms, with a dynamic, environmentally friendly image. The new characters represent the change going on in Chevy showrooms. From the exciting Camaro, the 21st century sports car, to the game-changing Volt, there's more than meets the eye at Chevrolet today."

Directed by Michael Bay, "Transformers: Revenge of the Fallen" sees the AUTOBOTS confront a new threat from DECEPTICONS® bent on avenging their earlier defeat on Earth. The new AUTOBOT characters in their current Chevy-based form square off against new, tougher foes determined to rule the universe.

"'Transformers: Revenge of the Fallen' goes way beyond the first film in terms of robot action and excitement," said LeeAnne Stables, executive vice president of worldwide marketing partnerships at Paramount Pictures, the distributor of the film. "The new AUTOBOTS add to the storytelling, and these Chevy vehicles went with our filmmakers to locations all around the world. GM has again provided incredible support to the production team working on the movie."

Along with the Camaro that's reprising its role in the new film, the other Chevy models to be seen on the big screen are new to movie-goers.

SIDESWIPE takes the form of a sleek, vision concept dreamed up by the Corvette designers at GM. The design is influenced by the original Stingray race car, introduced in 1959, but also draws on Corvette heritage cues from other generations. It brings them together in a futuristic shape that seems to be equal parts racecar and space ship.

"SIDESWIPE represents an exercise in exploration for the Corvette," said Ed Welburn, vice president of GM Global Design. "By giving my creative team the freedom to design no-holds-barred vision concepts, it helps them push boundaries and look at projects from different perspectives."

The Beat and Trax-based characters, SKIDS and MUDFLAP, remain faithful to their concept designs introduced at the 2007 New York Auto Show – although each wears new paint and other exterior accessories. And while they may be small cars, when they turn into fighting AUTOBOTS®, they pack a big punch.

The other new AUTOBOT, JOLT, appears in the production form of Chevy's 2011 Volt extended-range electric vehicle. With the capability of up to 40 miles (64 km) of pure electric propulsion, plus hundreds of more miles with the assistance from its Voltec powertrain system, the real-life Volt will change driving in America.

Of course, the AUTOBOT team isn't complete without BUMBLEBEE, the yellow Camaro based on the new, 2010 production model. Sporting new wheels and SS-model performance cues, BUMBLEBEE is more stylish and powerful than ever – and enthusiasts will be able to drive their own new Camaro when it goes on sale this spring. For more exclusive AUTOBOT movie information relating to Chevrolet, please visit www.autobotsrollout.com.

Chevrolet is one of America's best-known and best-selling automotive brands. With the largest dealer network in the United States, Chevy is the leader in full-size trucks and the leader in sales of vehicles priced $35,000 and above. Chevrolet delivers more-than-expected value in every vehicle category, offering cars and trucks priced from $12,120 to $103,300. Chevy delivers expressive design, spirited performance and great value with standard features usually found only on more expensive vehicles. More information on Chevrolet can be found at www.chevrolet.com.

DreamWorks Pictures and Paramount Pictures present, in association with Hasbro, a di Bonaventura Pictures production, a Tom DeSanto/Don Murphy Production, a Michael Bay film, "Transformers: Revenge of the Fallen," starring Shia LaBeouf, Megan Fox, Josh Duhamel, Tyrese Gibson, Kevin Dunn, Julie White, John Benjamin Hickey, Ramon Rodriguez, Isabel Lucas, Glenn Morshower and John Turturro. The film is directed by Michael Bay and written by Ehren Kruger, Roberto Orci and Alex Kurtzman. It is based on Hasbro's TRANSFORMERS™ action figures and is produced by Don Murphy, Tom DeSanto, Lorenzo di Bonaventura and Ian Bryce. Executive producers are Steven Spielberg, Michael Bay, Brian Goldner and Mark Vahradian. This film has not yet been rated.

TRANSFORMERS is a brand of Hasbro, Inc. (NYSE:HAS). Hasbro is a worldwide leader in children's and family leisure time products and services with a rich portfolio of brands and entertainment properties that provides some of the highest quality and most recognizable play and recreational experiences in the world. As a brand-driven, consumer-focused global company, Hasbro brings to market a range of toys, games and licensed products, from traditional to high-tech and digital, under such powerful brand names as TRANSFORMERS, PLAYSKOOL, TONKA, MILTON BRADLEY, PARKER BROTHERS, TIGER, CRANIUM and WIZARDS OF THE COAST. Come see how we inspire play through our brands at http://www.hasbro.com.

# # #