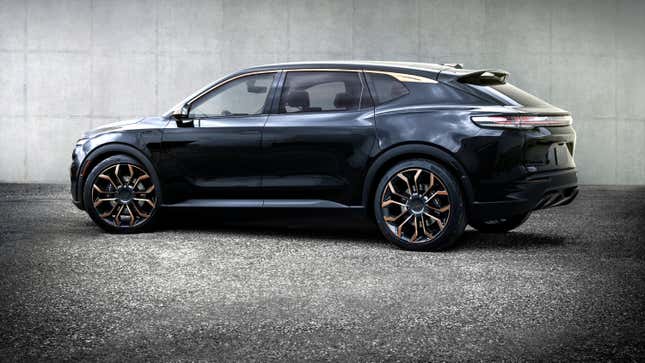 Like nearly every other automotive brand in the industry, Chrysler is transitioning to an all-EV lineup. But Chrysler is in a unique position due to how light its product offerings have been for years now. Some may want to know what Chrysler has planned for the future. Autoblog sat down with the brand's CEO Chris Fuell at the Chicago Auto Show to find out what Chrysler has coming in the next few years — but Fuell didn't have much to say, at least as far as specifics are concerned.
My First Car: Danny and Lucy DeVito Discuss the Family Fleet
Compared to everyone else, especially its Stellantis brand mates, it doesn't seem as if Chrysler has much of anything going on. Sure the Pacifica is great and the 300 SRT reborn 300C sold out in minutes, but other than that, it's been quiet. That should change soon. Fuell was asked about new product and said "quite a bit" is coming.

The 300 is set to drive off into the sunset at the end of the year. After that, Chrysler will be just a one-model brand from 2024 until 2025 when the new EV products start coming. And new product that's really all new is a long time coming for Chrysler.
"Going forward, the first brand-new product to launch really since the 300 launched in 2005 will be our first battery electric vehicle in 2025, so we're really excited about that" Fuell told Autoblog.
OK, awesome. But what's coming, specifically? Fuell doubled down on saying everything and nothing at the same time: "We've got a pretty quick succession of additional new products and launches that will be coming down the pipe between then and 2028, when we transform the portfolio to full electrification."
Sensing what she was doing, Autoblog asked her again, what's coming? She gave another around-the-way answer:

Autoblog: How about between now and 2025?

Fuell: From 2025 onward, we'll be entering new market segments that we haven't been in in a while. And, you know, really launching products in the sweet spot in the volume segments that will help propel the brand to grow.
Strangely, there was also no mention of the Chrysler Airflow, which is supposed to be coming soon.
There is one bright spot, however. Fuell seems to be taking a common sense approach to subscription-based features.
While Fuell didn't rule out that Chrysler wouldn't do subscriptions, she's treading lightly. She's aware that customers don't seem to be too fond of them to begin with.
"What we've heard from customers is there are certain features and technologies that they just expect to come with a base price of the vehicle. They view subscriptions rather skeptically, like, 'You're just trying to charge me more for something that I already get for free today,'" she said to Autoblog.
Fuell also added that subscription-based features make more sense for features that use OTA (over the air) updates, something that improves or brings value to the customer. While this is probably the best approach to subscriptions we've seen, we'd still like to know when some new cars are coming for the brand. I guess we'll just have to wait and see.