Even General Motors recognizes that the current Chevrolet Malibu doesn't have much to write home about, so its 2014 "emergency refresh" comes with a host of improvements including a more efficient base engine. Maybe too efficient, in fact, because now there's no reason to buy the hybrid.
Automotive News has the scoop on the new 2.5-liter four cylinder engine, which boasts 25 mpg in the city and 36 mpg on the highway. You could buy that. Or you could spend $2,300 more for the Chevrolet Malibu Eco hybrid, whose eAssist hybrid system gets 25 mpg in the city and 36 mpg on the highway.
Say it with me now: Huh?
Actually, Chevrolet kind of knew this would happen. As per AN's report, Eco model sales have accounted for less than 10 percent of total Malibu sales, so they're hoping this new base model car will punch things up a bit. From their story:
GM bills eAssist as a modestly priced fuel economy package, compared to full hybrids, that produces a nice boost in mileage. The system also uses a stop-start system. But it also utilizes a lithium ion battery in the trunk, regenerative braking and a small electric motor to assist the 2.4-liter engine under heavy loads, such as when merging into highway traffic.

But advances in the efficiency of regular gasoline engines can nullify the fuel economy edge of the eAssist system, says Alan Baum, a suburban Detroit auto analyst who tracks hybrid technology. The base 2013 Nissan Altima, which has a 2.5-liter, four-cylinder engine, has a 27/38 mpg rating without use of electrification or a stop-start system.
G/O Media may get a commission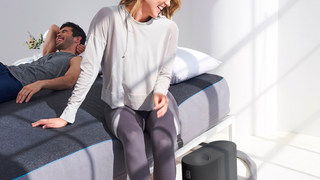 Eight Sleep Pod Cover
And to the Malibu's credit, its combined 29 mpg rating is better than the Toyota Camry, Ford Fusion, Kia Optima and Hyundai Sonata.
The big takeaway from this seems to be that if you want to go hybrid, you have to go big or go home. So-called "mild hybrid" systems like the one on the Malibu Eco represent such negligible gains in fuel economy as standard gasoline engines become more efficient that they may end up becoming irrelevant.
In the meantime, if someone you know is considering buying the 2014 Malibu Eco hybrid, talk them into saving some of their money.