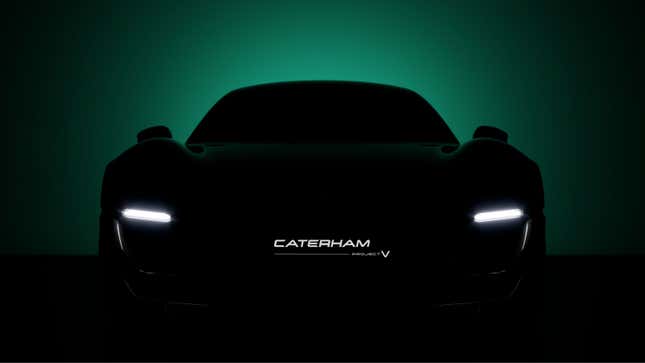 Caterham is a great little car company, having stuck to its guns for decades building lightweight, fun little sports cars that expose you to the elements. Now, the company is mixing things up with a foray into electric models and even a new concept car that comes with a roof. Revolutionary.

The British automaker first teased its electric ambitions with a concept that fitted its iconic Seven chassis with batteries and electric motors. But that car was just a glimpse at the company's plans for its electric future. Now, we've been given a few more details about Caterham's electric ambitions.
Those ambitions take the form of the Project V, a concept car that will be fully unveiled at the Goodwood Festival of Speed in the UK next week. The new concept isn't just a rework of the Caterham Seven, instead, it's an all-new, all-electric coupe that has been dreamt up by Caterham chief designer, Anthony Jannarelly.
The car, which has so far only had its front and rear ends teased, will showcase a "completely new design language" for Caterham. That new design language looks like it includes a proper roof for the first time.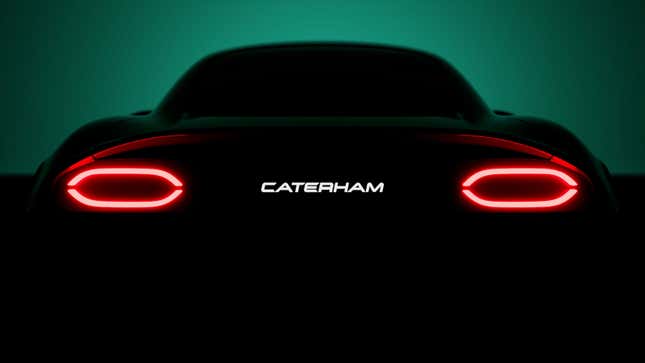 As well as a roof, the new car will also feature futuristic lights at the front and rear, another departure from Caterham of old, and space for a bit of a trunk at the back.
But other than the details we can pick up from these teaser images, Caterham has remained tight-lipped on the new car and hasn't shared any details about the Project V. If we want to find out the juicy details about the new car, we'll have to keep our eyes on the Goodwood Festival of Speed, where the car will be unveiled on July 12th.
At its stand at the festival, Caterham will display a show car manufactured by engineering and design firm, Italdesign. When the show car breaks cover, we hope Caterham can tell us more about the electric motors and batteries that will power its new car, as well as the steps it has taken to keep its weight down – as a heavy Caterham sounds about as out of place as a Ferrari SUV. Oh, wait.