If Cars 3's grim reminder of your slow descent into old age in trailer form didn't already convince you that this is the must-see kids' movie of the summer, maybe its cast will, if you're a NASCAR fan. NASCAR announced that legends Richard Petty and Jeff Gordon will be voicing anthropomorphized cars in Cars 3, along with other current drivers and personalities.
"Cars 3' very much pays homage to stock car racing and its rich history," director Brian Fee told NASCAR. And hey, it's something that might actually work at getting regular people to care about NASCAR (which I can't say for many other ideas they've had this season).

As such, the cast is insanely NASCAR-heavy for this round, complete with hilariously similar names to drive the point home and character descriptions that give away who might play a major role in the upcoming film [spoilers ahead!]:
Four-time Cup Series champion Jeff Gordon plays Jeff Gorvette, a retired racer with more top-ten finishes than anyone else.
Richard Petty voices Strip "The King" Weathers, a retired racer who now serves as a crew chief for his nephew, Cal Weathers.

Kyle Petty, son of Richard, plays the nephew of Richard's character, Cal Weathers. Weathers grew up watching his uncle race, but wants to step away from the sport to give a new generation the chance.

2016 Rookie of the Year Chase Elliott plays second-generation Piston Cup racer Chase Racelott, a smart, high-tech upcoming racer.

Cup driver Ryan Blaney voices (who else?) Ryan "Inside" Laney, a talented racer known for having fun with it.
2016 Xfinity Series champion who recently moved into the Cup series Daniel Suárez plays next-generation racer Danny Swervez, a mid-season replacement who's defying all odds to succeed.

Xfinity Series driver Bubba Wallace plays another next-generation car, Bubba Wheelhouse, who NASCAR describes as "a fast and tenacious young racer knows how to win."
Gordon's former crew chief and current Hendrick Motorsports consultant Ray Evernham plays the crew chief for McQueen's nemesis, Ray Reverham. That nemesis, as we've seen in the previews, is Jackson Storm. Reverham uses the latest technology and strategies to help Storm win.

Legendary NASCAR promoter and former Charlotte Motor Speedway president Humpy Wheeler voices Dinoco team owner Tex Dinoco, who would love to bring Lightning McQueen onto their team.

Fox Sports announcer Mike Joy plays in-the-know radio host Mike Joyride, who frequently accurately predicts what will happen next in Cars' racing world.

Fox Sports commentator Shannon Spake plays on-track reporter Shannon Spoke, who drives alongside cars on track for comment in the film.

G/O Media may get a commission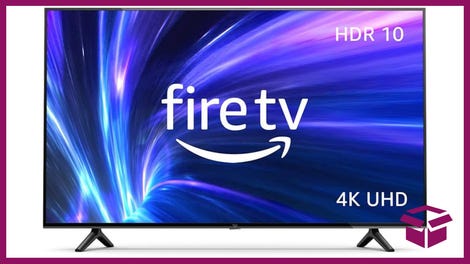 42% Off
Amazon Fire TV 50" 4K Smart TV
So, is Lightning McQueen getting hurt an animated reimagining of Dale Eanrhardt Jr.'s 2016 season, or what? Maybe Kyle Busch's epic comeback after an early season crash in 2015? Or is it a movie about when to retire? And when can we have a sports car version with Sally Carrera and friends?
We demand more spoilers.