1st Gear: Ghosn Gone, But Not Far
People in the business often wonder how Carlos Ghosn—chairman and CEO of Nissan, chairman and CEO of Renault, leader of the Renault-Nissan Alliance and now chairman of Mitsubishi—has time to do everything. Can the modern man have it all? And by have it all, I mean three car companies?
Evidently something had to give, because after 16 years Ghosn is stepping down as CEO of Nissan, the Japanese automaker his leadership more than likely saved from oblivion in the late 1990s and early 2000s.
But Ghosn isn't settling into a quiet retired life of fishing, woodworking and turning his personal 350Z into a drift car. While he's handing the Nissan CEO reins over to current co-CEO Hiroto Saikawa, Ghosn is keeping several other key roles, including CEO ones. Via Automotive News:
Ghosn, who joined Nissan in 1999 from France's Renault SA and became Nissan's CEO two years later, will retain his position as chairman of the Japan's second-biggest automaker, the company said in a statement Thursday in Tokyo. Hiroto Saikawa, who currently serves as co-CEO and is a year older than the 62-year-old Ghosn, will become sole chief executive.
The changes are effective April 1.

Ghosn will also retain his roles as chairman and CEO of Renault and of the Renault-Nissan Alliance, spokesman Jonathan Adashek said.

"There are still lots of things to be done inside the company (Renault) in order to make its growth sustainable and lasting and solid," Ghosn told Reuters in an interview.

And he will also stay on as chairman of Mitsubishi, a company brought into the Alliance last October through Nissan's purchase of a controlling stake.
So he's still chairman of Nissan, chairman and CEO of Renault and the group alliance, and chairman of Mitsubishi.
The move comes as a surprise, but Ghosn told Bloomberg that the reason it's happening now is because the company is doing well.
As for the Nissan management succession, one analyst was puzzled by the timing. "I'm not sure why Nissan announced a change in CEO from Carlos Ghosn to Saikawa-san at this moment," said Takeshi Miyao of Tokyo-based market researcher Carnorama. "It is a big surprise for the industry."

Ghosn, however, described the timing as opportune. "You don't make this kind of changes at a moment of crisis," he said. "You make the changes at a moment when the company is doing well, when the company is healthy, when the company is not facing a big crisis, which is the case today."
G/O Media may get a commission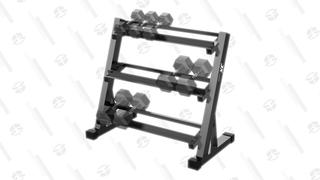 20% Off
JX Fitness Dumbbell Rack
Gains but tidy
Has a three-tier design to help store more weights more conveniently, can safely support up to 1000lbs of weight, which should be enough for most people, has a triangle base for stability, and also features anti-scratch feet which is great if you've built your own studio or workout in your garage.
Congrats on your new, very slightly less busy role, Mr. Ghosn! Everyone in the universe looks like a lazy ass compared to you.
2nd Gear: Ghosn's Legacy
It's hard to overstate Ghosn's impact on Nissan over the years. He came in at a time when the company was reeling from a recession and bleeding cash. Because he was an outsider—I can't think of any other non-Japanese to run a Japanese car company—and a ruthless, unapologetic cost-cutter, Ghosn was able to break bad habits and relationships and put Nissan on a path to profitability. Some of his accomplishments are outlined in the Nikkei:
Unbound by old ties, Ghosn took bold steps to slash Nissan's expenses. He did not hesitate to close plants and review relationships with partner companies. He sharply reduced the number of suppliers, triggering an industrial shakeout in Japan. The merger of major steelmakers NKK and Kawasaki Steel was one example of this.

Some in the Japanese business community dubbed all this the "Ghosn shock." But as Nissan's results improved, Ghosn's toughness garnered widespread respect.

Ghosn's diverse background, meanwhile, may have helped him move between cultures. His grandfather migrated to Brazil from Lebanon. He was born in Brazil, and educated there as well as in Lebanon and France. He worked in Brazil and the U.S. when he was with French tire manufacturer Michelin. Since joining Nissan, he has continued to jet around the globe on business, including to China and Russia.

At the Japanese automaker, Ghosn assigned employees based on ability and resourcefulness — not nationality. Maximizing in-house resources became the foundation of Nissan's revival.

While Ghosn may deny that he is charismatic, the force of his personality surely played a role in his success as well. He clearly took the initiative in driving management reforms and inspired his workforce.
While Ghosn is leaving the the day-to-day tasks of running Nissan to his successor, don't think for a second that his presence won't be felt there.
3rd Gear: Tesla Loses Money In Q4 But It's Better Than Last Time
Tesla's quarterly results don't seem to be the big, earth-shattering, drop everything news for us they used to be, but they're still important. The automaker's Q4 resulted in a $121 million loss, but that's better than Q4 a year previous. Via Automotive News:
The latest loss was narrower than the $320.4 million in red ink a year earlier for the electric automaker. The fourth quarter results follow Tesla's second ever profit, as a public company, reported in the third quarter of 2016.

Tesla reported revenue of $2.3 billion in the fourth quarter, an increase of 88 percent from $1.2 billion in 2015. An increase in vehicle deliveries — up 27 percent to 22,252 from 17,478 — helped drive the surge in revenue.

Tesla attributed the latest quarterly loss to capital outlays of $522 million, primarily for expenditures on Model 3 production, a battery Gigafactory in Nevada and investments in customer support. The acquisition of solar panel company SolarCity, which closed in November, added $85 million in operating expenses.
Lotta overhead, still.
4th Gear: Model 3 Confirmed
However, Tesla says it's still on track to start building the Model 3 sedan this summer. Via The Detroit News:
The electric-car maker expects to deliver as many as 50,000 vehicles in the first half of the year and still sees Model 3 production starting in July, according to a letter to shareholders Wednesday.

The Palo Alto, California-based company lost 69 cents a share during the final three months of last year, a slimmer deficit than analysts projected.

The confirmation for the car Tesla plans to sell for close to $35,000 before incentives adds credence to Musk's ability to deliver for investors who have bid up the 14-year-old company's market value to rival those of automakers which have been around more than a century and sell millions of cars a year.
We shall see.
5th Gear: We Could Sell Opels Outside Of Europe, Really!
Have you ever sold a car to someone, and they're really really excited about it, but you're just happy to be done with it for good? I think that's how the sale of General Motors' Opel to PSA Peugeot Citroën is going down.
PSA is thrilled for what it says will be an aggressive turnaround, and possibly the sale of Opels outside of Europe—but not necessarily to the U.S.
CEO Carlos Tavares to Bloomberg:
PSA would cut costs, combine development efforts and exploit the appeal of German engineering. Opel, based outside Frankfurt, could in turn serve as a growth driver with potential expansion beyond its home region, a role that was limited under GM.

"This company needs help," Tavares said on Thursday in his first extended public comments since news of the talks about buying Opel emerged last week. "We believe that there is opportunity to create a European car champion."

Combining with Opel would improve PSA's competitiveness abroad, allowing the French automaker to offer a German alternative to customers who don't want to buy a French brand, Tavares said. Asked if Opel cars could eventually be sold outside of Europe, including in the U,S., Tavares said selling Opels outside its European home was a possibility, but he did not mention the U.S. market in his answer.
GM's response was no doubt something like "Sure, good luck with that."
Reverse: Nothing This Interesting Happens In F1 Anymore
Neutral: What's Your Take On Ghosn?
Are you surprised by the move, and what will be Ghosn's lasting legacy at Nissan and Renault?