Sitting in the Carbon Motors E7, you realize it's the product of police officers dreaming up the ideal vehicle for law enforcement. This dream's coming to a radar trap near you in 2012.
G/O Media may get a commission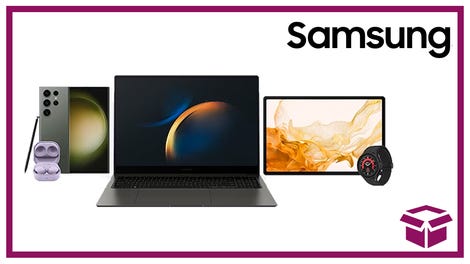 24 hour deals
Discover Samsung - Daily Deal
Built on a purpose-built chassis and using a 300 HP, 420 Lb-Ft of torque forced-induction diesel, the 4,000 Lb E7 will run 0-60 in 6.5 seconds, top out at 155 MPH and return 28-30 MPG in normal use. More importantly, it's designed to a 250,000-mile durability spec. Faster, more economical and longer lasting than current cop cars, but it's what inside that really counts; the E7 has been designed around the police officers specific needs.
Current cruisers, modified versions of civilian cars, are far from ideal for police use. The necessary additions — radios, computers, donut holders — often get added with little to no thought or testing to how they'll perform in a crash, often becoming lethal projectiles in an impact. Seats aren't built for 8-hour-long shift, controls aren't created with control in mind, communications and computer equipment gets spec'd for cost, not capability.
The E7 integrates all its features neatly into a cohesive package. Check out the faired-in lights all over the bodywork — better for aerodynamics. The seats are made to support large and in-charge cops and accommodate utility belts full of cuffs, batons and handguns. Heated and cooled cup holders complement the A/C fans incorporated in the headrests for year-round comfort. All computing and communications take place through the huge dash-mounted touch screen while gadgets like radar speed detectors, 360° surveillance cams and automatic license plate recognition cameras abound. It even has biohazard and weapons of mass destruction detectors integrated in neat trunk-mounted NACA ducts.
There are over 425,000 law enforcement vehicles in service in the U.S. Carbon Motors hopes to take that market by storm, offering a vehicle that easily exceeds current vehicles' fuel economy, utility and safety - over 50% of officer injuries take place in their vehicles. Carbon Motors hopes to bring the E7 in around the same price as a fully equipped version of current cruisers. Judging by the reaction local cops had when they saw the E7 yesterday, there's going to be a lot of eager customers.
While we may have gotten an exclusive "Big Apple" first-hand look yesterday evening, you can see it for yourself today from 7:00 AM to 4:00 PM in Times Square near the NASDAQ market site where the folks from Carbon Motors will ring the opening bell.