The security guard who rose to Internet fame for hooning a Corvette ZR1 on camera and uploading the video to YouTube is in a heap of trouble. The car's owner tells us they'll be calling the Dallas police this morning.
As you can see in the video above, a security guard at the Dallas Auto Auction in Dallas, Texas rips on a $110,000 Corvette ZR1 in his care, including a few gravely slides. The video of him having too much fun with the car was uploaded to YouTube and shared widely around the 'Vette community before we posted it.
As we reported, the car belongs to the Woodhouse Jeep, Chrysler, Dodge auto dealership outside Omaha, Nebraska. Steve Karaus, an employee of the dealership, was not pleased when he saw the video on Jalopnik and was quick to charge into and deal with the situation.
"This is NOT in ANY way how cars are treated by Woodhouse employees," Karaus told us via email. "I will be personally handling this matter with the auction house in the morning."
G/O Media may get a commission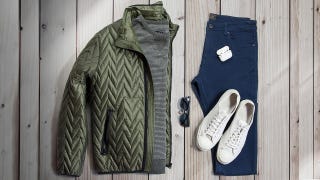 60% off
Jachs NY Fall Sale 60% Off
Karaus claims the car's already been sold and shipped out of the U.S., but he went on to further describe what's about to happen to the as-of-yet unnamed security guard.
That car was inside at that auction and that is a security guard that abused his former job by getting it out and doing that to a car that he does NOT own in anyway. Also we WILL be pressing charges with the Dallas police in the morning for taking the car WITHOUT ANY permission from us in anyway and also for the way it was treated.
Although we're constantly trying to come up with a way to drive a ZR1 again, we're starting to believe this way isn't worth it.
"It wasn't a great way to find out but I'm glad we did. My owners have a zero tolerance policy about treating our cars that way. We are the #1 Viper dealer in the country and that is where that car came from," said Karaus. "I guess luckily for us that kid is NOT very smart."
Not very smart, indeed, as the security guard in question, who goes by the YouTube username jin69ohyeah, removed his copy of the video, but then posted a comment on a repost of the same video admitting he did it.

He may have had a chance to beat on a $110,000 Corvette ZR1, but he's going to lose his job for doing it.