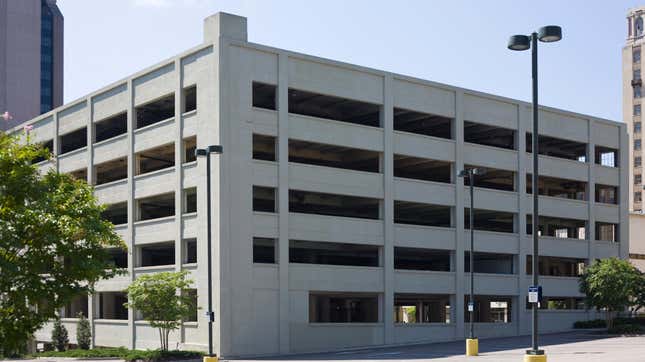 Parking garages: they're huge, utilitarian eyesores that take up valuable city real estate while providing nothing to a neighborhood or downtown areas appeal. CityLab has an interesting story on the history of these lumbering gray beasts — and where cities can go from here.
These blank, blocky spaces have existed since the 1930s, when car ownership exploded in the U.S., but, initially, they weren't ugly. New York had a "hotel for cars" which housed vehicles in a gorgeous art deco skyscraper. Several cities also made valiant attempts at decent-looking buildings. So what happened? From CityLab:
But while architects penned the occasional signature parking structure — see Paul Rudolph's 700-foot-long Temple Street Garage in New Haven, Connecticut, a two-block-long brutalist icon of the mid-1960s — most parking infrastructure made little effort to fit into the urban fabric or make a design statement, especially in the urban renewal years of the 1970s.

These are the parking garages that urbanists loathe: unadorned stacks of ramps and decks, assembled as cheaply as possible and built solely to absorb the flood of automobiles that city leaders and transportation planners, desperate to keep downtowns afloat, had invited into the city.

That's right, what the '70s did to hair and clothes, it did to parking garages. Luckily, designers today are taking a new, people-centric approach to the 100-year-old problem of how to store cars in cities:
"You don't want it to be the standard gray concrete box," says Dave Rich, a vice president at Rich & Associates Parking Consultants. "It's all part of the movement of creating these walkable, user-friendly environments."

One design trick — particularly popular in some Texas metros — is the so-called Dallas Donut, where, as in Morris Cafritz's office building, the parking is tucked away behind more human-centered space, in this case layers of multifamily residential units. (The Utile staff call this model the "Texas Taco.") From the street level, the building presents as a standard (if somewhat massive) mixed-use development; the hole of the donut is filled with cars.

Other solutions are more purely aesthetic. "There are solutions to cladding parking garages that can be just as sexy or attractive, to be honest, as an office building," says urban planner Jeff Speck, author of Walkable City: How Downtown Can Save America, One Step at a Time. He cites one well-known example: 2012 Cedar Springs Road in Dallas, an otherwise conventional parking garage clad in a wavy, metallic mesh that almost obscures the building's true purpose.

Speck adds a crucial caveat, however. "What's essential," he says, "is that the ground floor be occupied with a human use."
Sexy parking garages? OK, sure. Parking garages are a huge piece of our driving infrastructure and CityLab's entire deep dive is fascinating. You can read it here.