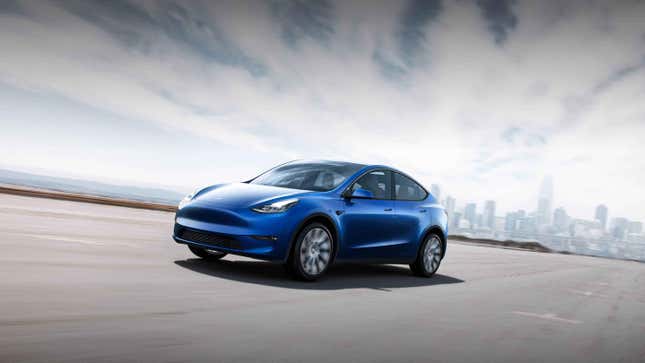 Data released by the State of California shows that the Golden State is making substantial progress toward its progressive EV goals. In the last year, California's electric vehicle market share increased to over 17 percent, according to the California Energy Commission and the California New Car Dealers Association.
This NYC Garage Takes Vanlife To The Next Level | Jalopnik Visits
Hybrid and electric vehicle shares combined increased 7.7 percent in the state, and accounted for 31.1 percent of all new vehicles sold in 2022. Of course, it's no surprise that Tesla dominated the sales charts, making up 72 percent of all EVs sold last year. Overall, across cars the Tesla Model Y was the top-selling new car in the whole state with 87,257 vehicle registrations. The Model 3 was a close second at 78,935 vehicle registrations, enough to give it a 55.1 percent market share in the near-luxury car segment.

What of the other EVs? Not everyone drives a Tesla (although looking at the cars in everyday California traffic would show otherwise). EVs from other automakers had some sales, but considerably smaller registration numbers:

Chevy Bolt: 11,114 registrations
Mercedes EQS: 3,331 registrations
Ford Mustang Mach-E: 9,788 registrations
And that's it. There were no Polestar 2, Lucid Air, Volvo XC40 Recharge, or any other EVs gracing the 2022 top sales registration list. The data says it all. The cold hard truth is that Tesla dominates the EV market in the coastal state. So much so that of the five brands that saw an increase in vehicle registrations over 2021, Tesla topped the list of 30 with a 54.2 percent increase in vehicle registrations vs. 2021 (Genesis came in second at 26.5 percent; Cadillac third at 3.7 percent; Mercedes was fourth at 3.4 percent and Kia was last with 2.4 percent.)

Tesla didn't dominate everything though. Toyota was the top-selling brand in California in 2022 with a 17.3 percent market share; Tesla was a not-too-distant second at 13.3 percent. While Californians seem to be on their way to making EVs a big part of the automotive landscape in the state, my fellow Golden Staters take note: THERE ARE OTHER EVS BESIDES TESLA. Tesla may have the best charging network, but there are other EV chargers. Stop letting the influencers of TikTok and Instagram sway your buying decisions.