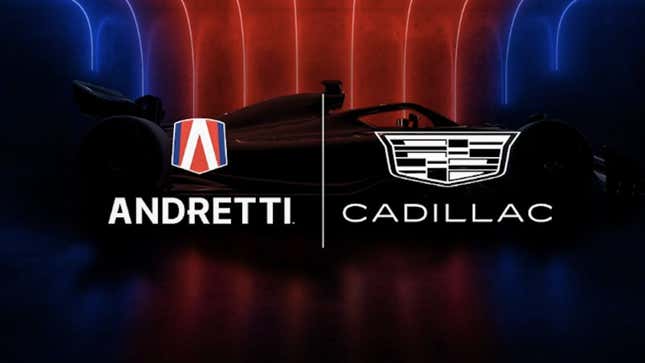 It's safe to say no one was expecting Andretti Global and Cadillac Racing to partner up for a future Formula 1 bid, but last week, that's just what happened. New regulations will allow potential teams to file a formal expression of interest that can be evaluated by the relevant parties before permitting that team to join the grid — but to learn more about what brought General Motors to the table, I spoke to Rory Harvey, Vice President of Cadillac's global operations.
How Actor Brian Muller Became an F1 Podcaster
This interview has been lightly edited for clarity.
Elizabeth Blackstock: Hi. How's it going? How are you guys today
Rory Harvey: Yes, it's going fantastic. We did the announcement yesterday, the press conference, and things are buzzing. So many people are interested, so many people are excited, and we're upbeat and excited as well. Looking forward to the next few weeks to see how it plays out.
EB: It's a good time to be excited. I wanted to ask a few questions about where this F1 program is going to slot into the Cadillac Racing pedigree. I know you can't give any details about the specifics, which is fine. I'm more interested in what makes F1 interesting as opposed to sports cars, where Cadillac's strengths currently are?
RH: Yes, so I guess our interest is across the board. I'm a massive motorsports fan personally. If you looked at Cadillac overall in terms of its 120-year history, motorsport has been part of its DNA. If you looked at our product liner today, whether it be CT4-V Blackwing, CT5-V Blackwing, Escalade V as an example, we definitely have a performance element there. I've personally picked up the manufacturer's championships a few times now in terms of the IMSA series. We're very pleased to participate in the IMSA series. We don't see this as distracting from our focus on IMSA.
Indeed, as you know, with the new sort of rollout of the proposition for this year, we're also going to participate in the World Endurance Championship, we'll be back at Le Mans for the first time in 21 years, which again is exciting. And we see Formula 1 giving us the ability to be able to showcase Cadillac's innovation, technology, or General Motors, as well as Cadillac's sort of innovation and technology and performance.
And it's actually a good fit for Cadillac. If you look at our representation around the globe as to where we sell cars, whether it be Europe, whether it be the U.S., whether it be Canada, whether it be Korea, China, et cetera, et cetera. There's a good overlay in terms of Formula 1 and where the Cadillac sales volume is, and we are looking to accelerate our growth around the globe. We're on a positive trajectory at the moment. I think you may or may not have seen the sales figures for last year in the U.S., but Cadillac was up 13.9 percent, one of only a handful of luxury brands that grew. So despite some of the challenges last year, with a product portfolio that we've got, we're making some terrific progress and we see this as an expansion and a complementary activity to the activities that we're already in with IMSA and the WEC.
EB: What does it mean to expand into open-wheel racing?
RH: Yeah, I mean that's a great question. I have to tell you I'm a massive Formula 1 fan. I've been to lots of Formula 1 races over the years. You can tell probably from my accent that I've been to Silverstone on multiple occasions. Brands Hatch on occasions prior to that. We used to go to Hungary for the Grand Prix on multiple occasions as well, Monaco, et cetera. So it's just something that is different to us. But that's part of the reason that we are looking to do this as a partnership with Andretti Global, so to speak, because they've got a terrific amount of experience in terms of automotive and racing and collectively. General Motors and Cadillac have a tremendous amount of experience together as well. So if we can blend those experiences to just cause us the ability to work together in partnership to get new learnings and experiences and leverage each other's strengths. So we think we've got a very good proposition here.
EB: I was going to say, I think so much about motorsport is the right partnerships at the right time. Why was Andretti such a good fit for Cadillac?
RH: Yeah, I think if you look at it and think about what General Motors has got to offer, if you think about what Andretti Global has got to offer, if you think about the American relationship, if you think about, Michael quoted yesterday on the press conference that there'll be an American driver in one seat should we be successful through the expression of interest. I think it's just a great partnership in terms of bringing two areas of expertise together and molding them into something that really shows the American credibility in terms of performance racing. So I think it's that type of story that really ties the two organizations together. And from my perspective, it means that we've got a really exciting recipe as to how we can go forward.

EB: So if this F1 team should go through this process and be accepted, have you mapped out how the F1 program will function alongside other racing programs like the LMDh program?
RH: I'd just like to reiterate this would be complementary. So to be honest with you, we would continue in terms of our LMDh program, we would continue in terms of the WEC, and Formula 1 would be incremental and complementary to the programs that we run. So we've not got into necessarily all of the fine details of that because at the moment we've not submitted our expression of interest. So there's still some work that needs to be gone through, but from our perspective, we are not looking to detract in terms of what we're doing elsewhere in terms of racing. This is complementary to what we're doing elsewhere.
EB: Have you been considering the tech transfer that would be possible between the sports car programs and the F1 program?
RH: Yeah, I mean we always look at that, and if you look to some of the learnings that we've got in terms of our Blackwings today as an example, in terms of our saloons and some of the learnings that we get from our LMDh vehicles, we would look again to take some of our expertise. Particularly when you look at things like turbocharging, when you look at performance, when you look at aerodynamics, et cetera. There are many things that we believe that we can bring to the fold, but this is sometimes a two-way street where you could take learnings from the technology that you develop for the track and imply it or install it into the vehicles for the road. But also there are some things sometimes that can work the other way. As an OEM, we have a lot of expertise and when we think that some of that expertise could also complement the partnership from a racing perspective, not only do we have expertise I guess in terms of regular production vehicles, but we do have a lot of racing expertise over the years with General Motors and Cadillac as well.

EB: One of the more interesting facets of this, for me at least, is Chip Ganassi is preparing the Caddy LMDh program, Andretti is pursuing this F1 entry with Cadillac, and they're both competing against each other in IndyCar. Did that play into Cadillac's internal discussions at all while you guys were working on this proposal? 

RH: Not really. I mean, I think there's a role for each of our key partners. Chip Ganassi is a valued partner and is absolutely integral and core to the LMDh strategy. There was an opportunity in terms of Formula 1 with Michael Andretti and Andretti Global. And we also have some other partners as you are aware of as well. From that perspective, no, I mean, I guess there's always rivalry within racing and that will continue.
EB: And I know we're a long way out to start setting goals, but should this all go well, what are you guys hoping for? What would you deem successful?

RH: I don't know if I'll answer this in a way that you would want me to answer it, but I don't think you ever go into something not to be successful. So from our perspective, we go in it and we plan to perform just as we go into WEC, just as we go into Le Mans, we don't go into it with not a performance angle that we want to deliver. So from our perspective, we're in it to perform. And I guess time will tell exactly how that plays out.

EB: Those are all the questions I had. Thank you so much for taking the time today. I appreciate it, and I hope I get to see you guys on the grid. 

RH: Perfect. Our fingers crossed, we hope. Exactly same.