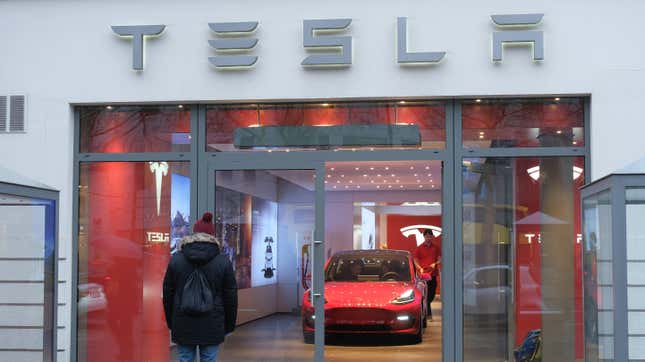 Since the beginning of 2023, Tesla (for the most part) has lowered prices on some of its most popular vehicles including the base-model standard range Model 3. It now starts at $42,990 which, according to Bloomberg, is $4,930 cheaper than the average new vehicle sold in the United States. That makes the rear-wheel drive Model 3 the cheapest vehicle Tesla has ever produced relative to the typical vehicle sold in the U.S. If you add in the $7,500 vehicle tax credit, a Model 3 is nearly $12,500 cheaper than the average price of a new car.
The larger and more expensive Model Y is also following this trend somewhat. It may not be cheaper than the average new vehicle at $54,990, but it's a lot closer to the mean than it was before the $13,000 price cut it received. Well, now it's $12,500 after Tesla raised prices by $500 after it sold out first quarter build slots in the U.S.
Don't get it confused. This doesn't mean the Model 3 is literally cheaper than it ever has been. Hell, Tesla said in 2019 you could get one for $35,000 (whether that is true or not is anyone's guess). But, all vehicles prices have gotten more expensive since the Model 3 hit dealerships.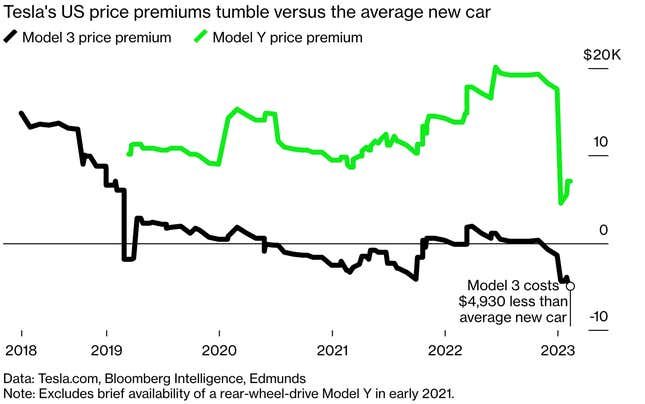 These price cuts were done in an effort to take advantage of new stipulations surrounding the $7,500 EV tax credit, and they have made other automakers like Ford and Lucid follow suit in the cuts.

While prices are going down in the EV market, internal-combustion vehicles are going in the opposite direction. Bloomberg reports that since the start of the pandemic, the average price of a new vehicle has risen over $10,000 to $47,920 in January. The finger is pointed at the chip shortage, the increased price of raw materials and the decision by automakers to keep inventories low and prices high.
It's a similar cheapness story when it comes to leasing a Model 3 – even when you compare it to slightly down-market vehicles like the Toyota Camry. Bloomberg says that a Standard Range Model 3 and a Toyota Camry LE can be leased for 36 months, with 10,000 annual miles and $5,544 due at signing for $349 and $353 per month, respectively. Think about what you can buy with that $4 in savings!
All that being said, we may not be in the good times forever. Bloomberg reports that Tesla is retooling its Model 3 production lines to get ready for a facelifted version of the five-year-old vehicle. Tesla apparently has a bit of a history of jacking up prices after a facelift. When Tesla refreshed the Model X and Model S in January of 2021 (right after those vehicles' prices fell to relative lows), it raised prices by 15 percent and 12 percent, respectively. After the initial boost, prices continued to rise for the following year and a half.
So, if you want to take advantage of Tesla's lower prices, you may want to get moving sooner rather than later. Who knows what tomorrow, or Elon, holds.