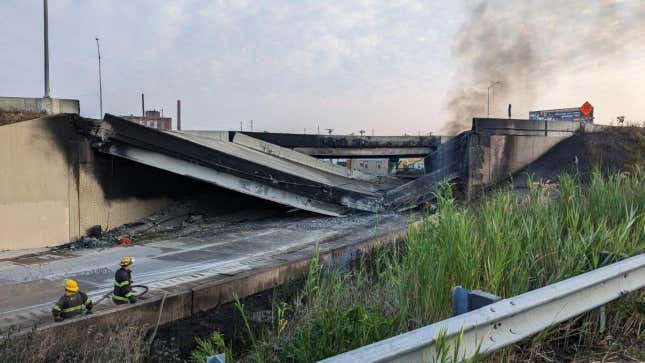 Drivers in northeastern Philadelphia might have noticed a thick plume of black smoke rising into the sky yesterday. It wasn't smoke from a Canadian wildfire, but a burning truck. A tanker carrying a petroleum product, possibly gasoline, crashed underneath an Interstate-95 overpass and caught fire around 6:15 a.m. The heat from the blaze caused the overpass to collapse.
According to the Associated Press, no one driving on I-95 was injured. Though, the damage to the highway will likely impact millions. The interstate segment carries around 160,000 vehicles per day and is likely the busiest interstate highway in Pennsylvania. While the concrete slab carrying northbound lanes fell, the southbound lanes were also structurally compromised.
On Sunday, drivers wanting to use I-95 were sent on a 43-mile detour. The Southeastern Pennsylvania Transportation Authority, Philadelphia's regional transit agency, is running additional trains to Trenton, New Jersey to alleviate traffic demand along the corridor. Officials are looking for a temporary solution to let traffic flow between both ends of the severed artery as a complete rebuild will take months.
Pennsylvania Governor Josh Shapiro said he has already spoken with Transportation Secretary Pete Buttigieg about the disaster and federal funding is coming as quickly as possible to rebuild the overpass. The collapsed section of the roadway was part of a $212 million reconstruction project just four years ago. The National Transportation Safety Board is sending a team to investigate the fire and subsequent roadway collapse.