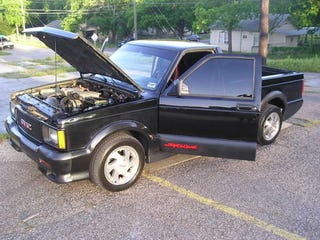 Nice Price Or Crack Pipe
Is this used car a good deal? You decide!
At one time, the GMC Syclone was rumored to be faster than the Viper, Corvette, and even a Ferrari. Today's Nice Price or Crack Pipe pickup is still plenty fast, but will its price make you say what the truck!?
Yesterday's Datsun 510 wouldn't beat any of those sports cars in a race, but despite that it did chalk up a 71% Nice Price win. Most of the thumbs up votes came from those who are jonesing for a dime and liked this one's condition, as well as its price. The rest came from those who just seem to get chubb'd over blue cars.
Blue was not a color made available on the GMC Syclone back when it was launched in 1991. Aspen blue was to be offered in '92, but as today's contender hails from the first - and only full - year of production, it's precluded from being anything but black.
They say that the candle which burns twice as bright burns half as long, and with only a single year of production in '91 - plus a couple of trucks spit out in '92 - the Sonoma-based GMC Syclone burned so very bright. Feeding that flame is a 4.3-litre Vortec V6. Now Vortec may sound like a villain in a tween fantasy novel that is trying to cash in on the popularity of whichever Harry Potter clone is hot at the moment, but really it's a name dreamed up by GM's marketing department. Strong work, guys. Despite the lame name game, the General pumped up the jam on this one with a Mitsubishi turbo, Garrett water/air intercooler and a 48mm TB from the 5.7 V8. All that free breathing plus the turbo's 14 PSI of boost help the pushrod engine produce a raucous 280-bhp and 350 lb-ft of torque at the crank. Mated to that pressure cooker is a 700R4 four-speed autobox that could also be found under the floorboards of the contemporary Corvette. A Locutus of the Borg Warner transfer case sends 65% of the power out under the 6 foot bed and 35% up front, maintaining traction even when the truck's lightly loaded. Brakes were another place GMC upped the ante as the 'clone is the first non-commercial truck sold in the U.S. with four-wheel antilock. Despite that, the rears are still drums, and of course pickup truck stopping distances can be all over the map dependent on the load.
The standard cab body sits on a ladder frame, of course, and the whole thing weighs in at a not unreasonable 3,422 lbs. That's not bad, and makes each pony responsible for carting around about 12 pounds. This particular 'clone looks pretty stock, from its matte black side cladding to its Pontiac Sunbird Turbo instrument cluster. Somebody has dropped a bed liner onto it, and the seller notes a "limo tint" on the glass, as well as a pair of ECU Romulators in the glovebox, should you like messing with such things.
That shouldn't be necessary as back in the day the little GMC was known for being able to blow the doors off of most anything this side of an F18 Hornet. Of course over the years the competition has only been improving while the Syclone has remained in performance stasis. Still, the volumized Vortec does move the truck with alacrity, taking it to 60 from a standstill in a little over four and a half seconds. Its quarter mile times are equally respectable, hitting the traps in under 14 and at nearly a c-note.
That speed may have blistered off some of the paint as, like many a gen-xer, it's thinning on the top. The seller also claims a hairline crack on the dash, but doesn't remark on the rear valance that looks a little loosey goosey on the driver's side. The big deal killer for anybody looking to storm anywhere outside of a Mediterranean climate is the removal of the heater and A/C system. As the truck is in Dallas, that may be the primary reason behind the sale, and not the boast of an impending Lotus purchase.
That and 68,283 miles of '90s General Motors product wear and tear make the $12,800 asking price a point of contention. There were only about 3,000 Syclones built in '91 and '92, and they don't show up for sale with the frequency of their more-common, but slower Typhoon brethren. That being said, the HVAC extract and self described good from 15 feet condition may balance out the scarcity.
What do you think, does $12,800 for this '91 Syclone put the wind in your sails? Or, does that price make you think the seller can just blow it out his ass?
You decide!
Dallas Craigslist or go here if the ad disappears. H/T to Ryan Wacker!
Help me out with NPOCP. Click here to send a me a tip, and remember to include your commenter handle.