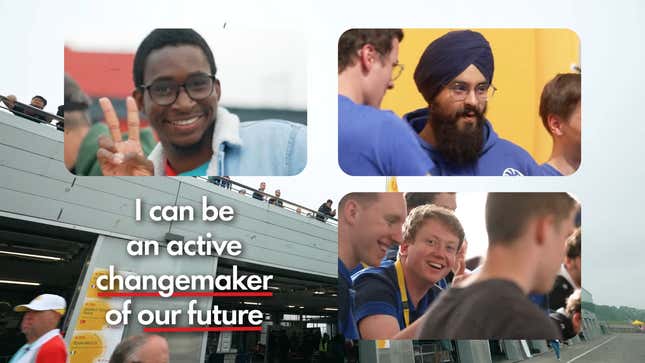 Big Oil is trying to woo young people via TikTok and Instagram in an effort to change the public's perception of their role in climate change. Oil companies such as Shell and Exxon are apparently trying to start 'em young with marketing campaigns disguised as innocuous posts on social media platforms, according to the Washington Post.

Shell enlisted the help of a TikTok user — also known as an influencer (ew) — who calls herself "our Filipino grandma" to boast about the company's fuel rewards program, and talk up the convenience of the discounts in order to portray the oil giant in a positive light.
The post is more or less paid advertisement, though it's unclear whether Shell paid the "granfluencer" to feature its products on her channel. The TikTok star, whose real name is Nora Capistrano Sangalang, usually posts about her grandson. She reportedly had a following of 2.3 million users on the platform and more than 600,000 on Instagram, where the same post was also featured.
It would be easy to dismiss the post as a harmless advertisement from a slightly popular TikTok user, but the Washington Post cites research from DeSmog, which says that she's among "more than 100 influencers who have used their platforms to promote fossil fuel companies since 2017, reaching billions of people around the globe."
Some of the social media star's followers spoke out against the advertisement, saying that it was not a good look for the TikToker. Indeed, it seems there's a tenuous connection, at best, with "Mama Nora's" channel and an oil major that made $40 billion in profit in 2022.
Likewise, ExxonMobil also enlisted the help of an influencer whose channel has seemingly little to do with Big Oil. Brooke Scheurn's video on Instagram shoehorns a sequence of the young woman pumping gas at a Mobil station:
Again, it may be easy to dismiss these videos as harmless, but oil companies are fully aware that Gen Z is being weaned on social media, even more than their predecessors, Millennials. American teens are reportedly very active on TikTok, with more than two-thirds, or over 60 percent, of teens using the platform. Per the Washington Post:
"They are trying to win the trust of a younger generation," said Sam Bright, DeSmog's U.K. deputy editor. "They're not just promoting a particular product, but trying to alter their perception in the public eye and maintain their social license."
For its part, Shell is trying to leverage the available exposure on TikTok and other platforms, adding that the company wants to show its audience there (kids and teens) that it's diligently transitioning to a lower emissions future:
Asked for comment, Shell spokesman Curtis Smith said in an email: "People are well aware that Shell produces oil and gas they depend on every day. Many don't know we are also, in a disciplined way, investing billions in low-carbon solutions and products in support of a balanced energy transition. Making customers aware of those products by way of advertising on social media is one way we pursue business performance and a valid part of our marketing activities."
Yeah, I'm gonna call bullshit. Rather than trying to show people how many cents they can save per gallon of gas, it's quite clear that the company is trying to rub shoulders with a younger demographic, meanwhile greenwashing its massive fossil fuel operations.