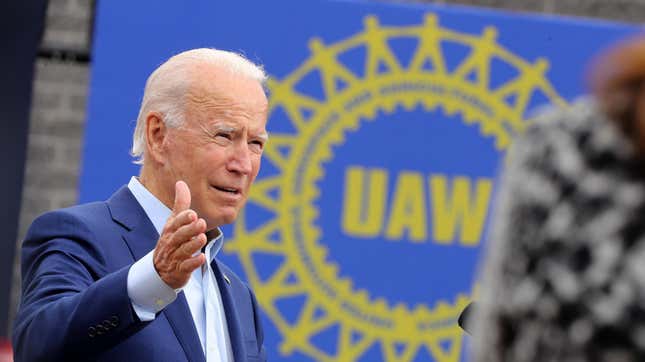 The U.S. Chamber of Commerce, one of the nation's most prominent business groups, has decided to blame President Joe Biden directly for the United Auto Workers' strike, according to Politico. Unsurprisingly, the prominent business group decided it is not the fault of the companies workers are on strike against.
"The UAW strike and indeed the 'summer of strikes' is the natural result of the Biden administration's 'whole of government' approach to promoting unionization at all costs," Suzanne P. Clark, President and CEO of the U.S. Chamber of Commerce said in a statement.
Politico says that a message like this could – in theory – be a sign that other business groups and conservatives may attack Biden and the UAW if the strike continues for a while. At the same time, Michigan Democrats in Congress reportedly say they plan to join picket lines as a show of solidarity. Vermont Senator Bernie Sanders will also be holding a rally on Friday with UAW president Shawn Fain in Detroit.
"UAW members made huge sacrifices to help save the auto industry in 2008 and now that the Big Three are making historic profits, the workers deserve to get their fair share of the success," Senator Gary Peters reportedly said just minutes after the strike was announced.
Clark reportedly urged the UAW to call off the strike. The National Association of Manufacturers also apparently pushed for a resolution "to end this strike and avoid further undermining the strength of our industry and harming our broader economy."
We've previously reported that Biden has worked to brand himself as "the most pro-union president in history." In what I can only assume is an effort to make everyone forget what Biden did to rail workers, his administration has put out reports this summer "underscoring the benefits of unionization" and the Labor Department has reportedly released rules that labor and employment watchers – including the Chamber of Commerce – have argued are favorable to unions. Despite this, the UAW has yet to endorse Biden. That reportedly comes down to concerns about unionized workforces being left out of the transition to electric vehicles.
The strike started at one plant each for Ford, General Motors and Stellantis after the union and the Big Three failed to agree on new contracts for auto workers. Right now, the UAW is doing a "Stand Up Strike" which targets just a few plants at a time. If the strike continues, more plants will be impacted. The UAW is demanding wages increase as much as 40 percent. Ford and GM have come closest to that number publicly offering 20 percent in recent days, but it wasn't enough to avoid a strike.