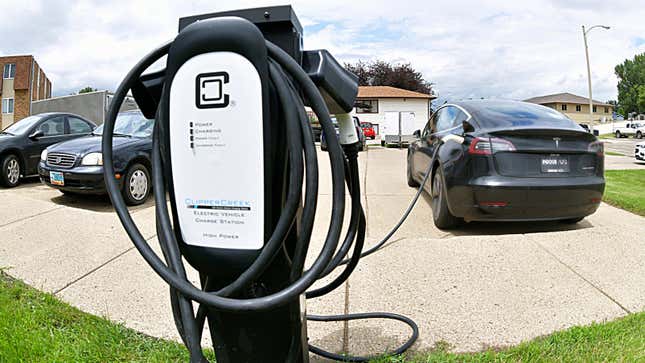 EV charging in this country still sucks. From too much tech to simply being unreliable, there's still no practical incentive to buy an EV. No matter how many tax discounts the government can offer, no one wants a car that they can't charge because all their local infrastructure is broken. Thankfully, many of those broken chargers may not be down much longer. The Verge reports the Biden Administration is spending $100 million to fix broken ports.
Honda's Motocompacto Is The Ultra Portable E-Scooter That Can Fit Just About Anywhere
Of the $7.5 billion that was approved in 2021 for the Bipartisan Infrastructure Law, the Department of Transportation is taking $100 million out of it for charger repair. According to the agency, the money will be used to "repair and replace existing but non-operational, electric vehicle (EV) charging infrastructure."
And the money is desperately needed. Data from the agency shows that 6,261 chargers, or four percent of the 151,506 chargers in the U.S., are currently unavailable. That $100 million is also separate from the $1 billion that was recently freed up to go towards new charger installation.

This news also conveniently comes right after the latest fiasco involving a public official attempting to sell the public on EV ownership. Secretary of Energy Jennifer Granholm went on an EV roadtrip this summer that didn't exactly pan out. Transportation Secretary Pete Buttigieg even recently spoke about the challenges of finding an EV charger for him and his family. Speaking to The Wall Street Journal, Buttigieg said, "We've definitely had that experience. Matter of fact, had it just a few days ago at a park in town. A parking spot with a charger was open, but it wasn't working."
It's annoying to pull up to a gas pump only to find it out of order; now imagine that, but you can't just pull to a different pump or drive a quarter-mile to the next closest gas station. With better charging capabilities comes more widespread EV adoption.