It is considered one of the best jobs in the USAF, and you sure can't beat the office view. America's cadre of KC-135 and KC-10 'Booms,' the guys and gals that refuel allied military aircraft while hurtling through the atmosphere, are a proud and talented bunch, and one of them is just as skilled behind a camera as behind an aerial refueling boom.
Technical Sargeant Jamie Morton works in what for many of us aviation nuts is akin to a flying candy factory. At his daily job he gets to see some of the most incredible flying machines on earth, not just on the ground, but rocketing through the air both here at home and high above war zones abroad. Like Willie Wonka, Jamie not only works in this metaphorical candy factory but he also has a flying glass elevator to enjoy the view from.
G/O Media may get a commission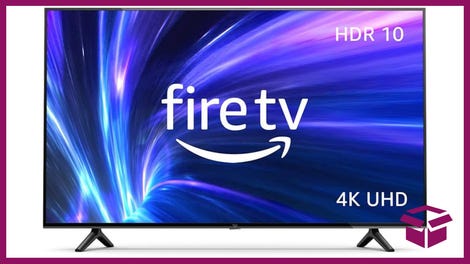 42% Off
Amazon Fire TV 50" 4K Smart TV
The throne-like Boom's position below the tail of the KC-10 Extender offers an incredibly unique viewpoint. Where else can you stare through a giant bay window out the back of a fully pressurized, high-flying, wide-body jet. And although watching the ground floating by and the contrails streaming off into infinity is nice, the visitors are an even prettier sight.
A B-1B punches a pair of its four GE-F101 turbofan engines into afterburner while taking on fuel at night
Jamie, who grew up in Selma, Alabama, started out as a boom operator at Travis AFB, where he eventually became an instructor Boom and participated on many deployments around the globe. Today he serves as an elite Flight Test Boom Operator at Edwards AFB where he supports some of the world's most advanced aerospace defense programs.
Jamie's ability to not only serve his 'customers' from the tail of a KC-10 Extender, but to also capture them in stunning imagery, is no secret. In fact, he has garnered a unique reputation among the boom operators in combat zones, and the receiving aircraft they refuel, in regards to his outstanding photography skills:
While deployed I began to take pictures of my receivers and to get their email address. I would send the shots I took to them so that they could send them home to their families. It started with just a couple of the receivers and word traveled fast throughout the AOR (Area Of Operations) and the carrier. As a result, pilots would always ask every KC-10 if they had the "Photog Boom" on board. I didn't realize how much it meant to some of the guys until I got a message from a Navy Lt. saying that his family really enjoyed the picture and it was the first time that they saw him fly in a jet. Unfortunately, now as a Flight Test Boom Operator I can't take pictures due to the sensitivity of the world of Flight Test but I have a collection of pictures and videos that I look back on and enjoy. Photography is a passion of mine and I am happy to share it with others.
Office with a view: The KC-10 Extender's boom operator's seat and control panel
When asked what his best and scariest moment as a Boom have been, this is what popped into mind:
The best moments that I have as a boom operator is anytime that we are carrying 'space available' passengers and I get the chance to show people aerial refueling close up. Most people have no idea that it's even possible to refuel jets in mid air.

My scariest moment came when I was a young Boom during the initial stages of Operation Iraqi Freedom. We could see ground explosions from the air and the occasional surface-to-air fire. I had two Strike Eagles on the wings and there wasn't much moonlight out and not much cultural lighting below, so it was very dark. I cleared the first Strike Eagle to the pre-contact position in preparation for air refueling. Just as he replies; the entire rear or out tanker lit up with smoke and fire on the outside. There appeared to be a missile headed right at us. I froze up and tried to relay to my pilots that we were getting shot at. Just as I do so, the Strike Eagle pilot called up and apologized. As he was adjusting the throttles he mistakenly popped a bunch of flares.

My hands shook the remainder of the flight.
Now that you know a little bit about Jamie and what he does, take a look at this insanely awesome sample gallery of photos that he has snapped over the years:
An F-15C and an F-16C break high over the desert
A F/A-18E Super Hornet refuels from a KC-10 while on a combat mission
The mighty A-10C Warthog cruises over some striking scenery
The menacing lines of the F-16E Desert Falcon seen head-on from Jamie's boom pod
E-4B Nightwatch sips jet fuel high over the ocean
A division of F-16C/Ds used for foreign pilot training plows the skies behind the tanker
A KC-10 passes its remaining gas to another KC-10
An F-22A Raptor banks away after refueling
A Viper packing AMRAAMs and laser JDAMs hits the boom for some gas
A section of Royal Air Force GR4 Tornadoes, one packing a RAPTOR reconnaissance pod, break away in tight formation over the desert
A gorgeous image of an E-3 Sentry tanking over snow capped mountains
A Royal Air Force GR4 Tornado pushes into afterburner as it struggles to keep up with the KC-10
A bristling F-15E Strike Eagle gasses up
A E-3 Sentry breaks away after filling its tanks
A Warthog gets its snout plugged by the KC-10's boom
A stack of Super Hornets get gas in dramatic fashion from the KC-10's hose and drogue system
A USAF Aggressor F-16C plugs in
An Eagle and a Viper pose for the camera
Jamie's exhilarating edit of the futuristic Raptor in its element
A huge thanks to USAF Technical Sergeant Jamie "Jaye" Morton for taking the time to talk with Foxtrot Alpha and to allow us to post his fantastic images. Also a big thanks as always to the outstanding 412th Test Wing Public Affairs and John Haire who are always so great with supporting unique stories about the awesome stuff going on at Edwards AFB.
Tyler Rogoway is a defense journalist and photographer who maintains the website Foxtrot Alpha for Jalopnik.com You can reach Tyler with story ideas or direct comments regarding this or any other defense topic via the email address Tyler@Jalopnik.com