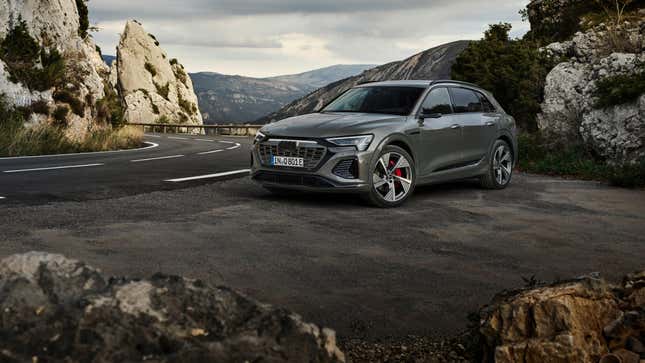 Audi may be one of the few automakers on the fastest track to transition to a substantial EV lineup. The brand has invested billions in electrification in hopes to meet the lofty goal of selling 3 million EVs a year in just three years. Sure, the German automaker still sells gas powered models, and some EVs — but more EVs are coming. And to help keep everyone on the same page about whether the Audi they see is gas-powered or an EV, for the time being, they've come up with a new, slightly confusing naming scheme.
2023 Audi RS5 Competition: How it Drives and Handles
As reported by MotorTrend, the new naming system will separate the two: EVs will be denoted by an even number, while ICE vehicles will get odd model numbers. That's fairly easy. So far. That means A4, A6, Q4 and Q8 would all be EVs. Or will be when they debut. A3, A5, A7 are all gas models, that will no longer exist when Audi finally pulls the plug on its current combustion generation. We will, however, get updated versions of existing models before they're phased out altogether.
This doesn't seem quite that confusing explained, but looking at what Audi already offers, well, it has created a few hiccups of its own, as Motor trend explained.

There will be transition pains that still need to be sorted out like the A8 which got a midcycle upgrade and will not have a successor. It doesn't make sense to rename the existing Audi A8 as the A9, Hoffmann says. Another tricky one is the E-Tron GT which doesn't have a number in its name and will remain the GT.
Any other plan that Audi has better get sorted out quickly. There's 20 new models expected to launch in the next two years. Half of those new models will be EVs. Audi hopes that these electric powered vehicles will account for 30 percent of U.S. sales by 2025. Let's hope they can tell their evens from their odds.