The Chicago area Audi dealership that refused to help a customer who had his wheels stolen on their lot has finally heard the roar of thousands of Jalopnik readers and forum members. Now he's going to do right by him.
Jason Lee left his new Audi A4 at Schaumberg Audi last Saturday for its 5000-mile service. Before he could pick it up on Monday, his unapologetic service rep called to inform him the aftermarket wheels on his car were stolen and he'd have to get take care of it. Mysteriously, the security systems that were supposed to be protecting the lot weren't working.
Given the strange circumstances surrounding the incident and the lack of proper security for his vehicle, Lee asked the dealership if they'd consider paying his $500 deductible. They refused, and when he informed them he'd seek legal counsel they told him to return his loaner car and immediately remove his wheel-less car from their lot.
Lee turned to the Audizine forum, who quickly informed other enthusiasts and Jalopnik about the incident. When we tried to contact the dealership an employee hung up on us, but as soon as the story was posted a representative from Audi customer service and Audi USA got on the phones and Lee quickly got a response from the dealership.
G/O Media may get a commission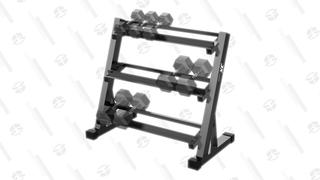 20% Off
JX Fitness Dumbbell Rack
Gains but tidy
Has a three-tier design to help store more weights more conveniently, can safely support up to 1000lbs of weight, which should be enough for most people, has a triangle base for stability, and also features anti-scratch feet which is great if you've built your own studio or workout in your garage.
"I was contacted by the general manger of [Schaumberg Audi," said Lee. "We had a long conversation and he was extremely reasonable and apologetic. He was talking to me as another Audi enthusiast and was regretful that the situation has come to this. All in all, he promised to cut a check for $500 deductible and offered to let me use the loaner as long as my car is out of commission for repair."
Whether or not you think the dealership was responsible for the vehicle, their behavior and the difficulty Lee had getting someone from Schaumberg Audi's management to contact him was unacceptable. It may have taken the power of the Internet for him to get a response, but the dealership's now acting in a responsible manner.
"Thank you all for your support and I couldn't have done this without you," said Lee. "[A]nd huge thanks to Jalopnik and Supraforum —SFOT CREW — that have been the most active."