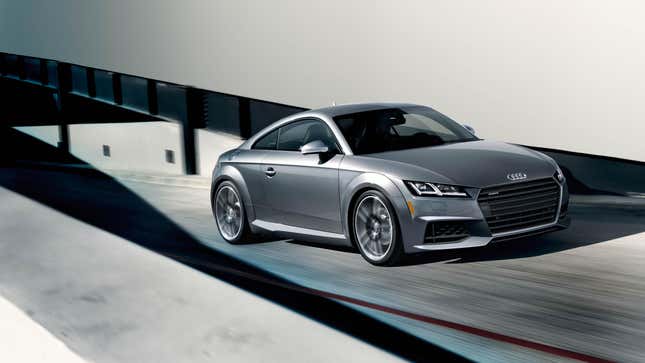 As we explained earlier this year, 2023 will be the final model year for the Audi TT. The sleek, stylish coupe has been on the market for 25 years and three generations, and Audi's sending it out with a bash. Specifically, a Cars & Coffee at Audi of America headquarters in Herndon, VA, on Saturday April 29th. I, personally, will be there, and you all are invited!
In case you missed it:
Audi's U.S. headquarters will become a Cars & Coffee meetup for Audi enthusiasts this Saturday, as part of a quarter-century celebration of the TT. If you've got an Audi and you don't mind driving to Herndon on Saturday morning, come on by!
I'll be there representing Jalopnik, and rumor has it a few folks from some other car publications will be there too. If you want a Jalopnik sticker for your car, flag me down if you see me! (Here's my Instagram and Twitter so you know who to look for.) The Cars & Coffee is not limited to Audi TTs, of course, and the more folks who show up, the merrier.
Here's all the details straight from Audi: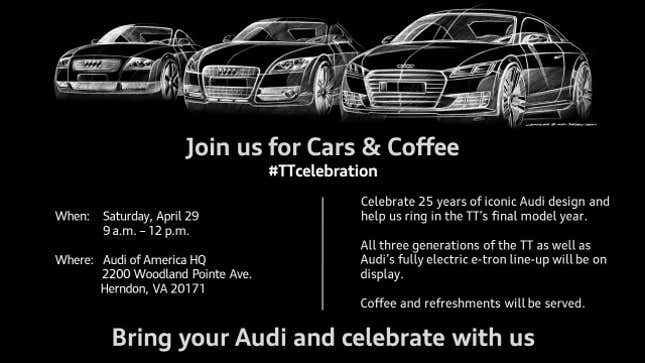 So if you're in the greater Washington, D.C. area, and you're looking for something to do this Saturday morning, head on out to Audi of America headquarters in Herndon, VA. The Cars & Coffee is on April 29th from 9:00 am to 12:00 pm, and the address is 2200 Woodlawn Pointe Ave., Herndon VA 20171 (here's a Google Maps link). If you stop by, you'll get to check out historic Audi TT models from the company's museum, as well as the latest vehicles from Audi's E-Tron all-electric lineup. It'll be a hoot!