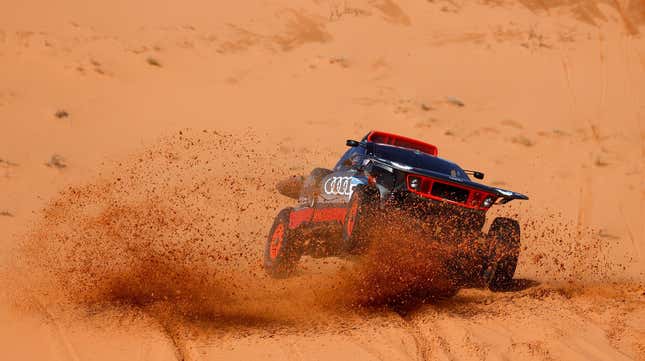 On the eve of the final stage of the 2023 Dakar Rally, the bivouac is eerily quiet. This is the event's roving center of operations, trucks and tents and everything else that the competitors leave behind every morning, only to find it again in the evening, reconstructed in a completely different location. After nearly 3,000 racing miles, the air of exhaustion is palpable.

2023 Audi RS5 Competition: How it Drives and Handles
Once you step away from the giant tent that serves as canteen and main stage, all you can hear is the thrum of generators and air compressors, plus the hiss of the air guns held by the poor mechanics assigned to clean the mud from their team's vehicles. The brown stuff is everywhere, churned up into knee-deep ruts by Dakar's biggest trucks, which weigh a minimum of 20,000 pounds. It has the consistency and tenacity of the stuff you might find stuck to your shoe after a trip to the dog park. Thankfully, it lacks the smell.

Keep walking past the bright lights and horns of the big trucks and you'll find Audi's corner of operations, dozens of tents and trucks and support vehicles, all there to assist the team and its three vehicles competing in this year's race. Tonight, there's only one Audi left, number 211, being torn down, cleaned out, and prepped for the final day ahead. On a picnic table, a massive Reiger Suspension coilover lays twisted and mangled, silent testament to the punishment that took out Audi's other two vehicles. 2023 was Audi's second attempt at the Dakar Rally, and it didn't go well.
Full Disclosure: Audi wanted me to witness its latest attempt at Dakar so badly, the company flew me all the way to Saudi Arabia, put me up in a couple of hotels, and provided all the hummus I could eat.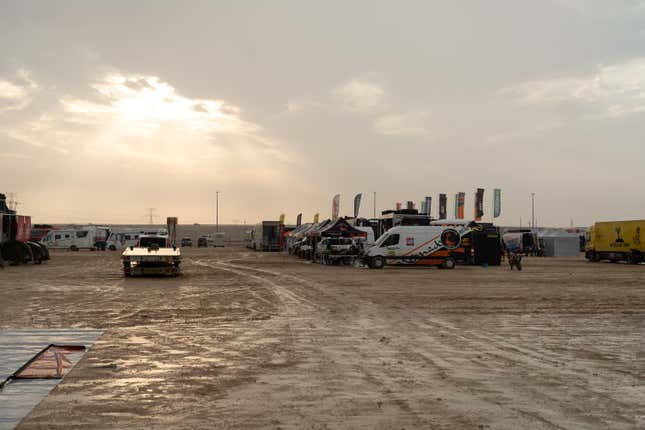 There's no way to sugar-coat this: Audi had a rough time at the 2023 Dakar Rally. The team's thoroughly redesigned RS Q E-Tron E2, lighter and more aerodynamic, had less success than last year's inaugural E-Tron did when it came time for the tires to hit the sand.

Piloting that new car was an enviable cadre, three teams of superstars. Rally legend and three-time Dakar winner Carlos Sainz and co-driver Lucas Cruz clearly had high aspirations, as did 14-time Dakar winner Stephane Peterhansel with Edouard Boulanger sitting shotgun. Finally, two-time DTM champion Mattias Ekstrom and navigator Emil Bergkvist returned, last year's highest finisher. Of the three, only Ekstrom would complete this year's event, coming in more than six hours behind race winner Nasser Al-Attiyah and his Toyota after 14 punishing stages and 3,000 timed racing miles.
Audi's lackluster performance last year, in 2022, was understandable. While the radically designed, series-hybrid E-Tron was clearly quick, the Dakar Rally is such a punishing event that it's rare for a new team to find much more than pain out in the desert. Indeed, Audi dug up plenty of that, Ekstrom coming in ninth, highest placed of the trio.
But this year? Audi clearly came to win with the E2, upgraded and refined over last year's car, and powered by a sort of Greatest Hits collection of Audi Sport offerings, including electric motors stolen from two of the company's shelved Formula E racers and a 2.0-liter four-cylinder borrowed from Audi's RS 5 DTM racer.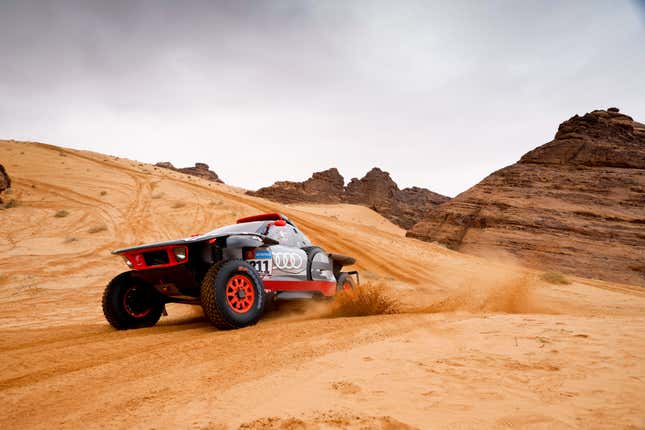 In the E-Tron, that engine runs at a steady 4,500 to 6,000 rpm, spinning an electric motor to generate electrons kept at the ready in a 52-kWh battery pack. That battery then powers the two electric motors, one per axle, providing a combined 263 kW — at the start of the rally, at least. Controversially, after Stage 4, the FIA granted Team Audi another 8 kW of power, roughly 11 hp, after telemetry showed Audi's car wasn't as quick as the competition. (Audi insists this change was not prompted by the team.) After diddling a few software parameters, the E2 was re-tuned and powered up for Stage 5.

That smidge of extra power didn't help much in what was a far more difficult race than the year before. After complaints by many that the 2022 running was too easy, this 45th running of the Dakar Rally covered over 5,300 total miles of varied terrain spanning much of Saudi Arabia, including the ominous Empty Quarter, said to be the most desolate spot on the planet. Of the 355 vehicles entered this year, only 235 finished.
(Side note: The Dakar Rally hasn't actually gone anywhere near Dakar since 2008's race was canceled due to terrorist threats. The event has moved around a lot, taking place in South America for over a decade before settling into the Middle East like so many motorsports events seem to do these days. It's easy to be cynical about that change of venue, but to be fair to the tireless Dakar organizers, there just aren't that many places on the planet offering the two things this rally needs: endless, untouched terrain and a government willing to let hundreds of competitors rip it to shreds, Mad Max-style.)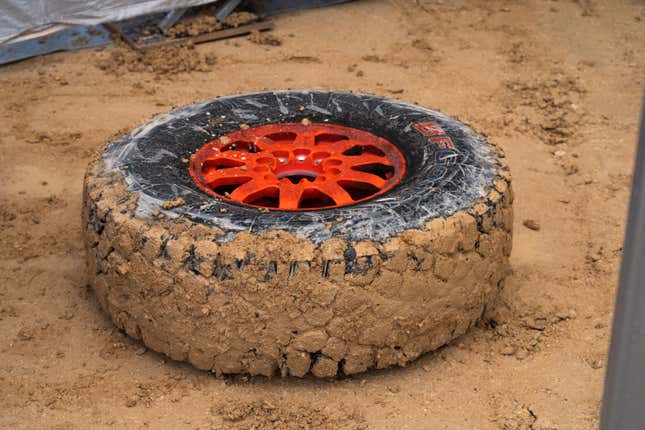 Audi's three cars were looking good after a few stages. Ekstrom and Bergkvist set the fastest time in the first, prologue stage before handing the lead over to Sainz and Cruz, who held it for the next two days. However, a rash of tire issues — 14 punctures across the three Audis in the first four days — set the team on its heels. (Audi was far from the only team with tire woes early on. Sebastien Loeb suffered three punctures on stage two alone.)

But things only went downhill from there. Sainz and Cruz suffered broken suspension on Stage 3, but Stage 6 was where it all fell apart. Peterhansel had a major crash while threatening to take the lead. The impact was so serious that he blacked out, later saying "I have no memory of jumping that dune." His navigator Boulanger had to be air-lifted off of the stage due to a back injury.
Sainz, too, had issues, ripping a wheel off his car and losing hours making repairs. But he was able to continue for a few more stages. On Stage 9, though, Sainz's fight came to an end when he took a dune with a little too much speed, landed nose-first, and rolled. "It's my fault, no one else's," he said later.
That just left Ekstrom, who toward the end of the race showed good pace, racking up numerous podium places and threatening WRC god Sebastien Loeb, who had unparalleled speed in the final stages. But, at the end, 14th was the best Ekstrom could manage.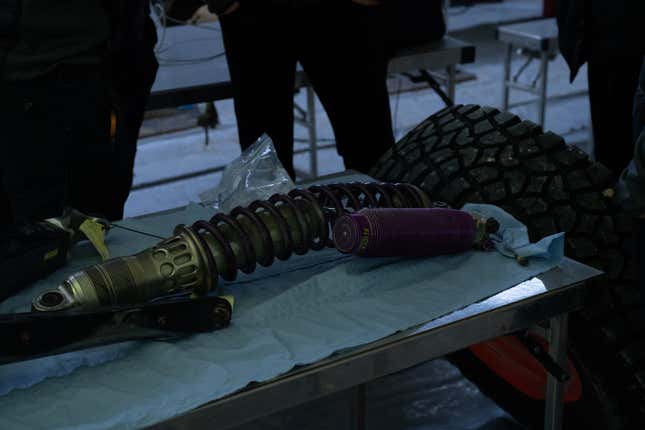 This kind of result is not what Audi Sport expects when it goes racing. Audi's professional motorsport efforts are legendary, nearly all coming with immediate, resounding success. Quattro revolutionized the World Rally Championship in the 1980s and was so competitive in IMSA GTO in the '90s that the rules were changed to ban it.

But of course, Audi's dominant performances at Le Mans draw the greatest parallels here. The R8, the R10 TDI, and R18 E-Tron were all iconic performers, each one truly changing the competitive landscape of that historic race. Audi swapping the entire back-end of an R8 in five minutes at the 2000 running of the race blew everyone's minds. The R10 TDI's shift to diesel power was a head-scratcher at the time, but the increase in efficiency won races. The R18 E-Tron, meanwhile, took the efficiency equation to another level. These cars all offered the perfect blend of marketing-friendly advancements that offered genuine performance benefits on the track.
Neither the RS Q E-Tron E2 nor its predecessor offer that kind of flex. While the E2 is indeed far more efficient than the competition, carrying a maximum of 340 liters (80 gallons) of fuel per stage compared to the 500 liters (132 gallons) that Dakar winner Nasser Al-Attiyah's GR Toyota hauled, the reduction is not a competitive advantage. There are no dramatic mid-stage, timed refueling stops like there are at Le Mans, and while the E-Tron E2 is 176 pounds lighter than last year, it's still heavier than the competition, about 220 pounds more than Loeb's Prodrive Hunter, which won six stages on the trot.
Likewise, unlike that eye-opening R8 at Le Mans, Audi's Dakar entry doesn't seem to be in any way easier to fix than the competition. Sainz lost an hour on Stage 3 struggling to change a track rod and dealing with a stuck wheel nut. Later, when Sainz gave a suspension arm to Ekstrom to allow him to finish stage seven, it took over three hours to complete. That's not an unnecessarily long time compared to field repairs from other teams, but neither is it any quicker.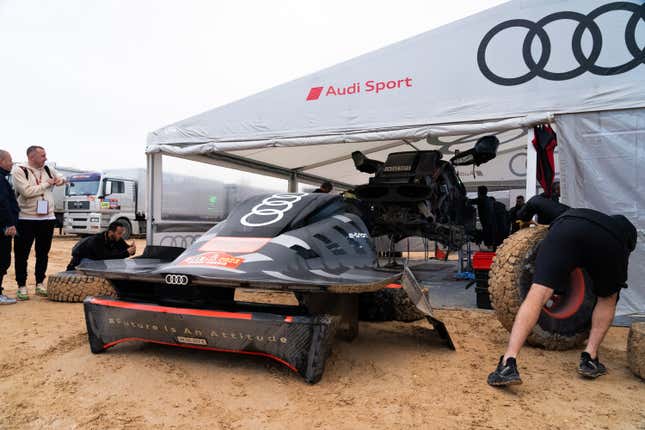 Audi has seemingly brought only complexity to a race in which only a lucky few survive without major, mid-stage repairs. At Audi's pit in the bivouac, Rolf Michl, managing director at Audi Sport, said, "For us, of course, a clear decision from Audi AG is electrification and therefore, the decision was we do not want to compete with a normal combustion engine in this race. So we've decided to go the most complex way, with an electric drivetrain and an energy converter."

Complexity's fine — the R18 E-Tron certainly was not a simple car — but you can't help question the point. "Independent of what you're doing in our car, it's always four to five hours. It does matter if it's the front, the middle, or the rear," Christoph Schroefelbauer, head of RS Q e-tron chassis development, told me about repairs in the pits.
So what advantages are there? I asked Ekstrom, the sole E-Tron driver to finish the race, about this. He said the car was easier to drive, with no worries about shifting or power application, and he's a big fan of the regenerative braking. "You never have to warm them up, they're already ready," he said of the E2's regen brakes. And given how powerful that regen is, he's optimistic that physical brakes aren't long for this world: "It won't take long until you have a car with no brakes," he told me. But since regulations still require them, for now at least, there's no weight savings to be had with a regen-only setup. And though the car may be easier to drive, 2023 showed that it is certainly possible to crash.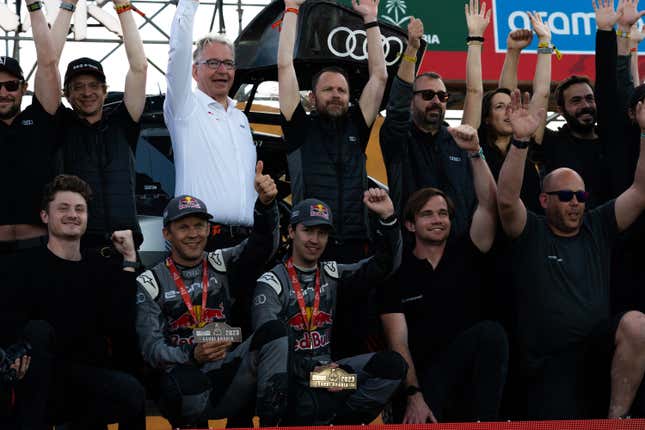 The RS Q E-Tron E2 clearly has the performance to win. It won the Abu Dhabi Desert Challenge last year and, when all went well, was consistently one of the quickest cars at Dakar. It also proved mechanically reliable — the hybrid powertrain did not give Audi engineers any real problems throughout the race. Only one car needed a battery swap due to an as-yet unidentified fault ("a frozen signal," Schroefelbauer told me), but that was handled in the pits without fuss.

The team has committed to coming back for next year's Dakar. What, then, does Audi need to do to win? It needs to run more, for one thing. "It doesn't matter how great the car is if you're not in the flow," Ekstrom told me, lamenting that he hadn't had the opportunity to run more rounds in preparation for this year's event. Though far and away the biggest and most significant, Dakar is just one of five rounds in this year's World Rally-Raid Championship. While Audi hasn't yet dedicated the resources to run the full calendar with its full team, you can be sure the most serious competitors will.
Completing the Dakar Rally is a massive achievement, an enviable life goal for many. But again, that's clearly not enough for Audi Sport. Without a car that dominates the way the Quattro, the R8, the R10, and the R18 E-Tron did, Audi simply cannot engineer its way to a victory this time. It needs to start showing up to win. With a 2026 entry to Formula 1 looming, one can't help but wonder how many more chances Audi will get.