The 2023 Dakar Rally has been disastrous for Audi. Eight stages into the Audi RS Q E-Tron's second attempt to win the iconic cross-country rally, the German manufacturer has no cars left in the top ten positions. The highest-placed Audi prototype, driven by Mattias Ekström, is in 28th. Ekström is over seven hours behind the leader, Toyota's Nasser Al-Attiyah. Despite being out of contention for the overall victory, Audi is still racing for pride and stage wins.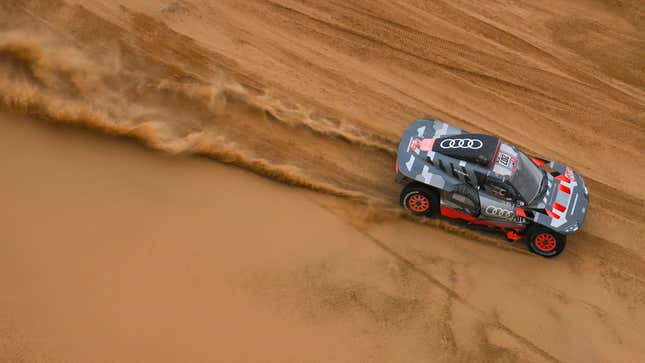 Earlier today, during the ninth stage, Carlos Sainz Sr. crashed his Audi RS Q E-Tron for the second time this Dakar. Sainz, a two-time World Rally Champion and father of F1 driver Carlos Sainz Jr., launched his electric prototype off a dune only for it to dive nose-first into the sand. After reportedly complaining of pain in the right side of his torso, Sainz radioed for medical attention after his crash.
A medical helicopter arrived on the scene and Sainz was set to be airlifted to a hospital in Riyadh, the capital of Saudi Arabia, for precautionary checks. However, according to DirtFish, the three-time Dakar winner changed his mind mid-flight, ordering the medical helicopter to return him to his Audi. The team's assistance truck was already there, preparing to evacuate the crashed Audi to the team's rally base. Sainz was able to climb back into his repaired car to finish the stage, and will compete again tomorrow.
Five stages remain in this year's Dakar, and while team Audi has had a string of bad luck, its vehicles have shown the pace to win stages. Mattias Ekström won the prologue and Carlos Sainz Sr. won the opening stage. However, crashes and reliability issues dashed Audi's chances of taking what would be the first-ever Dakar win for an electric vehicle. A third Audi, driven by 14-time Dakar winner Stéphane Peterhansel, crashed out during the sixth stage; Peterhansel's navigator fractured a vertebra in the crash. Sainz also crashed and had multiple mechanical issues, and was nearly penalized for receiving outside assistance from his son, Carlos Sainz Jr. Maybe next year will be better for Audi.