The seller of today's Nice Price or Crack Pipe Camry says that it does not want to die. Of course nobody wants to cast off their mortal coil, but could this well-used wagon come with a price that makes it worth living with?
The bark beetle is a tiny bug that is destroying great swaths of America's forests. The insidious insects bore under the bark to reproduce. As they go, they spread a fungus that serves to convert the phloem, or inner bark, into food for the larva. That can eventually kill the tree. Drought, climate warming, and tree densities can exacerbate the damage done by the bugs, and in fact there has been widespread tree mortality across the American west.
In my estimation, the SUV/Crossover has sort of been the automotive equivalent to the bark beetle, with the station wagon being their target. Today we have only a few low longroofs left from which to choose. In their place there's plenty of high-roof ones with tall tires, tough-guy black plastic trim, and usually little more than FWD to their name.
I doesn't have to be like that, though. Yesterday's 1987 Audi 5000CS Turbo Quattro Avant proved that there's still a few good wagons out there, some even with AWD and a bit of sporting potential in their curriculum vitae. Not only was that Audi applauded for its mere existence, it's $3,000 price tag gained favor as well. That ended up with a solid 65-percent Nice Price win to start off our week on a high note.
G/O Media may get a commission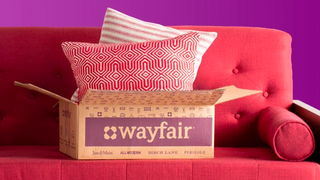 Big deals
Wayfair Surplus Sale
You know what? When it comes to wagons, I'm thinking we should let it ride for another spin of the wheel. Here we have a 1996 Toyota Camry LE wagon which is notable for having two—count 'em, two—wipers on the back window. That's symmetrical with the windshield's count, making this car an OCD sufferer's nirvana.
I'm actually damning this Camry with faint praise as the back wipers are only its second most notable feature. The first is that it's an XV10 model, which is the most wildly over-engineered Camry there ever was. Seriously, these things have Volvo-levels of can-do moxie.
Are they exciting and engaging to drive, or wonderful to see? Oh hell no. But they do tend to be able to go until the sun burns itself out and even then there's no reason to expect the car to give up. Just crank the heater up another notch.
Just look at this one. Shit that's ugly. I mean, it's like Toxic Avenger mangy. The hood and nose aren't just road peppered, they've been majorly bukkake'd by rocks and stones and other paint-chipping detritus. There's also some pretty nasty rust herpes cold-soring it up on the rear door and back fenders. Is it fatal? Likely not. This is a '96 Camry we're talking about after all. The rest of the dark blue paint looks remarkably intact, and the whole thing looks perfectly serviceable, if undeniably fugly.
The interior totally belies the car's age. There's only some minor staining on the cloth seats and load area carpet in there. And, yes this does appear to have the third row in back.
This is a mid-tier LE which means plastic hub caps on steel wheels and black plastic side mirrors and door handles rather than body color units. Toyota made sturdy cars back in the day, but they weren't afraid of letting everybody know when you were driving the cheap-seats edition.
One upgrade here is the 1MZ-FE V6, a 2,994-cc DOHC V6 rated at 168 horsepower and 183 lb-ft of torque. No, those aren't exceptional numbers for a three-liter six today, but it does make all that on 87 octane. These engines had issues with oil sludge build up—a class action suit was filed by owners in fact—but regular oil changes can alleviate that issue sufficiently. Hopefully this one has had those over the course of its remarkable 268,000 mile life.
That's a lot of miles, but the seller says that this Camry wants to keep on keeping on. He does note that it has an ABS light lit up on the dash, and a clanky CV on the left side. Other than that he claims it "runs super strong and drives great." It also comes with keyless entry and a remote starter. Fancy!
Here's the dealio: the seller is asking $750 for the car. Yes, it needs a new axle, and probably a wheel sensor for the ABS. It is an automatic, but all the wagons came like that in this generation. It's also a Camry, the automotive equivalent to taking your cousin to the prom.
Still, this thing would make for the perfect beater. Or, a great first car for a teen driver. Or, a car for someone who needs it to get to their minimum wage job. And live in it because they work at a minimum wage job.
I think it's a pretty compelling package, even with the peppered nose. My opinion however, isn't the one that matters. It's yours we want now. What do you think, is there at least $750 worth of life left in this well-used Camry wagon? Or, is that something that should just be avoided at any price?
You decide!
Providence, Rhode Island Craigslist, or go here if the ad disappears.
Help me out with NPOCP. Click here to send a me a fixed-price tip, and remember to include your Kinja handle.