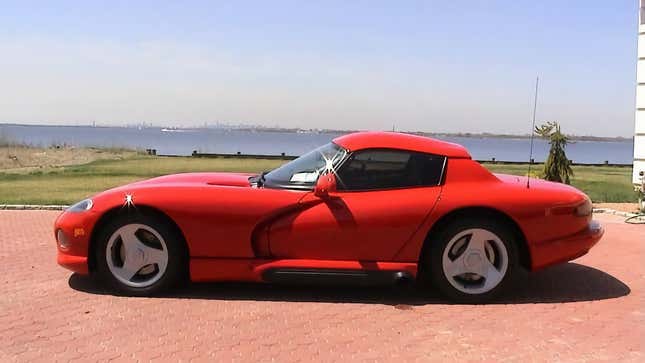 Today's Nice Price or No Dice Dodge Viper has the rare hardtop, side curtains, and soft toupee. Let's see if its Price drives a hard bargain.
If you look at Alfa Romeo's badge, you'll note that it honors the company's home city of Milan in three different ways. It spells it out at the bottom, carries the city's colors in a cross on the left, and the Visconti serpent — a snake eating some unlucky dude — on the right. That last element seems fitting since Alfas have a tradition of eating, if not people, then at the very least people's wallets.
The 1988 Alfa Romeo Spider Graduate we looked at yesterday needed a good bit of work — a new top and fuel pump for starters. On top of that is the initial cost to take the title, which the seller had set at $2,800, a price they said reflected the car's present condition. That elicited a lot of grumbling in the comments about taking on such a woeful project, but in the end, irrational impulsiveness won out and earned the Alfa a 54 percent Nice Price win.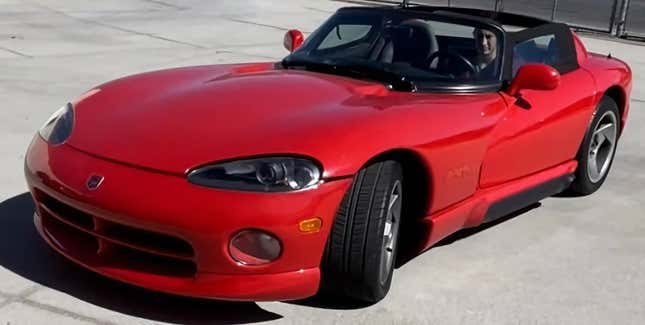 There's another kind of snake, separate from the Italian ones that eat people, that's pretty dangerous. The Viperidae, or Viper, is a family of venomous snakes with a protein-degrading hemotoxic venom that with just a single bite can immobilize prey or kill a threat as large as a human. It's no wonder that Chrysler decided to call its unapologetically brutal sports car the Viper since one mistake beind its wheel can leave a driver in a world of hurt.
The Mopar madmen and madwomen also chose the Viper name as a nod to Carroll Shelby's iconic Cobra, which the Dodge car apes in many ways. It should be noted, however, that a cobra snake is not a viper.
This 1992 Dodge Viper RT/10 is the OG model and, with a claimed 9,800 miles on the clock and a full complement of roof style options, it really does harken back to when Chrysler was taking crazy chances. It's painted, appropriately enough, in Viper Red with a dark gray interior. In addition to having the rare hardtop, the car wears its factory three-spoke wheels and is said to be all original when it comes to the motor.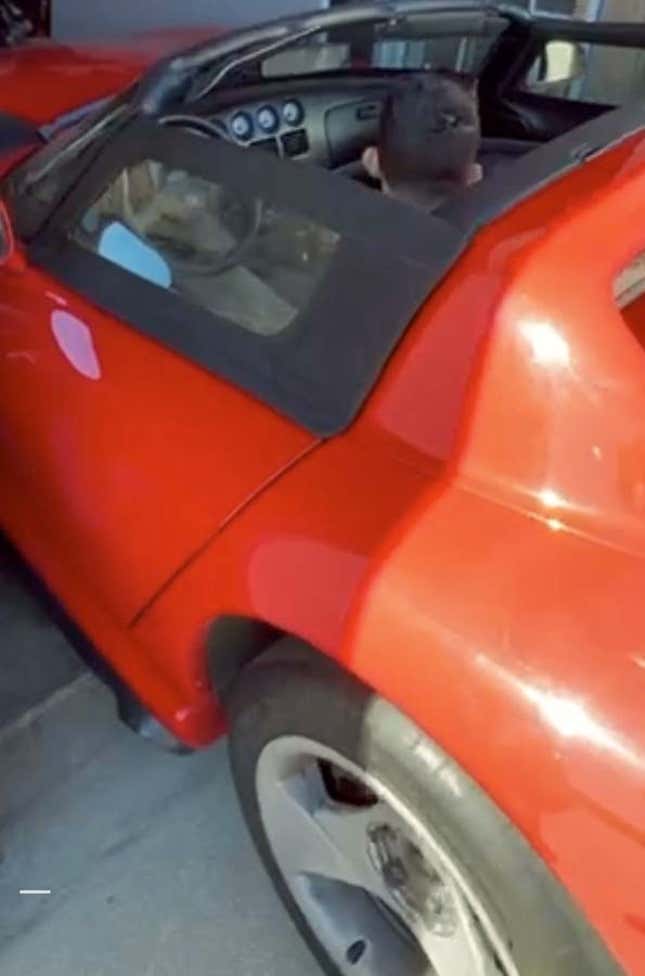 That motor, of course, is the famous 8.0-liter V10 with 400 horsepower and 450 lb-ft of twist. That may not seem like an overflowing corral these days, but back when this car was king, it was like having a moon rocket at your right foot's beck and call.
A standard six-speed manual with an unsurprisingly heavy clutch manages the power to the fat and expensive rear tires.
According to the ad, this Viper has been sitting for years and hence, "needs a basic tune-up." I'd guess that means plugs and fluids and whatnot. Aside from that need, the seller claims the car to be in excellent condition and owes that to the incredibly low drive time and a life lived in a garage in between those infrequent outings.
The photos in the ad seem to have been taken with a child's pinhole camera and also appear to be from a former ad out of Fort Dodge, Iowa back in 2018. At that time, the car had only 8,200 miles. It's likely (unless this ad is a scam) that the car hasn't changed all that much in the intervening years and 1,600 miles added.
The current ad touts that the title is clean and the seller says they want to sell it "to a really good new owner, who will appreciate its history and value, as one of the most desirable classic cars on the market." I'm guessing that person will be the first to show up with the $42,000 asking price.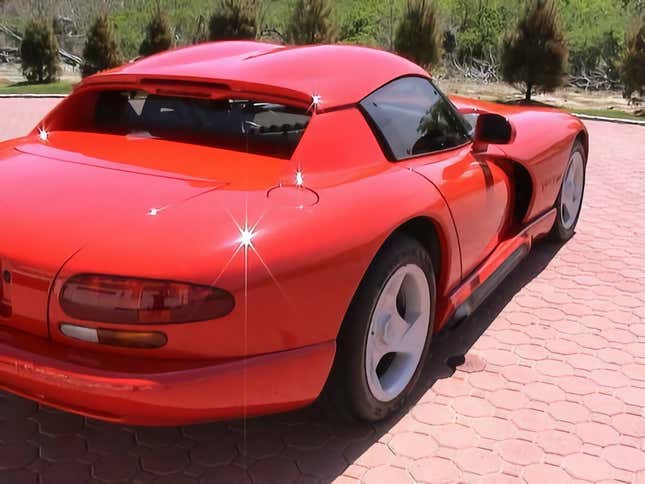 Is that a deal for a first-generation Viper? That's just what we are here to find out. The uncompromising nature of these cars has dulled the market somewhat, making the model probably one of the better automotive investments at this time.
What do you think, though, is this one worth that $42,000 asking as it's presented in the ad? Or, would paying that much come back and bite a new owner squarely on the butt?
You decide!
Los Angeles, California, Craigslist, or go here if the ad disappears.
H/T to Matt Turner for the hookup!
Help me out with NPOND. Hit me up at remslie@kinja.com and send me a fixed-price tip. Remember to include your Kinja handle.