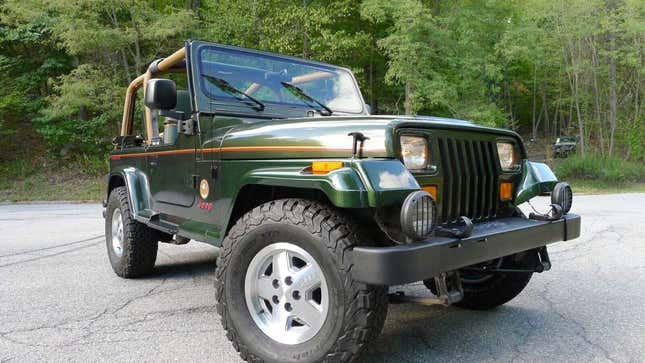 The Sahara Desert is generally sandy brown, just like the top on today's Nice Price or No Dice Sahara Wrangler, the body of which is also oasis green. It comes freshly serviced and is presented in as-new condition. Will its price, however, prove an insurmountable sand trap?
Mitchell Slaggert's Rainbow-Colored Jeep Wrangler
A desolate stretch of rock-strewn headland on the southeast coast of Kent, England was once considered to be Britain's only desert. In reality, it's not a desert in the traditional sense but is notable for being Europe's largest expanse of shingle, so it's got that going for it.
Another of Great Britain's bragging rights is the 86 percent Nice Price win taken in our voting by yesterday's 1972 MGB-GT. At $3,999, it seemed to be a project car that would be well worth both the journey and the destination.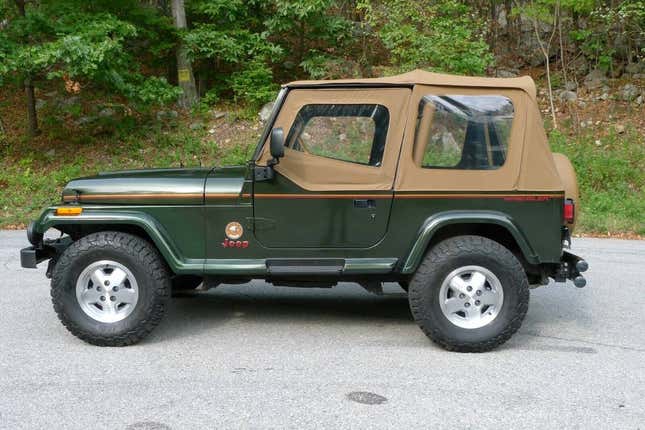 There are some destinations that require something a little extra to reach. To that end, the world has developed 4WD trucks intended to go where the going gets tough. One of those trucks is this 1995 Jeep Wrangler Sahara, although this particular one doesn't actually seem to have gone much of anywhere.
The ad notes the mileage on this YJ to be a mere 22,990 and claims the car to be in "like new" condition. The pictures support that assertion, showing clean bodywork and shiny paint accented by gleaming polished factory alloy wheels. The sand and green Sahara package adds unique trim, upholstery, lighting, and badging to the Jeep, but no mechanical upgrades.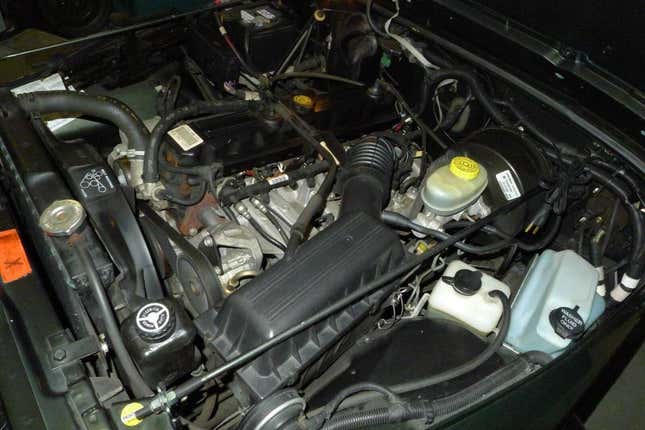 The mechanicals, though, might be just as notable as the truck's condition. Power is provided by Jeep's stalwart 4.0-liter OHV straight-six. With fuel injection that makes 190 horsepower and 225 lb-ft of torque. Behind that iron giant is a five-speed stick and two-speed transfer case for the part-time 4WD. There's no A/C in the Wrangler, but it's a Jeep so owners know they'll just have to suck it up.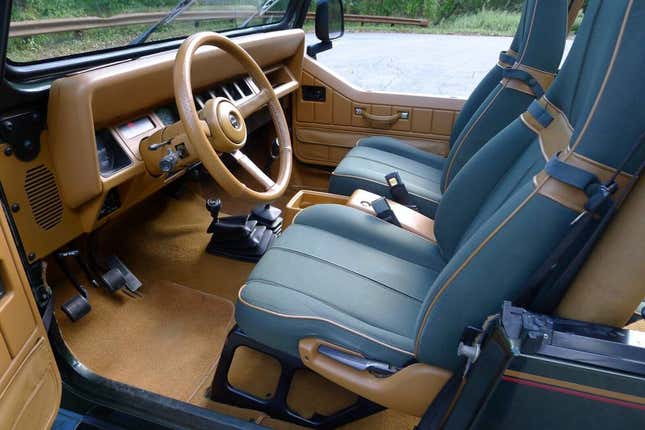 According to the ad, both the convertible top and the BF Goodrich All Terrain T/As are new. Everything else on the truck (save for consumables like the battery, most likely) is all original.
The interior shows impeccably, with no evidence of fading or other wear and tear. The Sahara-specific upholstery is in excellent shape, as is the dusty-brown wall-to-wall on the floor. These models were fairly heavily optioned, including such niceties as a locking center console and a speaker bar bolted to the roll cage. No hard top is included, but the truck does come with half-doors and side curtains.
Most older Jeeps for sale these days suffer from jacked-up-osis or from having battle-scars from being used for their intended purpose. This clean-title YJ exhibits neither of those flaws. In fact, it doesn't seem to have anything going against it other than those goofy YJ-only rectangular headlamps. Well, those and maybe its somewhat eye-watering $38,000 price tag.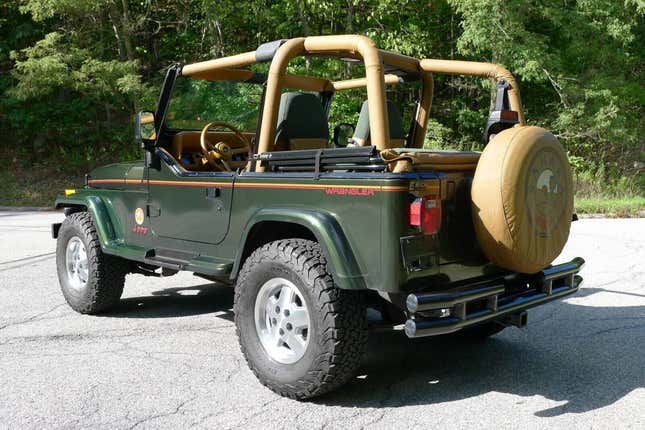 That, of course, is what we're going to decide. What do you think about this time capsule Jeep and that $38,000 asking price? Does that seem like a deal to get an almost new old-school YJ? Or, would it make much more sense to spend that kind of cash on a more modern rendition of the Jeep classic?
You decide!
Los Angeles, California, Craigslist, or go here if the ad disappears.
H/T to Don R. for the hookup!
Help me out with NPOND. Hit me up at remslie@kinja.com and send me a fixed-price tip. Remember to include your Kinja handle.