Being a cylinder down and having a whiffle ball body makes today's Nice Price or Crack Pipe Legacy a bit of a daunting proposition. Let's see if its price can turn things around.
My brother gave me a metal sign a few years ago that's says 'Still Plays With Cars.' I put it up in the garage—or as I call it, the playroom—and smile now and then as I pass by it. It's a testament to the fact that while I have grown older, my maturity level remains a bit stunted. We're lucky if we manage to grow old. We're even luckier if we do so without really growing up.
The seller of yesterday's 1992 Isuzu Amigo claims to have aged out of both his car tinkering and camping days, and has hence put his flawed friend up for sale. Hopefully someone with a little time and the wherewithal will be able to fix the truck's stumbles and stalls and make it a reasonably reliable driver. That seemed to be the opinion of fully 65-percent of you, who felt that the Amigo's $2,500 asking was a worthy cost of entry to do so. I hope the seller enjoys his new truck as much as he seems to have the Isuzu.
A low RPM stumble doesn't seem like that big a deal to me. Honestly I wouldn't mind spending a weekend digging under the hood of that Amigo to try and determine the root cause. Injectors? Vacuum leak? Ancient Aztec curse? It'd be fun.
G/O Media may get a commission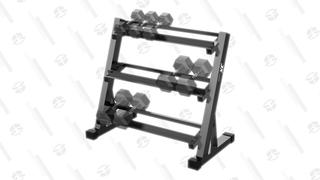 20% Off
JX Fitness Dumbbell Rack
Gains but tidy
Has a three-tier design to help store more weights more conveniently, can safely support up to 1000lbs of weight, which should be enough for most people, has a triangle base for stability, and also features anti-scratch feet which is great if you've built your own studio or workout in your garage.
A little more daunting is the dead #2 cylinder on today's 2005 Subaru Legacy GT wagon. And unfortunately, that's just one of the car's major issues. Others include a noisy transmission, hail damage over the entire body, and one rear door that doesn't open from the outside in a sort of reverse cop-car fashion. As Scooby Doo might say, Ruh Roh Raggy!
Wait, wait, wait! Don't walk away. There's a lot that's good about this 188,000 mile blacked out wagon as well.
First off is that noisy transmission, it's a five speed manual. Yes, a manual in a wagon. What won't they think of next? That's married to an EJ255 flat four, an engine that was shared with the U.S. market Impreza WRX. The 2.5-litre DOHC 16-valve mill proved good for 250 horsepower from the factory. That came by way of a turbocharger with an intercooler that's fed through a functional center hood scoop.
And yeah, that EJ is down one flower pot. The seller dutifully notes that 'Cylinder 2 has no compression, have not investigated further.' I swear the ad reads like a note home from the frontlines of some battle.
On the plus side, there's a litany of aftermarket go-faster parts installed so once you repair the dropped valve or whatever is preventing #2 from doing its thing, you'll be able to list them and impress your friends.
On the aesthetics front, the car presents some issues too. The seller says it has hail damage over the entire car. Now, that could potentially be a plus. I mean, didn't Mythbusters do a segment proving that golfball-style indentations on a car can actually improve its aerodynamics? I think I remember watching that.
There are also some scrapes with related paint pop-off on the bumper cap corners and a missing wheel center cap with which to contend. Or you could just leave it all alone and enjoy the interior which seems to have held together much better, possibly because it was protected from all that hail.
By the way, I'd like to point out that, living in Southern California, the whole idea of hail damage on cars is foreign to me. We do get hail here, but occurs like once every two years and is usually the size of cat dander rather than the golf balls people in the Midwest claim to see.
Alas, I digress.
Back to the car. It comes with a clear title and a replacement latch to get the back door working from both sides again. It's also sold 'AS-IS WITH NO GUARANTEES AND NO EMISSIONS.' Yikes!
The good thing? It's being sold at a bargain basement price of just $3,000. That's about half what these go for in nice shape, and honestly, you just don't see all that many GT wagons around at all.
Ah, but is that cheap enough? What do you think, is this as-is GT worth that kind of cash? Or, is this a Legacy with which you wouldn't want to be endowed?
You decide!

Denver, CO Craigslist, or go here if the ad disappears.
H/T to RevUnlimiter for the hookup!
Help me out with NPOCP. Click here to send a me a fixed-price tip, and remember to include your Kinja handle.