The seller of today's Nice Price or Crack Pipe Amigo says he's owned it for 19 years and in that time has only ever used it to go camping. Let's see if its price has you getting ready to pitch a tent or a fit.
It's the morning after Independence Day and the air in my neighborhood is still heavy with the acrid smell of fireworks. That's the last lingering memory of the city's big show last night, held in a park just a couple of miles away, and seemingly, upwind.
The panoply of patriotic whooshes and bangs began just after dusk and went on for a good three-quarters of an hour. You know who didn't like listening to the racket? Yep, my dog.
Poor Huck usually puts himself to bed around nine thirty and not only did the noise keep him up, it made him droolingly upset. Not quite as upset however as those who gave yesterday's 2014 Smart ForTwo 'Brabus' Limousine a massive 91-percent Crack Pipe loss. Yikes! Maybe pissed off would be a better description, at least based on the comments. The result was that at $60,000, that car proved to be the little limo that couldn't, thus ending any dreams of it being involved in any small business schemes.
G/O Media may get a commission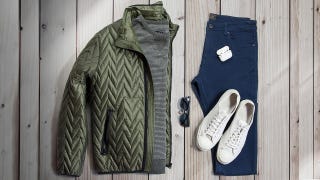 60% off
Jachs NY Fall Sale 60% Off
Isuzu is another business that failed here in America, at least as a consumer-oriented enterprise. It's rather surprising that they were so unsuccessful here seeing as they were one of the early proponents of the SUV bcraze, and did offer some compelling products in that category.
One such cool Isuzu truck was the Rodeo, which was deemed worthy enough for Honda to rebadge as their own under the Passport name. Honda sold just the traditional five-door wagon body style, while Isuzu marketed the same, as well as a jaunty little two-door under the Amigo name that could be had with a soft-top rear for open or closed motoring.
This 1992 Isuzu Amigo is that two-door, however it has been modified in a manner that encloses the cabin with a solid bulkhead. The result is a small, open pickup bed bed in back. That's been fitted with a carpeted platform that folds out to create a table or perhaps fashion show catwalk. The ad is a little unclear as to its intended purpose.
The bulkhead is made of aluminum and features a center split opening window for ventilation. The frame for the soft top remains in back, but there doesn't seem to be anything to drape over that at the moment.
The Bahama Green paint looks to be in decent shape and an oh-so '80s hue. Equally as retrograde is the Amigo script decal behind the driver's door. Reflective trim has been added to the rockers, and is peeling off on the curbside. Removing that entirely would be an extremely satisfying weekend project, I would bet.
Inside there's not a lot going on, and that's a good thing. Vinyl floor coverings and a simple dash mean the space is easy to clean. The upholstery under the surprisingly well-fitting but somewhat grimy sheepskins appears clean and without rips or tears. An aftermarket stereo, bendy light, and angle indicator add character.
Also added is A/C from a later Rodeo which is R134 and apparently works like a charm, albeit from a jerry-rigged switch. The mileage is a modest 92,441 and the seller says he's built up to that at a snail-like pace of only about 2K per year over the course of his ownership. The title is clear and it does come with a five-speed stick and 4WD activated through a two-speed transfer case. The ad says nothing leaks from either box nor the axles.
All pretty good right? Well, I've saved the bad news for the end, since I really do like to get your hopes up and then see if you can reconcile that with a last minute letdown. Yeah, I know, it's kind of dick move.
The issue here is with the engine and I'll just let the seller explain what's going on:
The engine is the 2.6 litre Itek fuel injected model and here is the PROBLEM after the last camping trip while returning to Hwy 395 I let my foot off the gas and the engine quit it started right up but would not IDLE had to run at about 1500 rpm to keep it going got on the freeway and going 70 plus it was running fine just dies when I let off the gas, can't figure it. Even tried a costly new computer no difference, and the fuel pump is working as it should, something in the injection I think, beyond my skill level, and too old and tired to hassel with it so other than this problem everything else is sweet on this machine. Fix it and double your money part it out and quadruple it, these cars are rare. I don't care I am just going to buy a new truck, don't go camping much anymore anyhow.
Okay, I'm just going to point out here how very sad that all sounds. I've known a number of folks who have had age creep up on them to the point of making the heavy lifting of car tinkering an impossible task. As our amigo here notes though, his loss is someone else's gain as the mechanical issues are the main factor in the $2,500 asking price.
Let's help a fella out and vote on whether it's enough of a loss to make it worth anyone's while. Is this Amigo worth that $2,500 asking as it sits? Or, is that still too much for you to befriend this woebegone but still cool truck?

You decide!

eBay out of La Puente, CA, or go here if the ad disappears.
Help me out with NPOCP. Click here to send a me a fixed-price tip, and remember to include your Kinja handle.