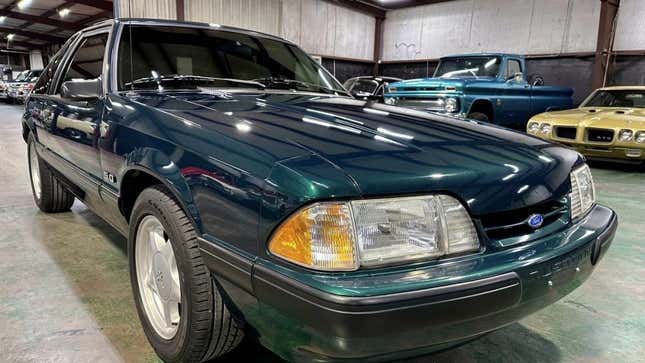 Shrewd people can be described as "sly as a fox," but we'll still have to determine if buying today's Nice Price or No Dice 5.0 Fox body Mustang will prove a cunning move.
Beetle Bailey is one of the world's longest-running comic strips, even outlasting its creator, Mort Walker. There must be something about the Beetle name since the Volkswagen Beetle (or Type 1) also happens to be one of the world's longest-produced automobiles. To last that long, you need to be either really good or dependably cheap. Unfortunately, the 1974 VW Beetle "Sun Bug" we looked at yesterday wasn't cheap. Even though a classic, the $15,900 asking price put the Bug in play with too many other, arguably more desirable models. That factor resulted in a 75 percent No Dice loss in our voting.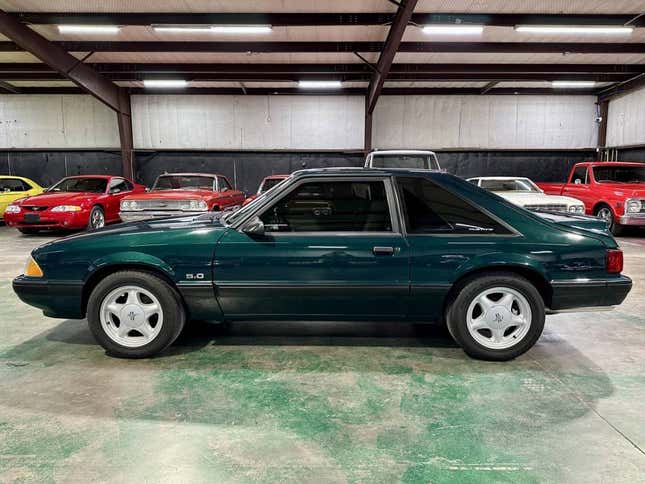 Have you ever heard the phrase "All hat, no cattle"? That denotes someone or something presenting as something that they are not. Usually, it means they are full of hot air. In the case of the Ford Mustang, such a poseur status was obvious from 1974 to 1978 — the reign of the Mustang II. During that model era, Ford offered "performance" models of the 'Stang (Cobra and King Cobra) that were little more than tape and trim packages. Even though each could be had with a V8 engine, emission and fuel economy demands meant that Ford's 302 small block could only muster a meager 139 horsepower.
That all changed in 1982 with the appearance of the Mustang GT and a revised 5.0 that pumped out 157 horses. The next model year, the horsepower would get bumped to 175 horses. By the time today's 1991 Mustang LX 5.0 hit the streets, that number was a far more respectable 225.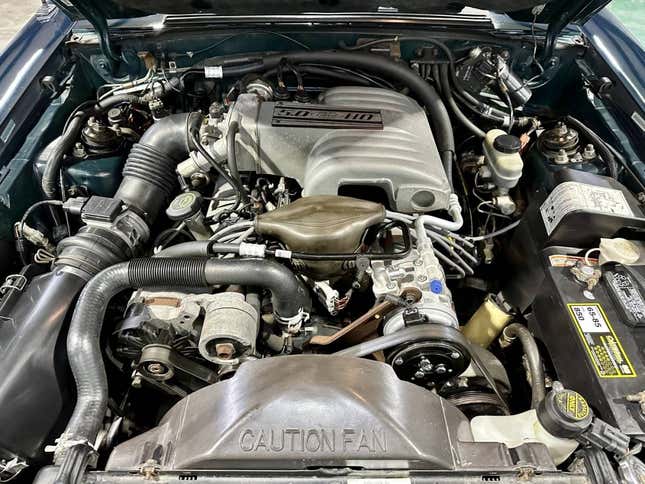 The GT was always the performance leader of Ford's pony pack, a position it uncomfortably shared with the turbo four-powered SVO and later the reborn Cobra. The LX, however, had the GT's chops, but with lower weight and less garish bodywork. That makes it less of a draw for onlookers or, heh, heh, the cops.
This car sports a mere 28K on the clock and is a total time machine back to those heady days of the '80s and '90s when automakers rediscovered performance and began making cars fun again.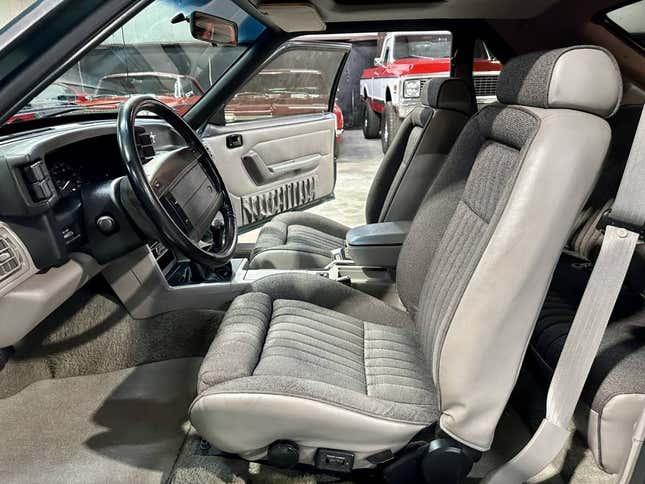 Painted in Deep Emerald Jewel Green Metallic over a gray cloth interior, this LX is appreciably stock, promising a throwback driving experience. It's appropriately equipped too. Along with the F.I. 5.0, the car rocks a five-speed T5 manual, factory alloy wheels, and sport bucket seats. There's also leather on the airbag-equipped steering wheel. The rubber shift knob is OG, but kind of a letdown.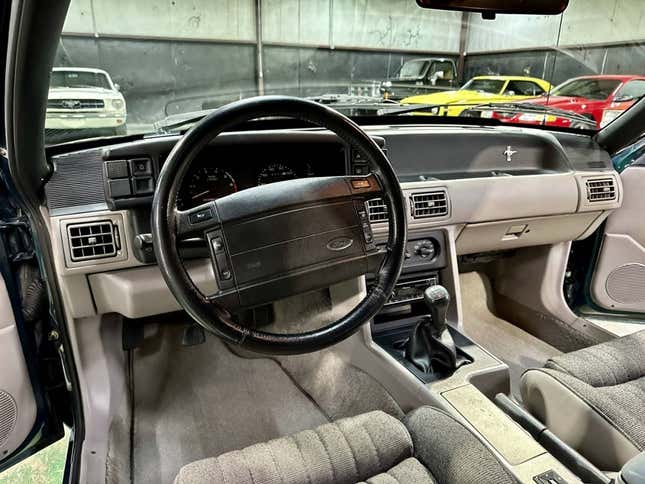 The car is dealer-offered and comes with a clean title and what the seller says is a "large folder of MISC paperwork, receipts, and original window sticker." The paint is claimed to be a respray but appears to be in the original hue. The interior looks all original save for an updated stereo in the dash.
We're also provided a look under the car's skirts where it's all clean and rust-free. On view are the aftermarket exhaust with weird square mufflers and the fact that the emissions control air pump is not connected to the serpentine belt. According to the ad, the A/C is connected and it blows cold.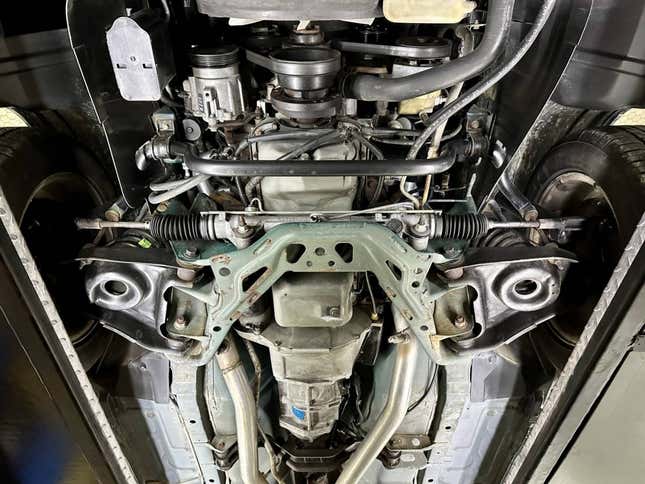 The car is offered on the Los Angeles Craigslist, however, that's a bit of a ruse since the dealer selling it is actually in Sherman, Texas. Presently, the asking price is $27,500. A quick VIN search shows that it went up on Bring a Trailer in March of 2021. There, bidding made it all the way up to $17,000 before the auction closed without a sale. Let's decide if it will have better luck on Craigslist.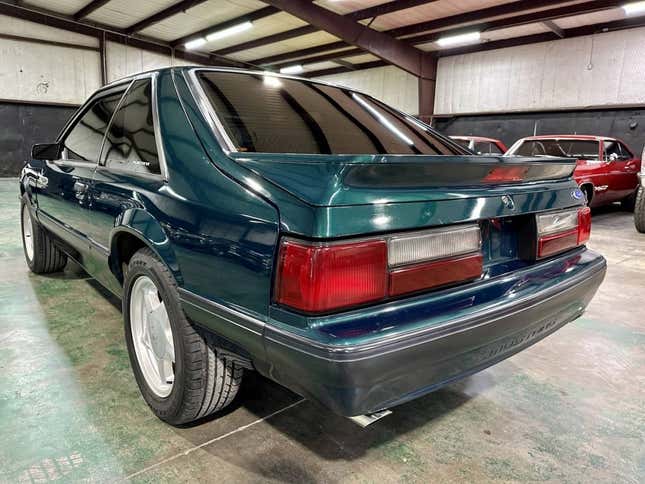 What do you say? Is this seemingly nice LX 5.0 worth that $27,500 asking? Or, for that much, is this Fox body a total dog?
You decide!
Los Angeles, California, Craigslist, or go here if the ad disappears.
Help me out with NPOND. Hit me up at remslie@kinja.com and send me a fixed-price tip. Remember to include your Kinja handle.