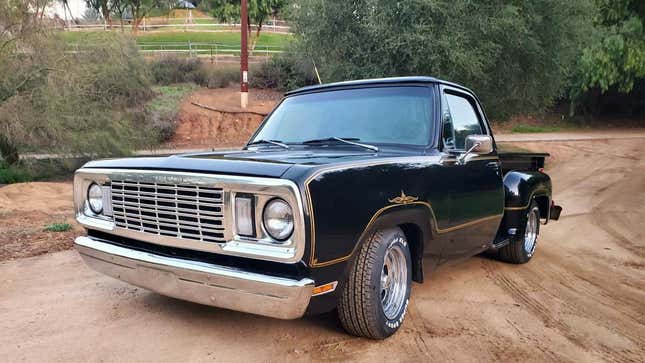 Regarding street trucks, few are cooler than today's Nice Price or No Dice Dodge Warlock. Let's see what such cool should rightfully cost in cold hard cash.
It has been said that Great Britain and the United States are two countries separated by a common language. All joking aside, there are, of course, real differences between the UK and its former colonies. Here in the U.S., we like everything big and have long been reluctant to give up cars and trucks that imply grandiosity due to their size and fuel consumption. Owing to a parsimonious post-war economy, the British have long sought their indulgences in other ways.
The Euro-spec 1987 Range Rover Classic we looked at yesterday is a prime example of that. With a diesel engine and manual gearbox, it traded ease of use and power for small but noticeable gains in economy over the V8 and automatic edition Land Rover offered officially in the U.S. That difference wasn't enough to get the majority of you to swing the seller's way over the $24,500 asking price, though. That sent the luxury Land Rover down in a 91 percent No Dice loss.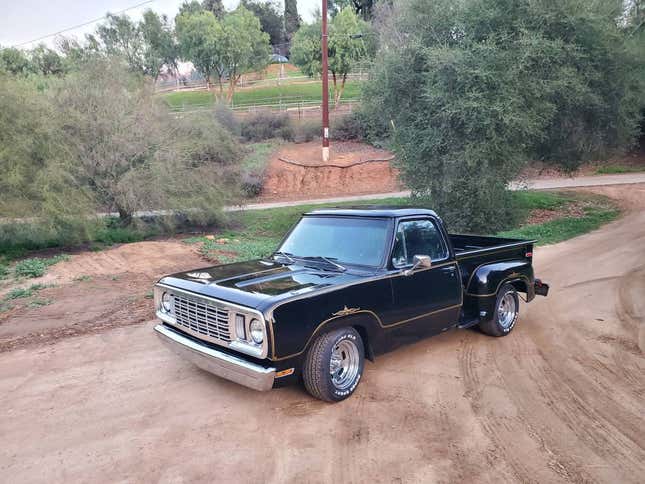 Have you ever stopped and wondered why Harry Potter was a Wizard and not a Warlock? I mean, Wizard is a cool name and all, but come on, Warlock? That's badass.
That's the likely reason Dodge marketers chose the Warlock name for one of the company's "Adult Toys" series of D100 pickups and Tradesman vans. Others in the lineup, trucks like the L'il Red Express and Macho Ram Chargers, offered unique enough names but lacked the Warlock's implied malevolence.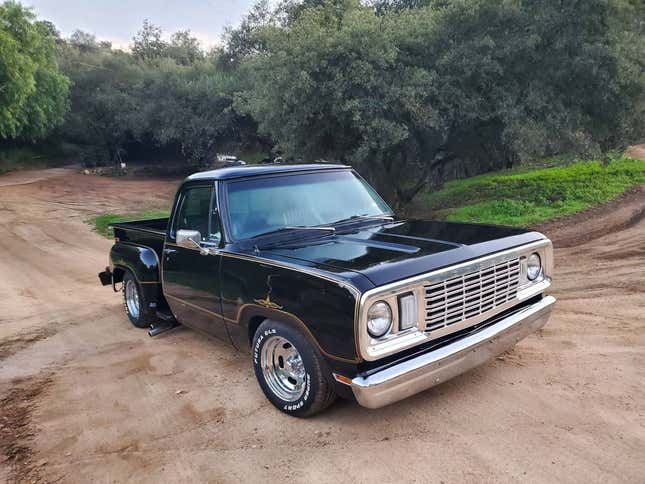 In the 1970s, emissions and fuel economy standards quickly strangled performance autos, diminishing once great names to nothing more than impotent tape and decal packages. Dodge's "Adult Toys" trucks had those fancy looks, each gaining special paint colors, pin-striping, and other visual cues. However, as trucks were not yet held to the same safety and emissions standards as cars, and hence they could still offer some performance to back up those looks. This culminated in 1978 when Car and Driver crowned the Dodge L'il Red Express pickup fitted with a 360 CID motor as the fastest road vehicle built in America.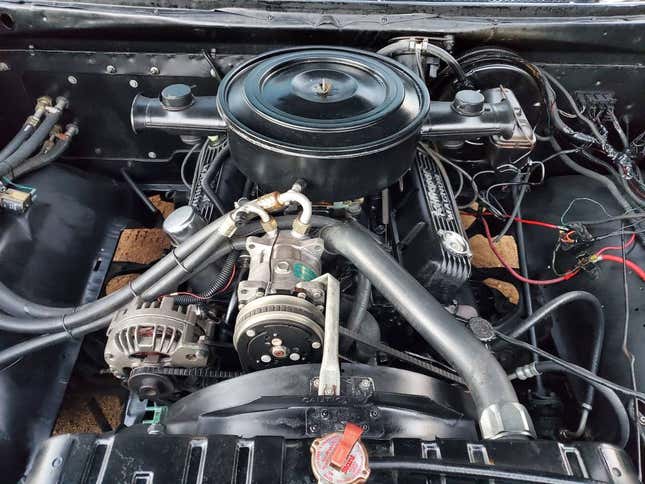 This 1978 Dodge Warlock carries the same 225 horsepower 360 V8 and 727 TorqueFllite three-speed automatic feeding a 3.55:1 rear-end as its expressively red sibling. It should then have about the same performance. It just looks a bit meaner doing so.
For the Warlock, Dodge took the standard D100 Utiline (StepSide) truck and added the hot motor and performance-oriented driveline. On top of that, the model was offered with a choice of black, dark green metallic, or bright red paint, accented by gold striping and gold (later chrome) wheels. All came with a bucket seat interior in black vinyl tarted up with even more "gold in them thar hills" trim. Finishing it out, oak floorboards were added to the boxed bed.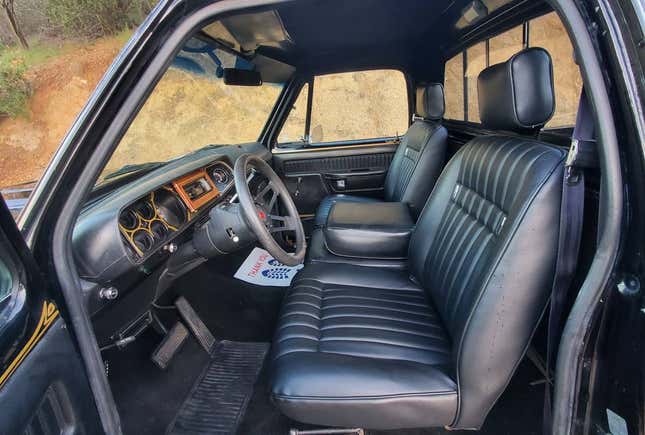 This Warlock looks to be in top-notch shape, and sports a claimed 37,800 miles on the odometer. The paint, striping, and trim all look to be original or at least a faithful reproduction. The truck does wear what looks to be later Warlock II chrome wheels rather than this model year's standard gold wheels, as well as a trailer hitch. Those seem to be the only notable flies in the ointment for originalists.
The cabin is as clean as you could want, with only an aftermarket steering wheel and stereo to blemish the overall aesthetic. One upgrade that's undeniably a benefit is that the truck has been fitted with a Vintage Air setup to keep the cabin cool.
Under the hood, things look just as clean and simple as a pimple to work on. Aftermarket alloy valve covers dress things up, but otherwise, it all looks Carter Administration in here.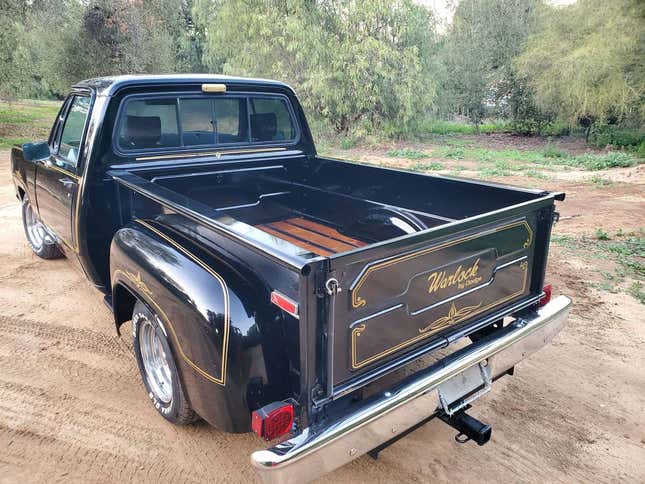 According to the ad, the frame and body are both solid and rust-free. The truck is also said to come with a clean California title. The asking price on this classic truck is $25,000.
What's the 411 on this truck and that price tag? Do you think that's a deal to snap up what looks to be an excellent example of a sought-after pickup? Or, for that much, is this Warlock's voodoo just not working for you?
You decide!
Los Angeles, California, Craigslist, or go here if the ad disappears.
Help me out with NPOND. Hit me up at remslie@kinja.com and send me a fixed-price tip. Remember to include your Kinja handle.