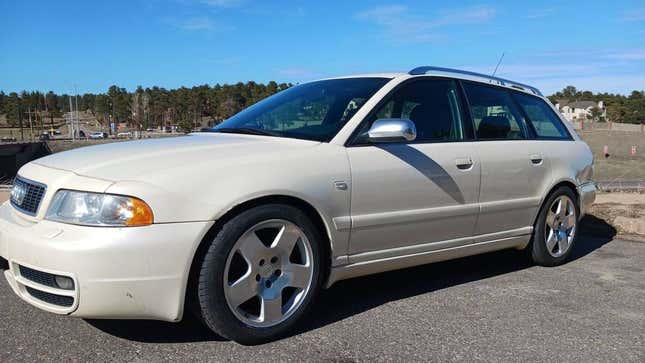 Today's Nice Price or No Dice Audi S4 Avant is not just a rare sport wagon, it represents one of the best of that breed. Let's see if this seemingly well-maintained example can still bring the heat.
El Dorado was a mythical city of gold, obsessively sought after by European explorers, most notably, the gold-hungry Spanish and Portuguese Conquistadors. The 1983 Cadillac Eldorado Biarritz we looked at yesterday wasn't the gold standard, but it was in pretty nice shape. At $22,000, though, that apparently wasn't enough of a draw, as the car went down in an overwhelming 70 percent No Dice loss.
Speaking of gold standards, what car do you think best represents that title when it comes to compact sport wagons? I know that's getting pretty specific with the selection criteria, but then it kind of needs to be since the description could cover any number of wagons that, it could be argued, aren't all that sporty.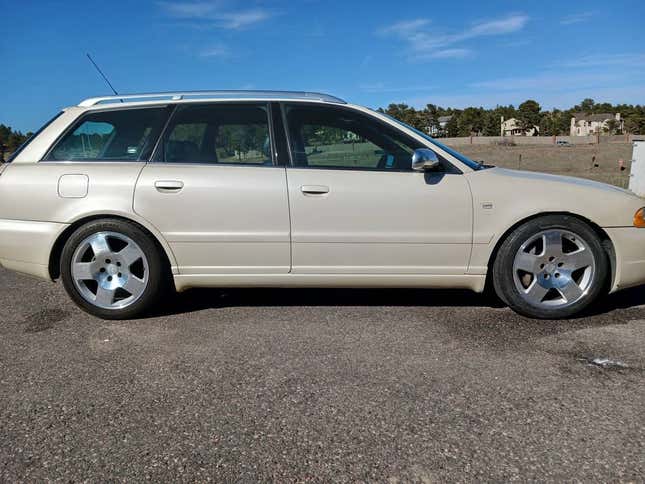 I'll save us all the trouble of that argument by nominating the Audi S4 Avant as the singular benchmark by which all other sport wagons can be measured. Do you agree? Let's have a look at this 2001 Audi S4 Avant Quattro and see if it meets our standards.
According to the seller, this is one of 22 U.S. S4 Avants to have been coated in Pearl White paint in the 2001 model year. I don't know if that makes it appreciably rare or just rare because it was a less desirable color choice at the time, but there you go.
A two-owner car, it certainly seems to have been loved since it left the factory. That's obvious in the car's 177,000-mile road life and the massive fan of service and maintenance records presented in the ad in support of its care and feeding.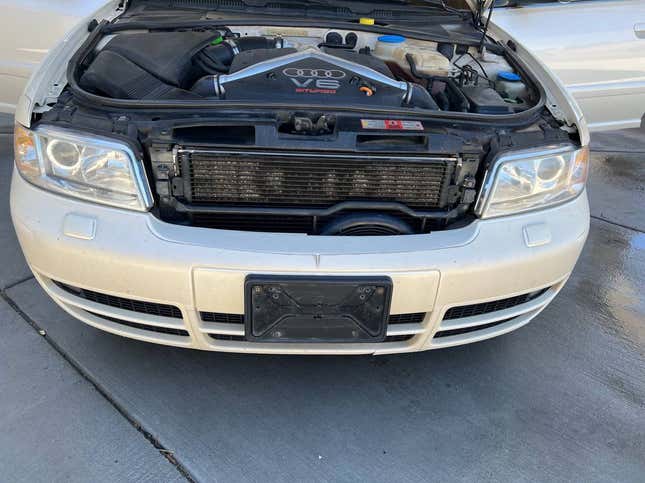 The ad gives us a rundown of some fairly major maintenance and wear and tear replacements that have gone into the car over the course of just the last five years. Those include all the notable bugaboos on the 250-horsepower twin-turbo V6 — things like the timing belt and tensioners, water pump, etc. There are also new synchros in the six-speed gearbox and a fresh clutch to ensure they get proper exercise. A ton of other parts — Bilstein struts, wheel bearings, starter and brakes, and more — are also documented.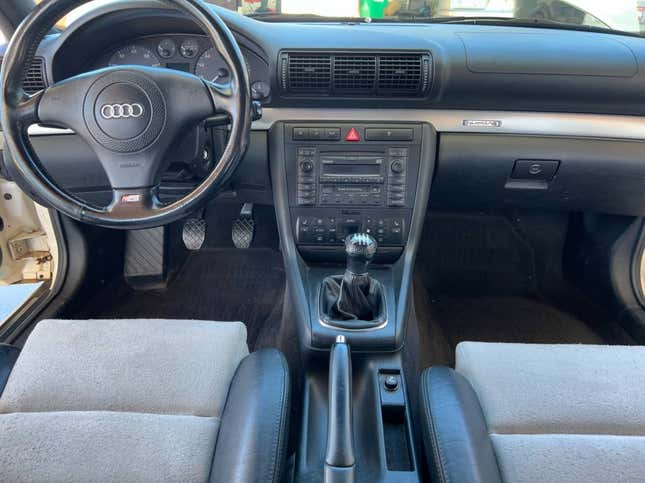 That's all wrapped in a car that, aesthetically, shows all those miles in its Pearl White paint. There are a number of scrapes and paint pops that mar the overall presentation, although none of those seem to be more than skin deep. It all could be addressed by a top-notch body shop but these pearlescent paint jobs are nigh-on impossible to blend successfully.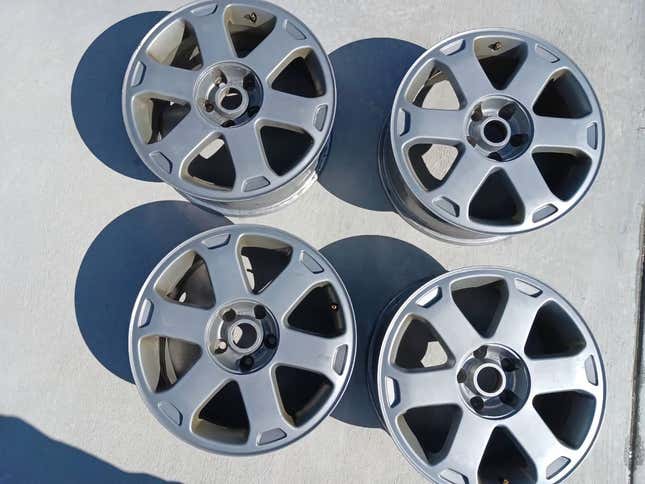 Better then to focus on the gray and black interior which looks to be in excellent condition. The Alcantara and leather upholstery shows some patina but no color transfer or excess wear. Neither the steering wheel or shift knob look excessively shiny either. It's all pretty original in here too, right down to the factory double DIN.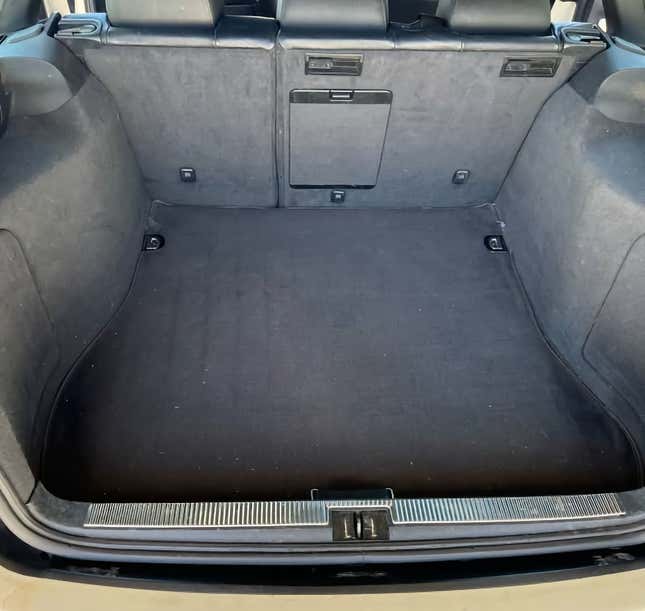 It's not all original under the hood though. The seller notes that the car comes with what is described as a "Stage III upgrade" including bigger K04 turbos, an RS4 MAF and FPR, and bigger downpipes and high-flow cats. It should be noted that the original plumbing does come with the car. So too do two sets of wheels — the original Avus alloys and a set of polished A6 five-spokes.
According to the seller, the car has no rust, no leaks, and comes with a clean title. Could that all be worth the $14,000 they are asking for it?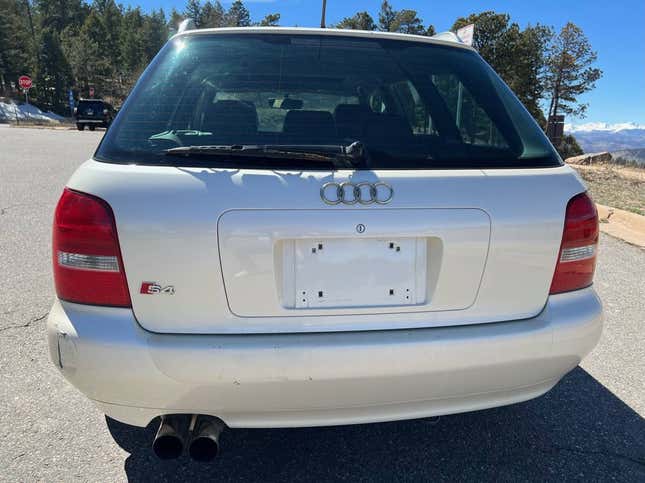 What's your opinion on this S4 and that $14K price tag? Does that seem fair for a fairly well-maintained hot wagon? Or, is that too much to spend on an old Audi, benchmark or not?
You decide!
Denver, Colorado, Craigslist, or go here if the ad disappears.
H/T to RevUnlimiter for the hookup!
Help me out with NPOND. Hit me up at remslie@kinja.com and send me a fixed-price tip. Remember to include your Kinja handle.